Around the Quads
Carl Hovde '50: A Remembrance
By Andy Fisher '65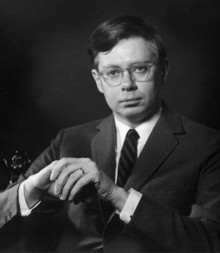 Carl Hovde '50In the aftermath of the protests, which left a fine Columbia College dean, David Truman, disillusioned, defeated and out of work, Carl Hovde '50 was chosen for what could well have been, at the time, the least sought-after academic post in the world. He was a quiet but eloquent scholar, a professor of English and comparative literature, a scholar of American writers, particularly Thoreau. In his own understated, modest, but effective way, Hovde rebuilt Columbia's credibility, stability and, most importantly, morale. Better than most English scholars, he found the words to lead the College through a seemingly impenetrable maze. He skillfully noted that the protesters "were not acting without cause, but they were acting with insufficient cause." After four years, he left the Dean's Office and returned to teaching.
All this happened after my encounter with him, in my senior year. He taught two of my courses: Victorian literature and an American literature seminar. Victorian literature is not easy to teach, perhaps because it is too easily parodied and dismissed as excessively flowery, but Hovde made us understand why the Victorians wrote as they did.
The seminar course was somewhat different. Every Friday morning at 8, I would appear at Hovde's office, and we would spend an hour discussing the week's readings. It was just the two of us; the student-teacher ratio in that course was 1:1! Clearly, I was not to show up for that class without a reasonable command of everything I had been assigned to read. Only now do I realize what a privilege it was to have the undivided attention of a member — later the chairman — of Columbia's awe-inspiring English faculty for an entire hour every week.
We listened to the Transcendentalists, to Thoreau and Emerson, to Longfellow and Lowell. Thoreau, the nexus of Hovde's scholarship, was a particular thorn in my side. I arrived at the office one Friday morn­ing to say, quite high-handedly, that I had been offended by Thoreau's observation that, "to a philosopher, all news, as it is called, is gossip, and those who edit and read it are old women over their tea."
"Well," he said, quietly but forcefully, "go out there and prove him wrong!"
During the second semester, meeting in the afternoon and joined by two more students, we studied Hawthorne, Melville and Henry James. And then, suddenly, it was all over, or almost so. There was a question about whether I had enough points to graduate on time, an extremely important issue in that drafty year of 1965. If I were not a full-time student, I would be eligible for, and probably taken by, the draft before I could graduate. Hovde argued my case, and on June 1, with my 650 classmates, I received my degree. Four months later, I was drafted anyway, but having that degree helped me get a better assignment once I was in uniform.
Through the years, the ideas tossed around in those early morning discussions would come back. My writing became my most important skill in radio, as a news anchor for WNEW and the NBC Radio Network; in television, as the principal news writer for NBC's Today show and CNBC's Business Center; and on the Internet, as the stock-market blogger for CNBC.com. In his remarks on my retirement in April, CNBC President Mark Hoffman called me "a brilliant writer"; that might not have happened without those Friday mornings in 1964, when my mind was sharpened and focused and given deep respect for the power of words.
The death of my wife of 37 years from cancer in 2006 was a brutal wake-up call about how little time we have, how opportunities to express love and appreciation and gratitude can disappear forever. I began to search out people who had made a difference in my life and to thank them. One was Hovde. I told him how one of his own mentors, Charles Everett, long dead by then, had commissioned me to put the words "joy" and "beauty" back into the English language. I told him how two 16th-century poems had been especially comforting to me during my wife's illness and after her death. I thanked him for his patience, his perceptiveness and his perseverance with a marginally attentive student. He wrote back that my letter "did this old teacher's heart good."
Hovde died over the Labor Day weekend, at a time when I was preparing for a grand adventure on the train and not paying attention to the newspapers. I did not learn of his death until several weeks later, when a letter arrived from his wife. She mentioned my letter to her husband, saying, "He was deeply touched. Now it is my turn to write ... " And how beautifully she did; of the noble way he had endured his final battle with cancer, she wrote, "His enviable equanimity sustained us all."
His enviable equanimity indeed; how the memory of it continues to sustain us. How often he could have angrily chided me for poor preparation, for sloppy scholarship, not only with cause, but with sufficient cause! How he never did, but rather encouraged me to be a better scholar, better prepared, finding the needles in my academic haystack, praising the light instead of cursing the darkness.
Hovde was more than an alumnus of Columbia, more than a senior member of the Columbia faculty, more than an officer of the University through one of its darkest nights. To me, Carl Hovde was Columbia.
Editor's note: CCT published an obituary for Hovde in the November/December 2009 issue. 
Andy Fisher '65 lives in Denville, N.J., having retired in April 2009
after a career that began with a column in a suburban weekly newspaper
when he was 11 and included a semester on the adjunct faculty of the
Journalism School.