Around the Quads
Roar Lion Roar
Members of the Ivy League Heptagonal champion 1979 cross-country team join the champion 2009 squad following their victory. Also pictured is former sports information director and athletics historian emeritus Bill Steinman (back row, right). Photos: Gene Boyars, Columbia AthleticsX-COUNTRY: Thirty years ago, Columbia won its first Ivy League Heptagonal men's cross country championship. Members of that squad gathered for a reunion on October 30 in Van Cortlandt Park in the Bronx and cheered on the current team to a one-point victory over Princeton for the 2009 championship and the first Jeffrey H. Orleans Trophy.
Scoring in cross country is based on the sum of the placings of a team's top five finishers, so there often is uncertainty as to the outcome of a race until sometime after the finish. Columbia's top five finishers totaled 60 points to 61 for Princeton, the tightest finish in 37 years, and coach Willy Wood broke the news to his team by saying, "If you had beaten that last Princeton runner, you would have won by two points instead of one."
Brendan Martin '11 was the top Lion finisher, in fifth place, completing the eight kilometers in 25:31.2. He was followed by Kyle Merber '12 in eighth, Terence Prial '11 in 12th, Justin Heck '12 in 15th and Anthony Merra '11 in 20th.
The women's team finished third behind Princeton and Harvard. Jacqueline Drouin '11 was the top Columbia finisher, in eighth place, with Julianne Quinn '11E next in 10th. Completing the top five were Christina Henderson '10 in 14th, Emily Lanois '13 in 18th and Camille Murphy '13 in 25th.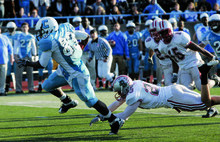 Austin Knowlin '10 breaks away from Brown in his final game.ALL-IVY: Austin Knowlin '10, who set Columbia football career records with 210 receptions and 2,484 receiving yards, earned his third consecutive All-Ivy first team honor. He also earned honorable mention as a return specialist. Joining Knowlin on the All-Ivy first team were defensive end Lou Miller '10, a unanimous selection after setting the school career record with 17 sacks, and offensive tackle Jeff Adams '12. Earning second-team recognition were tight end Andrew Kennedy '11 and free safety Adam Mehrer '11, while quarterback M.A. Olawale '10, linebacker Corey Cameron '10 and strong safety Andy Shalbrack '11, received honorable mention.
All-Ivy honors in cross country were determined at the Ivy Heps championships, with the top seven finishers earning first team and the next seven getting second team. On the men's side, Brendan Martin '11 was on the first team, and Kyle Merber '12 and Terence Prial '11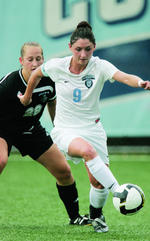 Sophie Rieser '10 controls the ball for the Lions.were on the second team, while on the women's side, Jacqueline Drouin '11, Julianne Quinn '11E and Christina Henderson '10 earned second team recognition.
Sophie Rieser '10, who finished her Columbia soccer career as the all-time leader in assists and ranked second in total points and third in goals, earned All-Ivy first-team honors for the third time. She also became the first Columbia woman soccer player in program history to earn ESPN The Magazine Academic All-America honors, gaining a place on the third team. Ashley Mistele '10 and Ashlin Yahr '12 were on the All-Ivy second team, and Meggie Ford '10 and Chrissy Butler '11 received honorable mention. In men's soccer, forward Bayo Adafin '11 received honorable mention.
In women's field hockey, Julia Garrison '11 made the All-Ivy second team, and Katie DeSantis '13 and Leti Freaney '12 received honorable mention.
Alex Sachare '71