Bookshelf
Mark C. Taylor Meditates on Death and Life
Mark C. Taylor Photo: Richard HowardProfessor Mark C. Taylor's advice to anyone who picks up his latest book is simple: "Read it slowly." After all, the work has been several decades in the making; it ought to take more than a few hours to finish. Indeed, its author would argue that Field Notes from Elsewhere: Reflections on Dying and Living (Columbia University Press, $26.95) has been the work of a lifetime.
Taylor, chair of Columbia's religion department and co-director of the University's Institute for Religion, Culture and Public Life, has written many works of scholarship through the years, but this is his first autobiography. Although the author, now 64, began to entertain the idea of this project more than 30 years ago, as he points out in the book's opening pages, "Such a work … cannot be rushed because the experiences of life and death constitute the necessary research."
Taylor's original working title for his autobiography was Betrayal. He chose the word for its dual meaning: to betray is to act in bad faith — to double-cross — but it also is to reveal. This sort of ambiguity fascinates Taylor, who points out the uncertainties and limitations of words throughout his work.
Indeed, one of Taylor's greatest challenges while writing about his past was the struggle to capture the substance of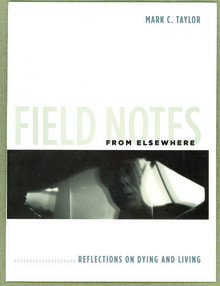 subjective experience through the imprecise medium of language. In Field Notes, he asks outright, "What if some things cannot be said? What if some secrets can never be revealed?" To write a memoir, then, is to decide not only what should be told but what can be told.
The catalyst for the writing of Field Notes was a near-death experience that Taylor underwent during fall 2005. Stricken by diabetes and cancer, he hovered for several days in an uncertain area between life and death, a space he has come to refer to as "elsewhere." Elsewhere, as Taylor defines it, is a state of profound physical weakness, and yet it brings with it a sense of complete invulnerability.
"Once you've been elsewhere," Taylor says, "you know that there's nothing anyone can do to you that life hasn't already done."
The author explores this paradox, along with many other philosophical contradictions, throughout his autobiography. The book is divided into 52 chapters, each made up of two parts that address distinct but interrelated concepts. Chapter one, for example, is titled "Day/Night," while chapter 19 makes the more abstract distinction "Solitude/Loneliness."
The book's autobiographical material is incorporated into this framework and takes the form of discrete, individual anecdotes, organized thematically rather than chronologically. "I didn't want to write a straight narrative," Taylor says, "because life isn't a straight narrative. It's episodic."
Taylor was raised in Westfield, N.J., the son of a pair of high school teachers. After graduating from Wesleyan in 1968 and earning his Ph.D. in religion from Harvard in 1973, he followed his parents' example and went to work as an educator. While teaching religion and philosophy at Williams, Taylor made a name for himself as an unconventional and outspoken instructor, a reputation that has only grown stronger since he came to Columbia in 2003.
The landscape of New York City plays a central role in Taylor's recollections. "Place matters," he writes. "What you think is, in large measure, a function of where you think." In one passage, Taylor describes the experience of traveling to Ground Zero in the days immediately after 9-11 and the feeling of "primordial vulnerability" evoked by the towers' collapse.
Many of Taylor's anecdotes revolve around the University and Morningside Heights. In fact, it was while staying in St. Luke's-Roosevelt Hospital Center that he underwent the transformative period of illness and recuperation around which the book centers.
While Taylor's reminiscences will be of particular interest to readers who are familiar with Columbia and New York, he focuses throughout the book on those memories that he believes will resonate with the widest possible audience. In addition to his struggles with disease, Taylor describes the pain of mourning loved ones, the sustaining powers of his most important friendships, and the joys and anxieties of watching his two children grow up.
"The book holds up a mirror in which we see our own lives reflected," he says. "It's about things we all experience, things we all share."
Thus, although Field Notes is very much rooted in his academic background and philosophical perspective, Taylor hopes and trusts that the book will strike a personal note with his audience. Readers may not be familiar with his intellectual framework, but they will be able to relate to the experiences he describes.
"It's accessible," Taylor says, "as long as you take the time to read it carefully. You have to go through it slowly, which may be difficult for a modern audience. In today's frantic world, nothing is more radical than slowness."
Grace Laidlaw '11