Cover Story
The Road Less Traveled
From U.S. Marshal to bicycle racer, some alumni choose unusual career paths
By Ethan Rouen '04J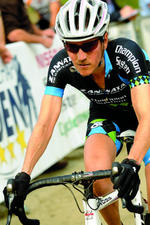 Christine Vardaros '91 racing cyclocross for Zannata- Champion System. PHOTO: FRANCOIS BUYSSENSThousands of College alumni have left Morningside Heights to make their mark in law, medicine, education and business. Their names come up in magazine "Best of" and "Most Promising" lists again and again. Some well-known alumni even have moved into the highest ranks of world leadership.
Then there are those who opted to forgo Wall Street and law school for a different approach to making a living. There are those who rely on their hands, their legs or a bush pilot in the frontier the way many others rely on their BlackBerries. They work just as hard — if not harder — than their classmates who have followed more traditional career paths, but instead of wearing suits and commuting to offices, they spend long hours harvesting grapes or fighting fires. They don't necessarily think they are special; they are just like everyone else, going to work to feed their families.
One mark of a truly outstanding liberal arts education is that it prepares you for any possible career. Here are seven alumni who have used their Columbia degrees to take their lives in unusual directions.
After years in the metropolitan extreme of New York City, Jim Chenoweth '50 and his wife packed up their bags in 1951 and headed west in search of the opposite rush, the intense solitude of the Alaskan frontier.
Chenoweth could only stand his humdrum job in a chemical laboratory for a year after graduation. When a friend told him work was plentiful in what would become the 49th state, he jumped at the chance.
"It was exciting," he says. "Alaska became a state in 1959. The period of time when we were there before that was the rough and tumble years."
Chenoweth soon got a job as an Anchorage police detective doing undercover work. In 1952, the U.S. Marshal in Alaska hired Chenoweth as his deputy.
In a territory without state police, the marshals assumed that role, taking over law enforcement duties for 142,000 square miles, or 10,000 square miles per marshal.
The last of the wild west was known as a refuge for outlaws and those looking to become outlaws. "Many criminals who came to Alaska thought they could get lost, or there'd be no professional law enforcement," Chenoweth says. "They made a big mistake."
The feds worked closely with local law enforcement and even relied on bush pilots to spot suspicious activity in the wilds.
Chenoweth once helped Montana police track down and capture a fugitive on the lam in the Aleutian Islands. One of Chenoweth's favorite cases involved solving a murder that took place in a sleazy roadside gin mill outside Anchorage.
"Columbia taught me the importance of personal values in life," he said. "In boom-town Alaska, I hoped to find a job with personal values as well as a paycheck. I think I did."
Jim Chenoweth '50 (far right) chauffeurs future President Richard Nixon and his wife, Pat, on their trip to Alaska. PHOTO: COURTESY OF JIM CHENOWETH '50After Alaska became a state, though, Chenoweth returned East and was a criminal investigator for various government agencies including the Treasury Department and the House Select committee looking into the assassinations of John F. Kennedy and Martin Luther King Jr. He had been one of the last U.S. frontier Marshals before Alaska created its own police force.
Chenoweth now lives in New Hampshire and is a writer. He has written a book about his adventures in Alaska, Down Darkness Wide: U.S. Marshals and the Last Frontier (2004), and one about bizarre and unique places in New England, Oddity Odyssey: A Journey through New England's Colorful Past (2001).
"I'm doing a little placid work here," he said. "But writing is not rocking chair luxury."
Lew Robins '53 likes to say he has always been unemployed, but he certainly hasn't been lounging on his sofa in pajamas for the last 56 years.
During college, Robins started his own business as a printing broker and arranged the printing for Spectator and Jester. He started at the top of virtually every skyscraper in Manhattan and worked his way down, offering his services to almost every company in New York City.
Two years after graduation, Robins took over his father's business supplying Bible paper, but he enlisted in the Navy soon after that.
"That's where my troubles started," Robins jokes.
By applying psychology Professor Fred Keller's famed Keller Code-Voice Method, which uses instant audio feedback to teach students, Robins was able to cut the number of hours it took to teach Morse Code from 200 to 100. The method he developed was adopted by the Army and Coast Guard. Robins then tried to apply it to other skills, like touch typing, but he ran into a brick wall.
"I met with a Naval aide to the President to find out why the Navy was blocking an enlisted man's way of teaching typing," he says. "The Navy couldn't believe that an enlisted man could invent anything."
With the help of some Columbia connections, Robins eventually got his method implemented throughout the armed forces and went on to publish long-playing records teaching his strategy.
Lew Robins '53 invented a program that teaches struggling children to read. photo: joan bradyKeller, whose psychology course Robins initially took to meet his science requirement, inspired him to use these tools to teach a variety of skills, ranging from foreign languages to computer programs.
Robins invented a reading program designed to help the 20 percent of elementary school students who are unable to learn to read in the traditional way. That system is being used in a Detroit charter school with great success.
He also recently created a fifth iteration of his software designed to give voice to adults who have lost the ability to speak. By studying how the English language flows idiomatically, Robins continually reduces the number of clicks it takes for those who have suffered from stroke and other diseases to create full sentences using a computer.
Unlike other technologies that cost as much as $10,000, Robins' program will be inexpensive.
He has been perfecting the system with Paul Sawyer, the law partner of Mort Freilicher '53. Sawyer, who represented the astronauts during the moon landing, lost his ability to speak and was severely paralyzed after suffering a stroke, but he still has control of his left hand.
"Here was a brilliant man who had lost his ability to speak," Robins says. "He had tried other things and been frustrated. They were too complicated. When he saw what I developed, he took my hand and kissed it."
Dan Silverman '70 came to Columbia already possessing some of the skills that would lead him on the path from carpenter to woodworker to fire chief of a small Cape Cod community. From a young age, the New York native was fascinated by jobs that allowed people to work with their hands as well as their heads.
"I was the only person I knew who had a tool kit under his bed in Carman Hall," he says.
Columbia and the country were in upheaval when Silverman, an English major, graduated. "A lot of us going through those times were disillusioned with traditional modes of going through life," he says. "We were looking for non-traditional career paths. I'm not unique."
In 1972, Silverman headed for Wellfleet, Mass., a beautiful sliver of land and home to a mix of fishermen, tradespeople and vacationers in the heart of the Cape Cod National Seashore.
At first, he made his living doing carpentry, but by the late '70s, he was making a steady, if humble, income doing custom woodwork. The money wasn't great, but the freedom and creativity were what mattered.
A self-described long-haired, left-wing hippie, Silverman took an active role in town affairs.
"I wanted to integrate myself into the community," he says. "One of the very important institutions in a small town is the local fire department. It took a few years before they were willing to accept a 'washashore.' Eventually, I think I wore down their resistance."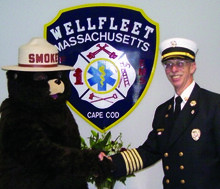 Fire Chief Dan Silverman '70 meets Smokey Bear. PHOTO: Courtesy of Dan Silverman '70Although he stood out, Silverman also had one important ability he could offer the Wellfleet Fire Department. Firefighters were paid by the call, so most worked full-time jobs. There was a scarcity of responders available during the day, but since Silverman was his own boss, he had the flexibility to take those calls. He joined the department in 1982, was promoted to lieutenant after 12 years, and nine years after that became deputy chief while still running his woodworking shop.
In 2005, the chief unexpectedly retired early, leaving Silverman to contemplate a mid-life career change he never thought likely. Less than a year later, he was appointed full-time chief of the department, overseeing eight full-time firefighter/paramedics and 12 paid-on-call personnel.
Although Wellfleet is growing into a summer community, Silverman doesn't get to kick up his feet when the beachgoers head home. The department responds to about 1,200 calls a year, averaging more than three a day. Most are emergency medical calls, but they range from fires to car accidents to hazardous material spills.
Silverman has about three more years as chief before mandatory retirement will allow him to return to the passion that initially brought him to Wellfleet.
"I gave up woodworking because this is a full-time job plus," he says. "I still have my shop, and going back to it will be my retirement."
While some students float through college with their heads in the clouds, Jim Petersen '71 sank to the bottom of a pool and is still there.
Petersen, a pre-med student with an economics concentration, started teaching scuba diving in the Columbia pool when he was a student, and employees of the business he formed, Pan Aqua Diving, still teach there today.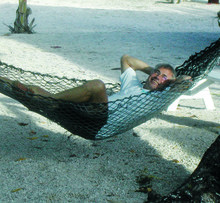 Jim Petersen '71 takes a break during a dive trip in Bikini Atoll. PHOTO: Courtesy of Jim Petersen '71"Columbia was truly a liberal arts school," Petersen says. "I took a scuba course at Columbia, and I was in the student bartending agency. That's what I ended up doing with my life."
A Midwest native, Petersen started scuba diving as a teenager in the Boy Scouts. After college, he earned a master's in marine biology from CUNY and spent some time doing research in the Caribbean. When he couldn't find a job in warmer waters, he returned to New York and taught high school for a year.
By that time, he and a friend were teaching scuba diving to up to 250 people a year at Columbia and the YMCA.
"We thought that that was a good base to open a retail diving business," he says.
While he was opening Pan Aqua Diving on the Upper West Side in 1983, Petersen also was helping a friend open a bar, which provided good training for his next business.
Six years later, he opened Dive Bar on Amsterdam Avenue. When Pan Aqua moved to its current Midtown location in 1996, Petersen opened the popular watering hole Dive 75 in its place.
Petersen's newest venture is Buceo 95, a tapas bar, also near Morningside Heights.
While his life sounds like a script out of a Tom Cruise movie, Petersen is quick to mention that he spends much time doing mundane chores like his businesses' books. He still makes time, though, to lead a dive trip to some exotic location (think Bikini Atoll) each year and recently went to Mexico to become certified as a cave diver.
Mike Manuche '80 spent two summers during college interning at a Fortune 500 company and seemingly laying the groundwork for a career in business. That was until his football team buddy Mike Riordan '80 made an appointment with a Marine recruiter in Times Square and didn't want to go alone.
"He dragged me with him," Manuche says. "The rest is history."
Manuche, a political science major, told the recruiter he wasn't interested in joining the military, but if he did, he'd want to fly. After a two-hour conversation with an aviator and a glimpse at the new F-18 jet, he had only one question: "Where do I sign up?"
His military contract guaranteed that he would attend flight school. By then, the company that he had been interning for had offered him a job, but Manuche could not pass up the opportunity to fly.
"They offered me a job when I get out," he says of the company at which he interned. "But the Marine Corps never gave me a good reason to get out."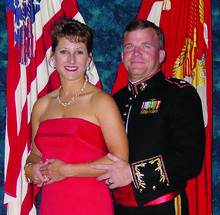 Mike Manuche '80 and his wife, Judy, at the Marine Corps Birthday Ball in 2001. PHOTO: COURTESY of MIKE MANUCHE '80Manuche served for 21 years, traveling the globe, training others to fly the F-18 and teaching at the U.S. Navy Fighter Weapons School, also known as Top Gun. During the last two years of the Clinton administration, Manuche served in the Pentagon, helping develop national military strategy.
In 2002, a year after the attacks on the Pentagon and World Trade Center, Manuche made the difficult decision to retire from the Marines. With three sons about to enter their teens, he was eager to spend more time with his family.
But he didn't give up flying. He had a connection at JetBlue, a fledgling airline at the time. He could have gone into business — he earned an M.B.A. while in the Marines — but he wanted a job that offered him the time he wanted to be with his sons.
Manuche now is a captain with JetBlue, living in San Diego and flying out of Long Beach, Calif.
"For me, it's more of a retirement job," he says. "It allows me to get a lot of time off. It gives me time to coach JV football."
Christine Vardaros '91 traveled a long way in a short time.
After studying for medical school at the College, Vardaros spent a couple of years in marketing at Morgan Stanley, making more money than she could spend and staying up late into the night trying to spend it at bars.
"I really didn't like it," she says. "I worked 80 hours — 100 hours — a week, and I ended up living this zany life."
Then, in 1994, the love of her life appeared at her door. It was a friend's Breezer, an early generation mountain bike.
"It looked like something straight out of the Schwarzenegger Terminator movies," she says. "Before I knew it, I packed up my desk on the trading floor and moved to California to become a bicycle racer."
She used to laugh at cyclists in New York and wonder why they didn't just take cabs. But by 1996, Vardaros was a semi-professional bike racer, sponsored by the same bicycle company that bore the name of her first love. Two years later, she turned pro, racing mountain bikes and cyclocross, a race that involves taking modified road bikes across muddy, bumpy terrain.
Vardaros moved to Belgium in 2007 to be in the heart of the professional bicycle racing scene. Now 40, she is riding cyclocross and road races for Zannata-Champion System and represents the United States every year in the World Cup series and the World Championship race, one of the most prestigious events in cycling. She has ridden the women's Tour de France and plans to start mountain biking again next year.
Vardaros also writes about cycling and veganism for a variety of American and European publications. As a vegan and an athlete in an incredibly difficult sport (about one in four pro racers don't complete the season because of injury), she has become known as "the vegan athlete," traveling the world to speak about the benefits of a vegan diet and the dangers of eating animal products.
"I couldn't imagine doing what I do, especially at my age, in possibly the hardest cycling discipline, if I ate meat," she says. "I couldn't do it. I'd be sick more often. I'm almost never sick."
Still, life isn't all fast bikes and globetrotting. After a recent race in Italy, Vardaros came back to her rural Belgium home and had to fight with government officials to get five sets of wheels out of customs. On her off days, she devotes considerable time to dealing with sponsors and bicycle maintenance.
"Very few days are the same," she says. "It's really tough for me because I'm a homebody. Cycling is nothing like that."
Watch Vardaros race and explain cyclocross:
Dan Petroski '95 can trace the genesis of his career to a few too many glasses of cheap white wine one night at Columbia Cottage.
"I woke up the next morning feeling pretty [bad]," he says of that undergraduate experience, "so much so that I couldn't stomach the smell of cheap white wine for about four years after the fact."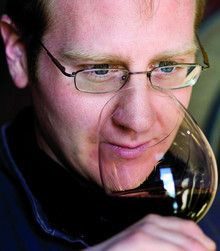 Dan Petroski '95 samples Larkmead Vineyards' wares. PHOTO: COURTESY OF LARKMEAD VINEYARDSWhen Petroski returns to campus for his 15th reunion this year, he plans to be pouring for his classmates the white wine he is currently making for his own label, Massican, named for the southern Italian hills where, according to legend, Bacchus blessed a farmer with the most sought-after grapes after the farmer gave shelter to the Greek god.
Petroski went into magazine publishing after college and spent several years at Time, Inc., where he'd often peruse food and wine magazines with a secret longing. While working on an M.B.A. in NYU's executive program, he and some classmates made a trip to southern Italy.
"Within two months of returning from that trip at the end of 2004, I asked my friend … if he thought it was possible that I could take an apprenticeship with a wine-making family," Petroski says. "In magazines, I'd see people eating under a canopy of trees. Everyone was beautiful and the setting was serene, and basically, that is what my life was like for a year."
Without knowing much Italian, Petroski apprenticed at a family vineyard and winery in Sicily. He quickly picked up the language and skills he needed, but he could not find a job in wine sales in New York, his initial plan. So he headed to California, where he did an internship before landing a job as a winemaker at the top-rated Larkmead Vineyards in 2006.
He still works there, but the idea to produce his own wine was inspired, in part, because his family and friends rarely shell out $50–$85 for the wine he produces at Larkmead.
"Part of my goal was to craft a white wine that was affordable and approachable, unique and different," he says. "I went back to my Italian training to find wines I like to drink."
Petroski says Columbia treated him like "a blank canvas," giving him the skills and self-confidence to explore creative options that eventually led him to his current career. And as a football player in college, he also gained some more practical experience needed by wine makers.
"Harvest is like three days of football camp," he says. "It's 13–15 hours a day for six weeks. It's exhausting and repetitive, but it's invigorating, like blocking and tackling drills."