Features
Conrad H. Lung '72 Receives Hamilton Medal
By Alex Sachare '71; photos by Eileen Barroso
(From top) Conrad H. Lung '72 (second from left) is joined in celebration by (from left) daughter Stephanie '04, wife Yin Yee Lung '74 Barnard, son Jonathan '05E and daughter Jennifer '01E, '08 P&SConrad H. Lung '72 was presented with the 2009 Alexander Hamilton Medal, the highest honor paid to a member of the Columbia College family, at a black-tie dinner in Low Rotunda on November 19. The medal is awarded annually by the Columbia College Alumni Association to an alumnus/a or faculty member for distinguished service to the College and accomplishment in any field of endeavor.
Lung, who was born in Canton, China, recalled receiving a thin letter from Columbia when he was 18, which he surmised to be a rejection of his application for admission. "I do not remember so much the joy, but the utter disbelief and incomprehension," he said, upon learning he had been accepted and offered a scholarship and campus job that would enable him to attend.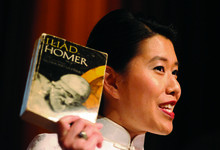 Stephanie holds up her father's well-worn copy of The Iliad, which he gave her when she was accepted to the CollegePresident Lee C. Bollinger joined Dean Michele Moody-Adams and CCAA President Geoffrey J. Colvin '74 in presenting Lung with the medal. "You have always been a pioneer, a leader rather than a follower," Bollinger said. "You saw a world that was changing long before globalization became a mantra for all of us."
Moody-Adams praised Lung's commitment to "racial, ethnic and socio-economic diversity" at the College, as well as his ongoing "desire to connect students with alumni." Lung is one of the founders of the Asian Columbia Alumni/ae Association and was the group's first president, and assisted in the founding of the Columbia Club in Singapore and improved the link between Columbia and various Columbia Clubs in Asia.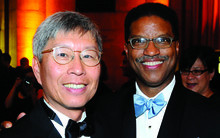 Lung with Trustee Emeritus George Van Amson '74Lung's family has become very much a part of the Columbia family. Lung spoke of how his two sisters followed him to New York and enrolled at Barnard, and his brother came to the College. It was while at Columbia that Lung met his "best friend of 39 years, and my wife of 35 of those years," Yin Yee Lung '74 Barnard. The couple has three children: Jennifer '01E, '08 P&S; Stephanie '04; and Jonathan '05E.
Stephanie Lung, who is president of Columbia College Young Alumni, delivered welcoming remarks and held up her father's copy of The Iliad, which he had given her upon her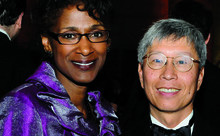 Lung with Dean Michele Moody-Adamsacceptance. She drew a laugh from the crowd of approximately 400 alumni, students, parents, faculty, administrators and friends in Low Rotunda when she told of how her father had bet that she could not match his GPA, and that four years later, "I was very happy to parade, in his face, my higher GPA." Lung, who spoke afterward, attributed the difference to grade inflation but noted with pride, "Stephanie used to say that she was known at Columbia as Conrad Lung's daughter. Now, I'm known as Stephanie's father." 
Lung, who majored in Oriental studies at the College, founded Sunnex, Inc., a global manufacturer and wholesaler of women's career clothing, in 1985. He serves the College as a member of the Alumni Association Board of Directors and as an emeritus member of the Board of Visitors.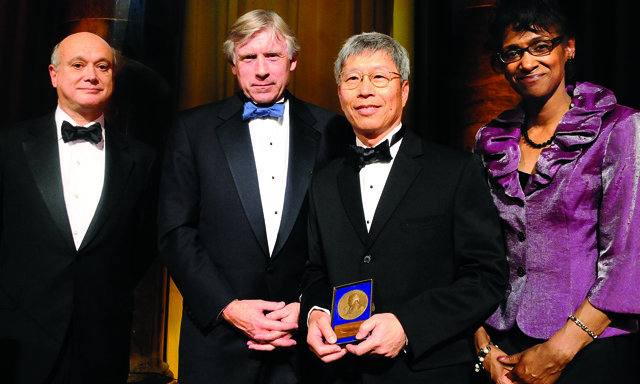 | | |
| --- | --- |
| | (Clockwise from top) President Lee C. Bollinger praised Lung as "a pioneer, a leader" in presenting him with the 2009 Alexander Hamilton Medal, flanked by Columbia College Alumni Association President Geoffrey J. Colvin '74, '77L, '78 Business and Dean Michele Moody-Adams; Chester Lee '70E, '74 Business offered a toast to Lung, his longtime friend; four of the approximately 100 students who attended the dinner; Lung has carried the College banner to China, Singapore and throughout Asia; the Clefhangers provided an a cappella coda to the festive evening. |