Features
George Starke '71 Helps D.C. Youths Excel
By Megan Greenwell '06 Barnard
The young people who attend the Excel Institute in Northeast Washington, D.C., are unfailingly polite. They hold doors open for their classmates, call visitors "sir" and "ma'am" and are (almost) always on time.
If a 6-foot-5 Super Bowl champion offensive lineman ran your school, you'd be on your best behavior, too.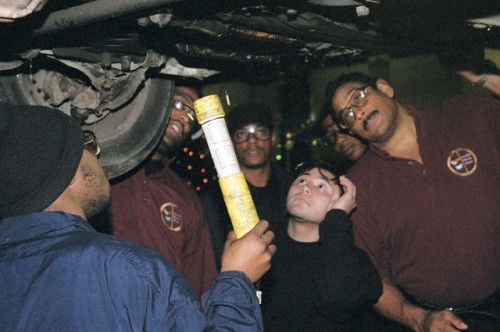 George Starke '71 (right), students and an instructor from the Excel Institute look under the chassis of an automobile. Photo: Courtesy of Excel InstituteBut George Starke '71 doesn't rely on intimidation when dealing with his students. He earns their respect the old-fashioned way: being tough — habitual tardiness results in expulsion — but always fair. Plus, he's the guy who gave these 120 students a chance when no one else believed in them.
The Excel Institute, which Starke co-founded with park­ing lot magnate John W. Lyon in 1997, trains high school dropouts as auto mechanics and helps them earn their high school equivalency degree (GED). Similar programs in the Washington, D.C., region cost as much as $25,000 a year, but Starke promised from the beginning that anybody who qualified could attend Excel for free, knowing that the kids who needed the school most could not afford to pay. Although there is an application form, few students are turned away, and Starke is planning a night program to keep up with demand.
"They may be in gangs or whatever, but here they leave their weapons and drugs at the door and work their tails off."
"What we've created is a place [with] an esprit de corps of losers who don't want to be losers anymore," Starke says. "They may be in gangs or whatever, but here they leave their weapons and drugs at the door and work their tails off."
Working with troubled youths is not the most obvious career path for Starke, who has rarely failed at anything in life. A two-sport standout at New Rochelle (N.Y.) H.S., he turned down scholarship offers from football powerhouses such as Notre Dame and Ohio State as well as Virginia, which wanted him to be the first African-American on its football team, to attend Columbia. Friends and mentors told him he was crazy, that he was giving up a chance to play in the NFL by going Ivy League.
"Everybody said it was impossible to go from Columbia to the NFL, but I didn't care," Starke says. "I didn't even know if I'd want to play football in a couple of years, and I figured I needed a good education."
Starke's education began as soon as he set foot in Morningside Heights, involving not only classes in the Core Curriculum, but also the volatile campus culture of the late 1960s that formed what he describes as the political and social consciousness that remains part of his identity.
When he wasn't joining in the protests, Starke was quickly becoming a star on the gridiron. Playing mostly tight end, he was a rare bright spot for the Lions, who never won more than three games during his years in uniform. During the winters, he played for a more successful Columbia team, starting at center for a nationally ranked Lions basketball squad during his junior and senior years. In 2000, Starke was named to Columbia's football "team of the century."
Starke graduated with a degree in physics but decided to enter the NFL draft in hopes of proving the doubters wrong. He almost didn't get the chance; the Washington Redskins didn't draft him until the 11th round, then traded him to the Kansas City Chiefs, who cut him from the roster during training camp. After a brief stint as a history and math teacher in Yonkers, N.Y., the Redskins invited Starke back to training camp in 1972.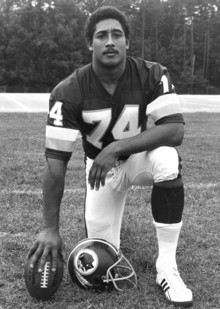 Starke was nicknamed "Head Hog" when he anchored the offensive line of the Washington Redskins, who won the Super Bowl in 1983. Photo: Courtesy of the Washington RedskinsThe decision resulted in a huge payoff for Washington. Starke earned a spot on the team and became a starter at offensive tackle in 1974. He held that job for a decade, playing in two Super Bowls and winning one. The offensive line, arguably the best in the league, became known as the Hogs, and thousands of fans donned pig snouts at every game. Because of his seniority, Starke was named "Head Hog."
"That was just fun football," he says. "We all got along. We hung out off the field, and we won when we were on it."
Starke may have been friends with many of his teammates, but he didn't have much in common with most of them. For one thing, he was the rare professional football player who spent as much time reading Mother Jones as Sports Illustrated (he still does, in fact). And then there was the not-insignificant matter of geography.
For much of its history, Washington, D.C., has been a divided city: The senators and lobbyists who populate the city during the day flee to the suburbs at night. Until recently, the city's residents were overwhelmingly black and poor. With their NFL salaries, Redskins players, whether black or white, almost always lived in the city's tonier suburbs.
Not Starke. In 1976, he bought a house for $55,000 in the rough neighborhood of Columbia Heights, renovating every inch of it himself. More than 30 years later, the neighborhood is mostly gentrified (though drug deals and gunshots still are not unheard of) and Starke still lives alone in the same house. He spends most evenings working on manuscripts for a book, movie and television show he plans to produce about the Hogs.
"Originally, coming from New York, I thought the idea of living in a black town was pretty cool," Starke said. "I'm a black city guy; why would I live in Fairfax, Va.?"
Starke adopted Washington, D.C. — with its 1980s crack epidemic and gang wars — as his hometown. And when he retired from football, he decided he should do something to help its myriad problems. He operated a Ford dealership and a barbecue restaurant (called Head Hog BBQ, of course) for a while, but was disheartened by the number of youths being killed and wanted to do more to help troubled kids.
Starke's car dealership ended up providing the spark for his new career. He constantly had trouble finding qualified mechanics, something he had in common with auto shops across the region. The problem was that most vocational schools had died out in the 1970s, leaving few opportunities for training.
"I couldn't find techs to fix my cars, and meanwhile all these kids with nothing to do were out shooting each other," Starke says. "It seemed fairly obvious."
The $300,000 seed money to start Excel represented Starke's entire profit from the sale of his dealership. Since then, the school has survived on substantial grants from Congress, the city of Washington, D.C., dozens of nonprofit foundations and private donations.
"He's the only guy I know who can walk into the Mayor's Office in cut-off jeans and ratty sneakers and walk out with a huge check," says Marcus Robinson, an Excel graduate who now is the school's professional services manager.
Nearly half of the roughly 50 Excel students in a class enter the program with sixth-grade reading skills or lower, creating a formidable challenge for the teachers who must teach them how to read complicated auto manuals. The two-year program prepares students to pass the five-part GED exam, requiring high school skills in writing, reading, math, social studies and science. Excel also trains students to earn their Automotive Service Excellence certificate, a prerequisite for most auto mechanic jobs. Many of the 500-plus Excel graduates now work for the Washington Metro Area Transit Authority, fixing buses and subway trains.
"A new car today is like a rocket ship; you really have to be an engineer to fix it," Starke says. "So I train engineers. They get the remedial stuff they need, but we slam them into advanced electronics, too. I tell them they'll be lost at first, sort of like I was in French 1 at Columbia, but you'll learn."
Many Excel students (and some of the teachers) aren't old enough to remember the days of the Hogs, but they have respect for Starke's Super Bowl ring — and his commitment to helping them succeed.
"I was barely getting by, working as a busboy, and I didn't have too many options to do anything else," says Mario Johnson, a 25-year-old second-year student. "Now I'm going to be able to get a high-paying job and support myself."
Starke is hoping to open a similar school in New York. In late October, two officials from the New York City Department of Education toured Excel at the direction of the system's chancellor, Joel Klein '67. And although some people have doubts about whether Starke's program can succeed in other places, he plans to prove them wrong — just like he did the people who said he couldn't become an NFL star after playing at Columbia.
"There's this theory in education that once students drop out of high school it's too late and you have to write them off," Starke says, gazing at a classroom full of students diligently studying basic electronics. "I ignored that altogether, and just look at the results."
Megan Greenwell '06 Barnard was the 129th editor-in-chief of the Columbia Daily Spectator. She is a reporter for The Washington Post.