Within the Family
Going Greener and Saving Green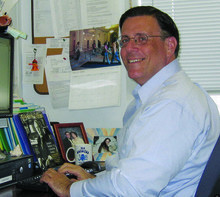 "Last one out of the room turns out the lights — we don't have stock in Con Edison!"
"Turn off that faucet before the reservoir runs dry."
"Don't waste food — there are starving children in India."
Growing up middle class in the 1950s and '60s, I learned the meaning of "waste not, want not." We did not have stock in the local utility company, we did not squander natural resources such as water, and while we never went hungry, we didn't fill our plates with food we weren't going to eat, either. I didn't know the term sustainability — heck, it might not have been coined yet — but my family practiced it on a personal level.
Today, sustainability is in the news every day: The polar ice caps are melting, rainforests are endangered, species are facing extinction. And I'm on board. I've watched Al Gore's An Inconvenient Truth, I followed the Copenhagen climate summit, I've read Thomas Friedman's Hot, Flat, and Crowded: Why We Need a Green Revolution — and How It Can Renew America. The last car I bought was a Prius, and I love it. Environmental studies, environmental science, environmental law, environmental anything are among the most rapidly growing fields of study on campuses around the country, and I'm both happy and proud that my Barnard-bound daughter has environmental studies in her plans.
Now it's time for Columbia College Today to do its small part.
This is the first issue of our magazine, your magazine, to be printed on paper that is made from mixed sources — a combination of virgin and recycled pulp — and qualifies to carry the Forest Stewardship Council logo you'll see at the bottom of our masthead on the opposite page.
Only 10 percent of the world's forests are certified by one of the credible forest certification programs that encourage responsible forestry, such as the FSC, a global organization created following the 1993 Rio de Janeiro climate summit. The FSC establishes a sustainability chain of custody, from FSC-certified forests to FSC-certified paper mills to FSC-certified printers, including Lane Press in South Burlington, Vt., which has been printing CCT since 1998 and holds chain-of-custody certification from the FSC. Using an FSC-certified printer that buys paper that originated in FSC-certified forests increases the demand for responsibly managed forests, which should only make that 10 percent go up.
Unfortunately, under the laws of supply and demand, FSC-certified paper is more expensive than virgin paper stock, and the difference escalates with the percentage of recycled content. In today's reality of budget constraints, this made it more challenging to go green and has limited us to 10 percent recycled stock. However, Lane Press identified several options for us that were cost-effective, and by slightly reducing the weight of our paper stock (the 60-lb. paper in this issue is still heavier than that used by most magazines), we were able to switch to FSC-certified paper and save money each issue as well.
So what is the environmental impact of this paper change? Using the Paper Calculator that is on the Environmental Defense Fund Web site, I learned that in one year we will use 28 fewer tons of paper, the equivalent of about 194 fewer trees. There also will be reductions in the four other categories the Paper Calculator measures: net energy used, greenhouse gases, wastewater and solid waste. It's all good.
In 2007, Columbia was among nine universities that accepted a challenge by NYC Mayor Michael Bloomberg (www.columbia.edu/cu/news/07/06/green.html) to reduce its carbon footprint by 30 percent in 10 years. At CCT, we are happy to play a small part in this effort.
You can help, too. A recent survey told us that the vast majority of you would like to keep receiving CCT in print, in addition to having it available (and archived) online. However, those of you who indicated you were happy to read the magazine online can help us go green and save money by opting out of the print version, thus saving us printing and distribution costs. Please send an e-mail — with your name, class year and address, so we can locate you in the database — to cct@columbia.edu, subject line "Opt-out." You may be reinstated to receive the print edition at any time, and we will continue to notify you by e-mail when each issue is posted online.
Finally, when you, your family and friends are done with this issue of CCT, the first to be printed on FSC-certified paper, please do the right thing and recycle it. Thanks!