Alumni Corner
A Ticket to a Better World
By Tina Wadhwa '07
The Bollywood music and film industry is among the largest in the world, producing approximately 1,000 films per year for an audience of more than three billion, with influence extending across continents and cultures. Bollywood movies depict sensational scenes of opulence and grandeur, often set in exotic locales featuring gorgeous mansions and even more gorgeous girls. In stark contrast to this affluence is the 60 percent of Mumbai's 17 million people who live in the slums and the 50 percent literacy rate that plagues the poorest of the nation. A great paradox exists between the life of extreme poverty among the majority of Indian people and their simultaneous mass consumption of an imagined opulence as illiterate children rush to theaters regularly, sometimes daily, to experience Bollywood songs. For roughly 20 cents, children with nothing have something to cheer for, as they can dream of a better life for just a moment or the duration of a movie.
Tina Wadhwa '07 poses next to a statue in front of a temple in Rajastan. Photo: Noelle FritzI traveled to India for a Fulbright-MTV Fellowship and was there from August 2009 to July 2010. The fellowship is awarded annually to four students in the United States to promote "the power of music" as a force for social change. We were to conduct research abroad for one year on projects of our own design, around an aspect of international musical culture. While I was in Mumbai, the other fellows worked in Malawi, Morocco and Brazil. I researched and filmed a documentary on music as a reflection of the vast socioeconomic class divide in India and the implications of the emerging music scene on Indian class structure. I also explored the impact and influence of Bollywood music on underprivileged youth in Mumbai. I worked with kids from the Dharavi and Worli slums and from The Akanksha Foundation and arranged dance and music workshops with them with renowned Bollywood choreographers and performers. My project culminated in a Bollywood performance and talent showcase by the youth that I organized for their families and the Indian community. MTV hosted a website about my project that I updated throughout the year, chronicling both my experiences as a Fulbright scholar and the journey of the children working together to fulfill their Bollywood dreams.
Following are some excerpts from the website about this incredible journey.
India Is a Melody
You just can't escape it. It's in the streets, in the stores, in the taxis, in the soul of the people who call India their home. Music pervades every inch of this nation, from the pavement to the palaces, and for many, it's the lifeblood that propels them toward another day. I arrived in Mumbai just in time for the Ganpati Celebrations, where the rich, poor, old and young gather in pursuit of religion, art, music and dance. The city is a noisy and anarchic discotheque, and I can barely cross the street without seeing an impromptu gala displaying every color of the rainbow.
I have come to learn that there are no rules, regulations or accountability in Mumbai. Traffic lanes and lights don't exist and driving is a game of chicken. But in the midst of chaos, there is a composed structure that the people have grown to live by and love, and I honestly don't think they would have it any other way. Bombay is a city with swanky shopping malls and posh hotels, where the men are wealthy real estate tycoons and the women Miss World. It is also a place with gut-wrenching poverty that disorients you every day. While there is certainly a bubble of bungalows and BMWs, the brilliance of Bombay lies in its dynamic nature, and it's the everyday people and their stories that give the city its life. Mumbai is a place that gets under your skin and into your blood, and while it is frustrating and heartbreaking and everything is a negotiation, there is a beauty in its breakdown, and I can't help but be moved every day by the poverty, magnificence, resilience and music of this city.
I Like the Way You Move
Although Mumbai represents entropy at its best, I was surprised by the level of organization and structure at The Akanksha Foundation, the main youth foundation I worked with during my time in India. Akanksha members pull these children directly out of the slums and into their centers, and they teach these children how to dream. They help the kids escape their harsh lives in the slums, even for just a few hours a day or a week, to let them be children again.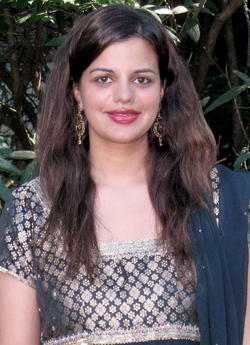 Wadhwa wearing a traditional Indian wedding dress. Photo: Veen WadhwaAkanksha periodically has assessment days where the children are tested on their progress through oral and written exams. I sat in on multiple assessments where the children were asked about current events and about what they had read or seen recently in the news. What was going on in their Mumbai? Interestingly, the first thing the children spoke of was music. They knew the latest Bollywood release, they spoke of the newest heroes, they quoted lyrics from their favorite songs.
While in Mumbai, I met many renowned Bollywood choreographers and performers. One choreographer was an assistant to the famous performer Sarooj Khan and had worked on the dance routines of many blockbuster movies including Love Aaj Kal and Wanted. Together, we taught the children a dance to a hit Bollywood song, "I Like the Way You Move," and he urged them to dance "dil se" — from their hearts. The kids arrived at the Akanksha center early those days, and they couldn't stop themselves from dancing even during breaks. They helped each other learn the steps, held each other's hands and coached each other to get it just right. They were naturals —– it was in them. I filmed the performance, the first of many talent showcases to come.
Slumdog
Given the success of the Academy Award-winning movie, Dharavi was naturally my first foray into the vast slum life of this grand city. Even though I already had been working with slum kids at the Akanksha centers, I thought it was important to explore their lives in the slum itself, to see firsthand where they came from and to understand their worlds. The Dharavi slum is the largest slum in Asia, and with more than a million people clustered in one square mile, it is the only slum that you can see from the moon.
Many of the young girls and boys seemed dressed as if prepared for their roles on the red carpet, with the girls in glittery costume jewelry and the boys in plastic sunglasses and makeshift muscle T-shirts. These children grew up on Bollywood, and while originally I had explored the positive impacts that the music and cinema had on their lives, a social worker offered me a different point of view. While movies the world over often glorify the villain and depict the relentless romantic chase, their impact on slum children here seems more potent, as Bollywood is one of the few things the children are exposed to outside of the slum. In a way, it constitutes their only world outside of the community. I was told that once when the movie halls were shut down in a particular slum, the crime rate went up drastically as the people lost one of their only forms of entertainment.
Within Mumbai, there exists an alliance of people who work together to get by. They hold their families close and their loyalties closer, for what they don't have in wealth, they make up in spirit, and it's not possessions but pride that makes them heroes.
To read more in-depth entries and view videos, photos and recordings, visit http://fulbright.mtvu.com/2009-grantees.
Watch a video of Wadhwa's time in India.
Tina Wadhwa '07 graduated with a degree in political science and economics. She worked in investment banking at Citigroup in New York for two years before going to India on a Fulbright-MTV Fellowship. She is pursuing a master's at the London School of Economics.