Alumni Profiles
A Taste of Home in Antarctica, Courtesy of Gemma Tarlach '90
By Kim Martineau '97J
Gemma Tarlach '90's pastries have made mouths water at fine restaurants in exotic places, but her most loyal customers can be found on a frozen continent where penguins outnumber people. Since August, Tarlach has been a baker at McMurdo Station, a scientific research center that is the last stop for angel food cake before the South Pole.
"I love hearing from the guys who've been out all day in below-zero cold that the apple fritter I made was the highlight of their week," she says. "That's a lot more satisfying than having some guy give you a $50 tip because he thought your strawberry-riesling soup with quenelle of black pepper ice cream was 'sublime.' "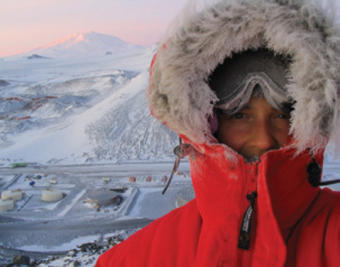 Mount Erebus, the world's southernmost volcano, is not far from McMurdo Station.After stints as a government worker and pop music critic, Tarlach found herself itching once again for a career change. She knew what she didn't want: long meetings, PowerPoint presentations and a BlackBerry glued to her side. She wanted a global, nomadic lifestyle that would offer plenty of autonomy.
What might seem like an impossible set of criteria landed her at the Culinary Institute of America in Hyde Park, N.Y., in 2006. She had spent — and enjoyed — the previous year at an organic bakery in Milwaukee, and she felt sure this new pro-fession would offer job security. "People will always want chocolate cake and be too lazy to make it," she reasons.
Tarlach's ability to focus and to obsess over minute detail — skills she honed on Columbia's varsity archery team — have served her well in the kitchen. And her degree in comparative politics has given her an intellectual appreciation for the age-old recipes she often makes. "I love knowing that when I make royal icing it's the same way that a patissier serving the Sun King would have made it," she says. "I love knowing that marzipan came to Europe via the Crusades."
The Hut Point Ridge Loop Trail offers views of the Ross Ice Shelf and Royal Society Mountains.Photos: Courtesy Gemma Tarlach '90Before working in Antarc­tica, Tarlach was working at a posh resort in New Zealand where she kept hearing adventurous tales from people "coming off the ice." It had been her lifelong dream to visit all seven continents, so she applied for a baking job at McMurdo.
In the kitchen, Tarlach works in a team of five, baking bread and pastries and fixing breakfast for about 1,200 people. The head baker sets the daily menu, often based on what's left in the fridge. An ice-breaking ship delivers their main provisions in January, when the sea ice is relatively thin. From mid-August through February, when her contract ends, planes deliver "freshies," or fruits, vegetables and dairy, once a week, weather permitting.
Tarlach works 10-hour days, six days a week, in a communal culture that is reminiscent of college. She lives with three room­mates and looks forward to days when the occasional care package loaded with skin-soothing shea butter arrives (the dry climate and repeated hand washing has done a number on her hands). She also is learning constantly, at weekly Science Sunday lectures or by observing the wonders beyond her window — polar stratospheric clouds, Southern Lights and other phenomena.
The job has given Tarlach a chance to express her creative side. For Halloween, she dressed as a gargoyle, fashioning bat wings from garbage bags, a discarded tent and a broken exercise coil. Recently, she transformed leftover angel food cake for the McMurdo crowd. "I cubed it," she wrote in an e-mail. "I toasted it, spread it on a serving platter, topped it with (thawed) frozen berries and whipped up a rum and orange sabayon.
"I wish everyone hadn't eaten it so fast," she adds. "I wanted some."
Tarlach always has had a creative streak. She decorated her bathroom in Milwaukee to the theme "Toilet of the Gods," a play on Led Zeppelin's Twilight of the Gods, featuring hot pink paint and pictures of Hindu gods, says her friend Christina Fitzgerald '91, an English teacher at the University of Toledo. "I like to describe Gemma as Martha Stewart on acid," Fitzgerald says.
Tarlach talks less about her life before Columbia, saying only she was "at odds" with the New Jersey town where she grew up. She picked Columbia for its reputation, location and early admission policy that allowed her to skip her senior year of high school to start college early.
At Columbia, it was dino­saurs, not questions of statehood, that most grabbed Tarlach. Her favorite class was Paul Olsen's "Dinosaurs and the History of Life," where she picked up enough Jurassic-era trivia to dazzle her nieces and nephews decades later. "He seemed so passionate about his field that you thought he might explode if he had to keep it all inside without students with whom to share it," she says.
For all the time she spends with food, Tarlach would not describe herself as a "foodie." "I am certainly not one of those insufferable bores who goes on and on about being able to taste wet summer slate in a glass of sauvignon blanc," she says.
What Tarlach likes most about her current job is that comforting Nilla Wafer pudding is as welcome as a glass of chocolate mousse with raspberry inserts.
Her advice to amateur bakers: Don't skimp on butter, eggs or cream. People sometimes complain to Tarlach that a recipe they tried didn't turn out right. She will learn later that they substituted applesauce for eggs or skipped the butter.
"If you're going to make dessert, do it for real and just have a smaller piece of the result," she recommends. "If you can't handle that, just have a piece of fruit. A beautiful piece of perfectly ripe fruit, to me, is the best dessert you can have."
Kim Martineau '97J is communications manager at Transportation Alternatives, a walking, bicycling and public transit advocacy group in New York City.