Around the Quads
Campus News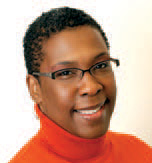 Avis Hinkson '84 Barnard, '87 TCBARNARD: Avis Hinkson '84 Barnard, '87 TC will become the new dean of Barnard College, effective February 14. Hinkson will replace Dorothy Denburg '70 Barnard, who will take on a new role as v.p. for college relations at Barnard.
Hinkson will oversee the Offices of the Dean of Studies, Admissions and Financial Aid, Registrar, Residential Life, Student Life, and Health Services. For the past six years, she has been director of undergraduate advising at UC Berkeley. In addition to her years at Berkeley, Hinkson brings more than 20 years of experience in enrollment management, which she began during her work-study job at Barnard's Admissions Office.
In Barnard's October 26 announcement of her appointment, Hinkson describes her return to her alma mater as "a dream come true." She says she looks forward to the chance to "develop women leaders and change agents who will enhance our global community."
MARSHALL: Anna Feuer '11, an English major from Los Angeles, has won a Marshall Scholarship and next fall will attend Oxford, where she will pursue first a master's in global and imperial history and then a master's in English literature. Her area of specialization will be in the interactions between Irish and Indian writers during the early part of the 20th century.
While at Columbia, Feuer has taken a variety of classes in the humanities as well as pursued language studies in Hindi and Urdu. During her junior year, she spent a semester studying in Hyderabad,
India. Feuer's senior essay explores the political, philosophical and aesthetic dimensions of the relationship between W.B. Yeats and Rabindranath Tagore.
Outside the classroom, Feuer has been an editorial intern at W.W. Norton, n+1 and L.A. Weekly. She also has worked at PEN USA — a nonprofit that strives to protect the rights of writers around the world, stimulate interest in the written word and foster a vital literary community — and recently started a chapter of PEN at Columbia.
FULBRIGHTS: Columbia ranked among the top 10 producers of Fulbright Scholars in the country in 2010–11, according to the Chronicle of Higher Education. "Given the small size of our office and undergraduate population compared with many of the other universities named, we are especially pleased to be included in this list," said Michael Pippenger, the associate dean who heads the fellowship program. Michigan topped the list with 40 awards; Columbia was tied with Cornell for 10th with 18.
LIBRARIES: The Columbia University Libraries have received a gift of $4 million to establish the Norman E. Alexander ['34, '36L] Library for Jewish Studies, which will include three new endowments: a Jewish Studies librarian, the General Jewish Studies Collection and the Special Collections in Judaica.
Columbia's existing research collection already is formidable. With more than 100,000 monographs and 60,000 Hebrew and Yiddish titles, it boasts the second largest manuscript collection of Hebrew texts in North America. Funds from this endowment initially are being used to focus on a project to catalog the manuscripts collection.
At the time of his death in 2006, Alexander was the executive chairman of Sequa Corp., which he had led for almost half a century. He was a board and committee member of several Jewish organizations and on the board of Columbia/Barnard Hillel. Alexander established the Alexander Program Center on the third floor of the Kraft Center for Jewish Student Life and was presented a John Jay Award for distinguished professional achievement in 1985 from the College.
President Lee C. Bollinger is flanked by Special Adviser Susan Feagin and E.V.P. for University Development and Alumni Relations Fred Van Sickle. PHOTO: CHRISTIA BLOMQUISTVAN SICKLE: After more than eight years as the head of University development and alumni relations, Susan Feagin will explore new challenges as a special adviser to President Lee C. Bollinger beginning in January, it was announced on October 19. Succeeding her as e.v.p. for University development and alumni relations will be Fred Van Sickle, who had been v.p. for University development. In remarks to alumni affairs and development staffers, Van Sickle discussed the value of continuity and pledged to perpetuate an atmosphere of mutual respect, high standards and innovation.
WKCR AT 70: WKCR will celebrate its 70th anniversary with a reunion on Thursday, February 24, at Alfred Lerner Hall. Cocktails are planned for 6 p.m., followed by dinner at 7 p.m. Station tours are planned for the following Friday and Saturday.
The WKCR staff has been gathering oral histories from alumni through its website (wkcrproject.com) and interviewing former staff for an upcoming book about the station's history. Founded as the Columbia University Radio Club in 1941, the first studios operated in the Hamilton Annex starting on February 24, 1941. The station was awarded the Pulitzer Prize for its coverage of the Columbia protests in spring 1968 and now is known as a top broadcaster of jazz and classical.
For more information about the reunion, contact Ken Howitt '76: keh32@columbia.edu.
AMGEN: The Amgen Foundation has moved into Phase II of its Amgen Scholars program, a $34 million initiative designed to give the next generation of scientists hands-on laboratory experiences. Undergraduates participating in the program are given the opportunity to work on research projects under the supervision of leading scientists. Each summer, scholars from the 13 participating U.S. and European universities come together at a symposium to present their projects and learn from academic scientists.
Phase I funded summer research projects for more than 100 Columbia and Barnard students from 2007–10. Phase II grants Columbia another $1 million to be used in 2011–14. Phase II also will help Amgen Scholars alumni enrolled in graduate programs with travel awards to attend science conferences.
The foundation expects that by 2014, the majority of the 2,500 students accepted into the program will use their experiences to pursue advanced degrees and careers in a scientific field.
The Amgen Scholars program began in 2006 with 10 U.S. universities and by 2008 expanded to include three European universities. The program drew more than 5,200 applicants in 2010 but could accept only 315 students.
For more information about the program, visit amgenscholars.com and columbia.edu/cu/biology/ug/amgen.