Around the Quads
Peer-to-Peer Solicitations Get Under Way
M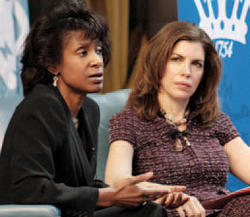 Dean Michele Moody-Adams (left) took questions from Julie Menin '89 about the state of the College.ore than 100 alumni and parent Class Agents and prospective volunteers turned out to share best practices in fundraising, hear from College leaders and receive their initial solicitation assignments for the Fiscal Year 2011 at the eighth annual Columbia College Fund Leadership Conference, held in Low Rotunda and Hamilton Hall on November 6.
Following opening remarks by Francis Phillip '90 and Dan Tamkin '81, co-chairs of the Class Agent Program, and a report on the Columbia College Annual Fund from co-chairs Michael Behringer '89 and Ira Malin '75, Dean Michele Moody-Adams was interviewed by Julie Menin '89 about the state of the College. Attendees then headed to Hamilton Hall classrooms for breakout sessions on specific fundraising topics, such as reunion giving and how to "make the ask." The program concluded with a presentation on admissions by Dean of Undergraduate Admissions Jessica Marinaccio, who also led a discussion with Mary Martha Douglas '11 and Colin Sullivan '11.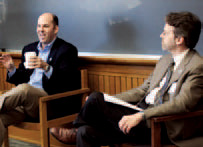 Michael Behringer '89 (left) and Stephen Jacobs '75 led a discussion on reunion giving. Photos: Tina Gao '10 BarnardClass Agents are volunteers who drive the growth of the Annual Fund through peer-to-peer solicitations and work closely with fund officers in the Alumni Office. Despite the economic downturn, the Annual Fund has enjoyed steady growth, rising by more than 54 percent during the past six years and achieving a record $15.1 million in unrestricted gifts in FY'10.
The co-chairs report that the Annual Fund is off to a record start toward its goal of $14.5 million for FY'11. "As of November 1," says Malin, "the College has received more than $5 million in donations and pledges, due largely to efforts to reach out to leading donors earlier in the year." Behringer emphasized the important role that Annual Fund donations play, saying, "Unrestricted gifts provide the College with immediately available financial support that is used for financial aid, student services, internships and enhancements of the Core Curriculum. It is a critical component of ensuring that Columbia is able to maintain its need-blind admissions policy and financial aid reforms that include the elimination of student loans."
For more information, go to college.columbia.edu/alumni/fund or contact Susan Birnbaum, executive director: slb2005@columbia.edu or 212-851-7947.