Bookshelf
Samuel Moyn: The Recent History of Human Rights
By Casey Plett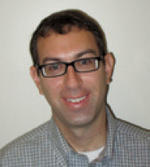 PHOTO: CASEY PLETT"Human rights are best understood as survivors: the god that did not fail while other political ideologies did," history professor Samuel Moyn writes in his new book The Last Utopia: Human Rights in History (Belknap, $27.95).
When human rights became high-profile in the late 1970s, majestic utopian ideas such as nationalism and socialism were losing credit amid a global citizenry disillusioned with the failures revolution had promised. Human rights have been able to achieve prominence, Moyn says during an interview in his sixth-floor office in Fayerweather Hall, because the movement's argument is presented minimalistically.
"It says human rights aren't a utopia like the past ones, which failed precisely because they were too grandiose," Moyn says. "They still ask you to invest yourself, but it's about saving the world a step at a time rather than in one grand stroke."
In the book, he cites Amnesty International's "direct and public connection with suffering" by identifying with a single victim as an example.
The Last Utopia, Moyn's third book, is a fascinating history of the origins of human rights as an ideology and how their current unassailable status was anything but inevitable. The Rights of Man movement during the French Revolution, he writes, was "about the meaning of citizenship … not the protection of 'humanity,' " and the toothlessness of the United Nations' Universal Declaration of Human Rights, passed in 1948, was indicative of human rights' status as "one symbolic event in the public rollout" when the international organization was trying to get on its feet. "The true goal of the prospective United Nations," he writes, "was to balance great powers, not to moralize (let alone legalize) the world."
Moyn says there were no books on this subject 10 years ago, but when he began teaching at Columbia in 2001, he taught a class called "Historical Origins of Human Rights," and began to engage with emerging scholarship, much of which argued that human rights began before the 20th century, in the Revolutionary Era.
He acknowledges the existing scholarship is "powerful," especially when it comes to antislavery, the movement he credits for "pioneering techniques of agitation" for future human rights movements, as well as constructing "a particular human rights norm against chattel slavery."
But there was no continual "human rights movement" from then to now, he says, nor does he believe that antislavery's success
was central to how human rights are shaped today. "I thought the field got off on the wrong foot," Moyn says in explaining how The Last Utopia originated, "so I saw the idea of writing a book that would hit the reset button."
Moyn, a deep-voiced, affable man who received the College's Mark Van Doren Award for teaching in 2007, was raised in St. Louis and attended Washington University as an undergraduate, majoring in French literature and history. Initially more interested in literature, he was soon intrigued by history after taking courses which, he says, "integrated literature into a larger picture of social thought."
Moyn earned master's and doctorate degrees from UC Berkeley as well as a J.D. from Harvard. He considered going into human rights as a career when he was at Harvard, but instead opted to teach at Columbia upon graduation. "Like me, many people were very taken by human rights in the '90s," he explains of his initial interest in the subject. "They seemed on the brink of conquering the world as a persuasive framework for supplanting old systems of power and statehood with some new moral system."
These old systems also get a thorough once-over in The Last Utopia. Moyn argues that historical movements about rights — such as in the Revolutionary Era — were less about individuals and more about entire peoples. "Most campaigns for rights in modern history didn't see any way of severing individual rights from collective liberation. In our time, these things have gotten severed," he says.
Moyn goes on to say that human rights aren't as emotional and galvanizing as former utopias. "They seem that way today because they don't have many competitors. They're a utopia that was reached after others were tried and discarded. What I wondered is how these older revolutionizing frameworks entered crisis, and why it is that this minimalist utopia, however maximal it seems now, could succeed in those circumstances."
Is it easier to motivate people to action from a minimalist perspective?
"It's not clear to me," Moyn says. "That's how it seems today, but if we do the history of the idea of communism, it seems as if precisely the grandiosity draws people into this kind of romantic movement. It seems like we're in an age when your statement seems right, that you have to give something small scale in order to make it appealing.
"Most utopias have been maximal. And yet ours are minimal. How we switched our expectations about the idealism we want is the crucial thing to explain."
Casey Plett is a freelance writer based in the New York area.