Cover Story
CCE Internship Programs Bridge the Gap
Students gain experience, learn about the job market and the Columbia network through internships
By Ethan Rouen '04J
The moment is so common, there should be a name for it, maybe "the brutal awakening." It's that time when students look around their dorm rooms and realize that college will not last forever, that whether they are ready or not, eventually they will be forced out of the comfortable cocoon of academia and take the plunge into the future.
For Rebecca Pryor '09, that brutal awakening came early in her senior year.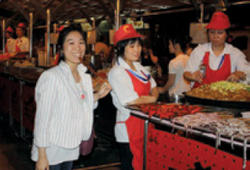 During her internship in Hong Kong last summer, Amy Huang '11 traveled to Beijing, where she sampled the local cuisine, including fried silkworms."I had no idea what I was going to do," says Pryor, who majored in music and thought about becoming an audio engineer.
She had reaped the benefits of a liberal arts education, addressing her passions by studying music as well as math, spending a semester in Ghana and traveling through Latin America. While these experiences added to Pryor's diverse list of interests and experiences, they also made it difficult to settle on just one career path.
Then the Columbia Uni­versity Center for Career Education (CCE) offered its assistance, helping Pryor gently nudge herself toward her future. She applied for a spring internship during her senior year as part of the Columbia Communities in Action program, which pairs students with nonprofits and provides a stipend, and started working about 20 hours a week at Community Enterprise Solutions (CES), an international development and social entrepreneurship organization that works primarily in Central America.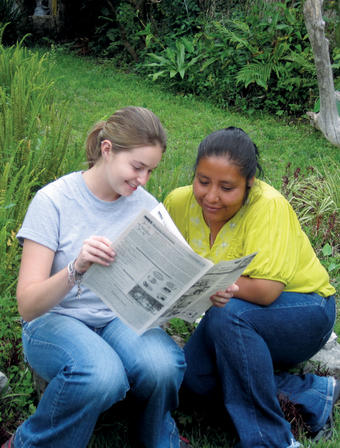 Rebecca Pryor '09 (left), with Marta Lidia Garcia, reads a newspaper published by Community Enterprise Solutions near CES' Antigua, Guatemala, office. Pryor began her work with nonprofit CES as an intern and now is a full-time project manager."I was sort of interested in doing this type of work since I spent time in Latin America," she says. "I was given a lot of responsibility for an intern and was allowed to do some interesting stuff."
The internship allowed Pryor to do most of her work from her dorm room but she met once a week with CES head Greg Van Kirk. Soon she was conducting primary research on new initiatives and investigating potential businesses with which to partner.
Shortly before Pryor's graduation, CES offered her a full-time job, and she spent 13 months in Guatemala before coming back to New York to be a project manager, doing "everything under the sun" for the organization.
"I was looking for opportunities abroad," Pryor says. "With the exception of teaching English, which I didn't want to do, in international development there is no field work you can do without a master's. I was stuck. I had no idea how I was going to find something until I learned about this internship."
The Center for Career Education, which has a staff of 33, serves seven schools within the University and assists students at all levels to prepare them for careers. Through coaching, job boards, internships and a variety of other services, CCE works with hundreds of students every year to ensure that they will come out of school with the skills needed to establish them in the career they want.
In recent years, CCE has focused on developing new internship programs that provide College students with unique experiences that not only make them more competitive candidates for jobs but also help them define their career interests through exploring career areas and ultimately, land their dream jobs.
"We work with students before they arrive on campus, through senior year and as alumni," says Kavita Sharma, dean of career education since 2006. "We help them plan for life after Columbia before they've even taken a class."
Students want to work in two places — New York and the rest of the world.
The career planning involves career counseling; career education workshops and events; access to job boards, career fairs and networking events; access to Columbia's vast networks; and dozens of internships happening everywhere from dorm rooms to the other side of the globe. CCE's internship offerings have grown from three programs in 2007 to 12 today, according to Heather Perceval, director of experiential education and student enterprises.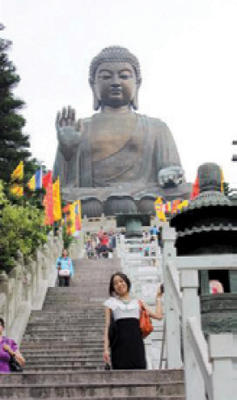 Amy Huang '11 takes a break from work to visit the Tian Tan Buddha in Hong Kong."As great as the Internet and phone calls are, there's really much to be said for doing work overseas," says Brooks Herman '98, who first proposed funding global internships in 2000 and, along with his wife, Joanna E. Herman '98, has provided the funds for 12 College students to work at non-governmental organizations internationally. "That's where the real value is added, not just in getting the job done but in the cultural understanding the students acquire."
During the spring semester, College students can get a feel for working in the arts through the Columbia Arts Experience, help a nonprofit through Columbia Communities in Action or work for a company across the country, all without leaving Morningside Heights through the Virtual Internship Program.
In the summer, CCE gives students a chance to travel. The Columbia Experience Overseas (CEO) offers opportunities in London, Hong Kong, Beijing, Shanghai and Singapore, and beginning this summer, Amman. Sharma says CCE is planning to expand to other major international cities and hopes to benefit from the University's own expansion around the globe.
In addition, students can spend a summer in Los Angeles or San Francisco through CU In California, or hone their science skills in the Science Technology Engineering Program.
"Our application numbers show a huge demand for these opportunities," Perceval says. "They've become very competitive, so we'd like to offer more opportunities."
Last year, CCE received 1,500 applications for 60 positions in CEO. While the programs continue to grow at a rapid clip, funding and resources limit the number of opportunities. CCE relies on donations from parents and alumni and also needs them to facilitate connections and logistics on the ground.
Donald Margolis '63, '65 Business, co-chair of the Columbia College Alumni Association's Career Planning Committee, says part of the reason demand is outstripping supply for internships is that many alumni who could provide internships or financial assistance to help cover expenses don't realize how important internships are for students today.
"When I was in college, there wasn't much of a career center, as we were all subject to the draft and went immediately to graduate school," he says. "Today, seniors are more likely to look for jobs immediately upon graduation, and having internship experience is extremely important."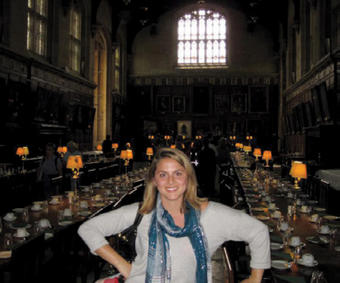 Nayia Moisidis '11 made the jaunt from London to Oxford, visiting the Hogwarts dining room used in the Harry Potter movies.The new norm often requires that students have real-world experience even before they enter the real world, so CCE continues to grow to provide an array of services. For international internship programs, students are provided housing. To ensure that financial difficulties don't interfere with these opportunities, CCE offers flight assistance for CEO and CU In California to students who demonstrate high financial need.
But it's not just financial support that alumni and parents provide. CCE bears the burden of dealing with visa issues and travel logistics for the summer internships, but it relies on the Columbia network for assistance with finding housing for students and lining up mentors who can offer advice and help students become acclimated to a new locale.
"Students want to work in two places: One is New York and the other is the rest of the world, and they don't appreciate that they are not equally accessible," Sharma says. "With these programs in particular, we can make it appear to be very easy. We have taken the stress away to make these opportunities available, but this is special. This is for you because you're at Columbia."
Martha Turewicz '10 benefited from these efforts during summer 2009 when she interned for Film London. A longtime Anglophile, she always wanted to work in England and began scoping out CCE during her freshman year, two years before she was eligible for the CEO program, which is available only to upperclassmen. CCE provided interview preparation and helped Turewicz shape her resume and cover letter before she applied.
After Turewicz landed an internship, she and five fellow Lions shared a suite provided by Columbia that was within walking distance to her job archiving film locations and digitizing them.
Students abroad have a strong support system. A large dinner with other Columbia interns is the perfect cure for homesickness. PHOTO: Jodie Liu '12Turewicz enjoyed trav­eling around London with a camera to scout locations but learning the ins and outs of the city wasn't nearly as important as being exposed to the discipline and rigors of office life.
"It was my first time working in an office," she says. "That was really important to me, getting basic office experience and developing those organizational skills."
In addition, she became close with her boss, a connection she continues to rely on. Turewicz's experience helped her land another internship through the Virtual Internship Program, where students perform internships from their dorm rooms or any location where they have Internet access.
While studying abroad in Germany last year, Turewicz interned for Blue Lotus Films in California, keeping in touch through Skype and e-mail. She marketed the company's documentary, Meditate and Destroy, doing promotion and building a website from the ground up.
"I hadn't done a website before," she says. "I did a lot of research, but I also received a lot of direction."
Donors and employers are key ingredients in CCE's internship programs, but the temporary jobs these students have eventually will fade into a few sentences on their resumes. It's the mentors and the Columbia network they develop during these times that create the personal connections that can be most valuable as students turn into the leaders in their chosen fields.
Jaye Fenderson '00, an independent filmmaker who recently completed a documentary about first-generation college students, found that mentoring two students in the CU In California program reinvigorated her connection to the College while also allowing her to reflect on how she ended up where she is.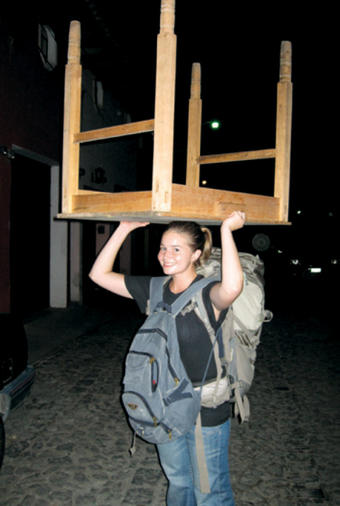 One of the benefits of working for a small nonprofit is that Rebecca Pryor '09 gets to do "everything under the sun," including carrying tables on her head from one office to another in Guatemala.
"My internship taught me how to be professional. It was the real deal."
"As an alumna in L.A., it's easy to get disconnected from my alma mater and not know what's happening on campus," she says. "You feel your undergraduate years are far away. But having a student come to L.A. and talk about her experiences at school … it helped me re-realize how my education played a role in determining my future."
Columbia sponsors mixers at the start of the summer to acquaint mentors and students with each other. Fenderson says the bond she shared with the students she was assigned made it easy to grab lunch once the introductions were made.
Neither student had a firm idea of what she wanted to do after graduation; one voiced interest in education while the other was leaning toward film. But with 10 years of real-world experience, Fenderson says she felt prepared to offer the advice she wished she had received at their age.
"Telling them that it's OK to admit that you have no idea what you're going to do, that's helpful," she says. "At that age, I felt like I needed to know what I was doing and have a job lined up. It's OK to not have everything figured out. It's good to explore the career avenues that are out there. Even if you make some mistakes, eventually, with the foundation that you have from Columbia and the networking that you do, you'll end up landing in the right place."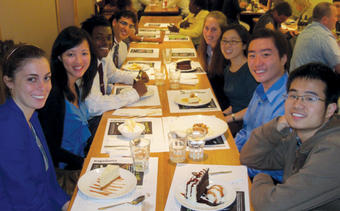 Internships abroad aren't all work, as a group of students show as they bond over dinner in London.One of the biggest benefits for Fenderson, though, was the feeling of giving back to a community that had helped her. "This is a tangible way I can give back to my alma mater that makes a difference in students' lives," she says.
Fenderson met with her mentees several times to answer questions about careers and allay the inevitable fears that keep undergrads tossing at night. And when one of those students, Esha Gupta '10, took a chance and moved to California after graduation without a job, she took comfort in knowing she could rely on the network she had developed.
"I got so lucky with Jaye," Gupta says. "She was like an older sister to me."
Originally from Oklahoma, Gupta felt a calling to head west and got to taste that temptation during summer 2009 when she interned at Paramount Pictures in worldwide television distribution.
For months, she had been trying to find a summer internship on her own, and she was beginning to panic. That was when she turned to CCE, and the staff there helped her find work in California, even if the job title didn't seem as glamorous as "assistant to the rich and famous."
"The internship sounded boring, but my gut told me to do it," Gupta says. "Whenever you leave all the stuff you know, you realize all these things about yourself and the world that you never think about."
Gupta soon learned that she was working in the department where movies make most of their money. Instead of getting coffee, she was going with her boss to high-level meetings. She also created an employee handbook for new hires that required that she interview the heads of numerous divisions at Paramount, one of the largest production companies in the world.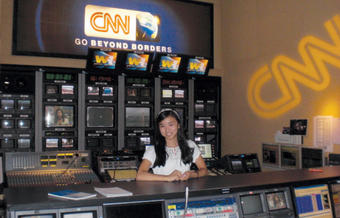 Laura Ly '12 worked at CNN in Hong Kong last summer and saw the control room up close."It taught me how to be professional," she says. "This was the real deal because I moved across the country for this. This was five days a week, 9 to 6. I needed to be working. I couldn't surf the Internet half the day."
Away from family and friends, Gupta learned how to survive the discomfort of homesickness, forcing herself to go out and socialize after an exhausting day when all she wanted to do was sit on her couch until she fell asleep.
When Gupta moved back to California last summer, she relied on the network she had developed to combat loneliness and the dismal job market. Eventually she scored a job at Google in San Francisco, working in the fast-growing Global Online Advertising division. When she reported for work in early fall, there was no nervousness, no first-day dread, because she done it all before.
"When you're in school, you're pushed on an academic level," Gupta says. "What this internship at Paramount gave me was a chance to immerse myself in the professional world and push myself in that way. It really helped me walk away from Columbia feeling like I got everything out of school that I wanted and should have gotten."
For more information on CCE internships, go to careereducation.columbia.edu/findajob/cce-internship.