Features
Remembering John W. Kluge '37
By Shira Boss '93, '97J, '98 SIPA
J
President Lee C. Bollinger (left) and New York City Mayor Michael R. Bloomberg joined John W. Kluge '37 at the April 11, 2007, announcement of his $400 million pledge for financial aid. Photo: Eileen Barrosoohn W. Kluge '37 was a successful businessman, pioneering ent­re­preneur and generous philanthropist — and Columbia's greatest benefactor. His gifts to the University total more than $500 million and include the largest donation to any school for financial aid, $400 million.
Kluge's gifts support several programs that benefit students from underrepresented populations. The Kluge Scholars Program, started in 1987, pays full tuition and provides mentoring and special programming. Another program funds summer research grants for minority and international students.
Following are tributes written by several beneficiaries of Kluge's generosity. Some are adapted from letters written to Kluge on the occasion of his 90th birthday celebration in 2004 and presented to him by the College; others were written after his death at 95 on September 7, 2010.
Shira Boss '93, '97J, '98 SIPA
---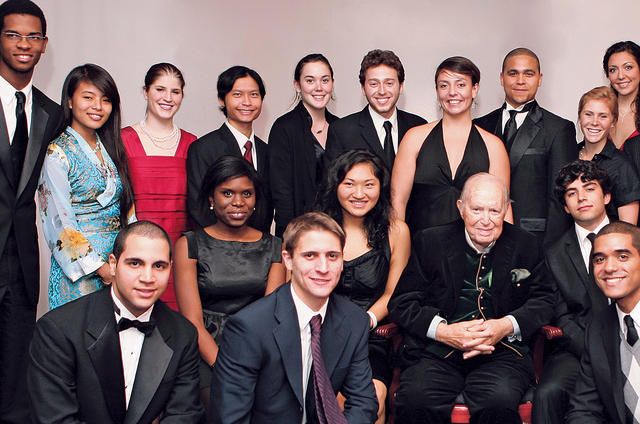 Kluge posed at the 2008 Alexander Hamilton Award Dinner with some who have benefited from his generosity. PHOTO: CHAR SMULLYAN
Jesús Escobar '89
In my second year of graduate school at a rival university in New Jersey, I was asked to give a prospective student a tour of our department, museum and library. The potential colleague was from Texas and, like me, a Mexican-American. During our conversation about faculty, requirements and the history of art and architecture, this student informed me that he had done some research and learned that there were only 10 Latinos enrolled in the top 20 Ph.D. programs in art history in the United States; I was one of them.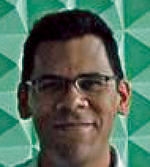 Jesús Escobar '89 Photo: Michael SchrefflerFollowing my meeting with the prospective student, I thought for the first time very seriously about my odd place in the world of higher education. I also reflected on my good fortune to have come into contact with the generosity of John Kluge '37 and his gift to Columbia. In the summer following my junior year, I was one of the inaugural recipients of a Kluge grant that allowed me to undertake a summer research project under the guidance of another very generous man, the late Professor Eugene Santomasso ['73 GSAS]. I had always thought I would teach at some point, but the world of graduate school and years devoted to independent research seemed very daunting. In summer 1988, however, I discovered that my passion for research could be fulfilling as a fundamental part of my career and decided to apply to Ph.D. programs. The Kluge grant allowed me the time and resources to implement this important decision.
My graduate school years were productive and filled with learning opportunities both in the United States and in Spain, where I lived for nearly three years. When the time came to begin my career in the classroom, I suddenly found myself facing not only groups of eager students but also the loans of my college years. I had been in touch with [then-Dean of Students] Roger Lehecka '67, '74 GSAS at Columbia the year before and inquired about the Kluge loan forgiveness program. I learned the drill and, when the time came, submitted my paperwork. Almost like magic, my loan balances started to fall and I was left with a deep sense of appreciation. Having helped once before at a pivotal moment, the Kluge gift now provided me a sense of freedom to begin my career with the burden of debt significantly reduced.
Mr. Kluge's generosity benefits not only Columbia but also the wider community of American academia. Every scholar's research is driven in part by an individual's personal experience of his or her society. As a Mexican-American, I examine the history of early modern Spain, and the Spanish contribution to urban design in Europe and the Americas specifically, differently than a European-trained scholar, let alone a Spaniard working on the same topic. Any scholarly field of inquiry is enriched by multiple points of view, and moreover, students learn new ways of interpretation. If we can reach students in innovative ways, and perhaps even motivate students who come from so-called minority populations in the United States to find a place for themselves in the world of academia, then I believe we are fulfilling the ideal of the Kluge gift to Columbia. Mr. Kluge's gift was inspired, and it continues to be inspiring.
Jesús Escobar '89 is associate professor of art history and chair of the Department of Art History at Northwestern.
Angelica M. Perez-Litwin '89
While my younger years were spent planning and preparing for a professional career and ultimately having a family of my own, at the age of 27 I found myself divorced and caring for my then 11-month-old daughter, India. This came about two months before the beginning of my clinical psychology internship, one of the most demanding and time-consuming training experiences of my career. I was fortunate to find an affordable day care center for India that opened at 7 a.m. so that I could be at North Central Bronx Hospital's psychiatric emergency room by 7:30 a.m. That year, 1995, was perhaps the most challenging year of my life. It was the beginning of a new role for me. Suddenly, I gained a new label, yet another label aside from that of "Latina," "woman," "mother" and "trainee." I became a "single mother." Along with that label came the financial difficulties that are often experienced by single mothers like myself. My salary as an intern barely covered my apartment rental. I was forced to supplement my income with additional graduate student loans in order to afford household and personal expenses.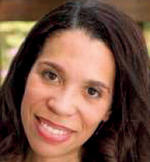 Angelica M. Perez-Litwin '89 Photo: courtesy Angelica M. Perez-Litwin '89In 1998, I successfully completed my doctoral degree in clinical psychology. That same year, India turned 4 and began pre-kindergarten at Fieldston Lower School, a well-respected independent school in New York City. While I felt very fortunate to see my child begin her education in a safe, loving and stimulating environment, the realities of my financial situation as a single parent became increasingly evident and difficult. The Kluge loan repayment program, at that time in my life, was a tremendous help and a relief. In 1999, the program paid for the student loan balance I had accumulated as an undergraduate. That kind of support was vital to my livelihood, both as professional and as a mother. The confirmation letter stating that my student loan balance was paid in full is folded and saved in the same box that holds the many special cards, letters and photographs I have received over the years. The letter, as well as the support program, symbolizes the act of giving back, the dedication and commitment to higher education and, most importantly, faith in the next generations, especially ethnic minority generations.
Today [2004], I am an assistant professor of research at the NYU School of Medicine and the director of the Multicultural Aging and Memory Evaluation Program, a clinic whose mission is to promote access to and use of diagnostic services for ethnic minority and underserved populations. My work as a director and researcher gives me great satisfaction in knowing that I, along with many other ethnic minority clinicians and doctors, am making great contributions toward the reduction of health disparities between ethnic and non-ethnic minorities. Kluge's vision to promote and support higher education for persons like myself has, and will continue to have, tremendous impact on the significant educational disparities in our society. The beauty in believing in others and giving them opportunities is best appreciated in the naturally occurring cycle of passing on what was received, whether it is in the form of dollars, compassion, understanding, support or faith in those in need.
Angelica Perez-Litwin '89 is a clinical psychologist in private practice in New York.
Shelly Eversley '91
I work for love. There was a time when I thought I would grow up and become an attorney — I'd make lots of money, drive a nice car and buy myself a big house with a
swimming pool and maybe even a tennis court. Looking back, the material rewards were my motivation to attend law school. I was young and naïve and my working-class background had taught me that money matters, that without it I'd be nowhere. And it's true. Money does matter. Without it, I wouldn't be where I am today: I wouldn't have had the freedom to choose love over money. I wouldn't have become a college professor, challenging students to think actively, to imagine that after college, after student loans, after the work-study jobs, after all those dinners of beans and rice, that they could be rich, rich in everything that really matters.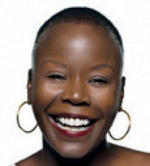 Shelly Eversley '91 Photo: Greg BroomI'm rich. I remember the day when the choice became most clear. In the spring of my junior year I had the opportunity to participate in Chase Manhattan Bank's Summer Internship program. I had also won a place in the National Endowment for the Humanities Younger Scholars program. The Chase internship would pay $1,800 a week; the NEH stipend was $2,300 for the summer. The choice seemed obvious: if I worked at the bank I wouldn't have to borrow the money to finish my college career, I could get my own apartment, I could even eat meat again (in college I had become a vegetarian — I pretended I did it for ethical reasons, but it was really because I was broke). But what I really wanted was to take a train up to the archives so I could read the manuscript of my favorite novel, Zora Neale Hurston ['28 Barnard]'s Their Eyes Were Watching God. I was afraid that if I didn't work at the bank, my books and I would end up nowhere; I'd end up a literate waitress and beans and rice would become my eternal sustenance. And then I had a conversation with Dean Thurman. He told me that a man named John Kluge '37 had recently donated $25 million to the College, that he wanted to make it so that students like me could choose love over money, that if I earned a Ph.D. and became a college professor, Mr. Kluge would repay half of my student loans. I'm not kidding when I say this: On that day, I heard the angels sing. I accepted the NEH offer, I spent the summer in the archives and I never looked back.
My graduation day was a big deal. My mother, my father, my sisters, my aunts, my uncles, my cousins and even their friends had descended on New York City to celebrate an accomplishment we all shared. I had graduated from the Ivy League and I was on my way to graduate school and I was going to become a college professor. At my cousins' house in Queens, everyone who couldn't attend the actual ceremony sat, enraptured, as my father told them that his hero, Dizzy Gillespie, had earned an honorary degree from the University where, on the same day, his daughter had earned the real thing. My mother laughed and cried over the diploma she couldn't read — the Latin text had impressed her so much that it didn't matter that its words were indecipherable. She knew what it meant. On that day, I ate barbeque ribs (yes, ribs!) with my family and we danced all night long.
When I earned my doctorate, I gave it to my mother. It became her honorary degree. On that day, my dissertation director told me that, in the entire history of The Johns Hopkins University, I was the first black person to earn a Ph.D. in English. I was stunned. I knew that the choice I had made was personally difficult (among other things, beans and rice had remained my staple), but I had no idea that at the close of the 20th century, there could be a research university that had never seen the likes of me. And then I thought about it. I had the best teachers in college, and yet even at Columbia University, I had had only one black woman professor, and she was a visiting scholar. I realized that Mr. Kluge had given us the most amazing present. I studied at some of the best universities, defended a dissertation and best of all, there is one more black woman professor in this world. Every day when I enter my classroom, my scholarship, as well as my very presence, makes a difference even for the student who decides that she will attend law school and make lots of money and maybe even buy a big house with a pool and a tennis court. That student can look at me and know that she has the opportunity to choose; I can teach her the things I learned at Columbia, and she will know that, like me, she can work for love. One man's generosity facilitated my choice and I know that without it, we'd be nowhere.
Shelly Eversley '91 is an associate professor of English at CUNY Baruch.
Phyllis Fletcher '94
The Kluge scholarship letter was the first notice my mother and I received that I had been accepted to Columbia. We were thrilled I had been admitted, and we were grateful for Mr. Kluge's help. My mom and I worked hard and lived modestly in Seattle; we lived paycheck to paycheck. Things were good when I got a little overtime at the grocery store, but not good enough to afford an Ivy League education. With Mr. Kluge's generous help, I was able to go to the school of my dreams and get a top-notch education.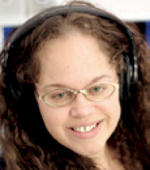 Phyllis Fletcher '94 Photo: Josh KniselyIn my junior year, I told my mom I'd been invited to a reception to meet Mr. Kluge. She asked me to pass along a message of thanks to him. Not yet familiar with cocktail hour rules of New York City, I showed up right on time, and was of course the first guest to arrive. When Mr. Kluge came in a few minutes later, we were introduced, and I hoped I could keep him entertained until the other students showed up. I wasn't sure what we would talk about, but what a treat it was! Mr. Kluge was curious about my college life and generous with details about his own. He told me he'd had a hard time at Columbia as a German immigrant in the 1930s. He hadn't fit in socially and his academic performance had been passable. I was surprised to hear such a successful man speak about himself so humbly. He told me about the circuitous route to his famous media career, which all started when he bought just one radio station. (I seem to recall Atlantic City winnings being part of the story!)
Most of my Columbia friends were on the fast track to careers in law, medicine, business or academia. At 22, I had no idea what I wanted to do. I had a Columbia degree under my belt, which opened more doors for me than I could have imagined. I conducted research for one of my professors at alma mater; I worked in social services at the Urban League. Then, a computer programming class I had taken at Columbia led me to a successful career as a software engineer in Seattle's dot-com boom, which allowed me to get my mom a house of her own.
When the boom was over, I decided to make my career in the medium I love: radio. I started at the bottom, as a fundraising volunteer for a National Public Radio station. That was eight years ago. Now I'm a reporter for that station: KUOW in Seattle. My news director was impressed when he learned I had gone to Columbia; I know my degree helped me get the job. Which leads me to the message my mother had for Mr. Kluge. I did thank him when I met him that night. Mr. Kluge, in his gracious manner, told me to send my mother his thanks for everything she'd done to get me to Columbia.
Phyllis Fletcher '94 is a reporter at public radio station KUOW in Seattle.
Benjamin Todd Jealous '94
I am writing to offer three sets of much-belated thanks for your efforts to extend the diversity of Columbia's undergraduate student body.
Before I specifically thank you, I want to let you know how much of a role model you have been to me. You have made other people's struggles your struggle. Your commitment to social justice and your efforts to provide opportunities for people who might not have access to them has truly been inspiring. To know that there is someone like you has given me the confidence and motivation to make it my life's work to seek for social justice, not just for myself, but for those millions of other people who need to know that there is someone there to help them get the opportunity in this society. You have not only given tangibly to so many of us but you have given us hope and inspiration.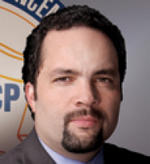 Benjamin Todd Jealous '94 Photo: Courtesy NAACPThe first thank you is for helping me to demonstrate that there was a place for me in the Columbia College community. As a kid from a small town in northern California, I had limited insight into East Coast schools. The letters and view books often looked and sounded the same. (And for reasons both of us would later discover, the financial aid awards often looked remarkably similar as well.) Thus when the acceptance letters and financial aid awards finally came, I quickly found myself in a quandary. However, the honor of being named a John Kluge Scholar let me know that there was a place for me at Columbia. That sense of being truly wanted by an otherwise distant and largely overwhelming institution and city weighed heavily in my deliberations and ultimately led me to make one of the best decisions of my life.
The second statement of appreciation is for a more roundabout, yet ultimately more significant, impact the scholars program had on my life. Thirteen years ago at a Kluge Scholars dinner on campus, famed civil rights lawyer Julius Chambers ['64L], who was the honored guest at the dinner, offered me a work-study job at the NAACP-Legal Defense Fund. While there I met my future wife. While I would like to believe that Lia and I would have met regardless of the circumstances, it all ultimately goes back to my being a Kluge Scholar and a deal former Dean [Jack] Greenberg ['45, '48L] made at the dinner. Needless to say, none of us would have been there without your vision and generosity.
Finally, I would like to express my deep gratitude for your efforts to help save Columbia College's full-need fin­ancial aid and need-blind admissions policies. When, as a member of the student council in the early 1990s, I heard that the University was contemplating ending these policies because it ultimately felt it could no longer afford to maintain them, I felt sick and helpless. Assurances that current students would not be affected were of little comfort. All of us who benefited from — or otherwise appreciated the importance of — these policies understood the impact of such a shift would ultimately be detrimental to the nation as a whole. Many academically but not financially qualified future business, academic and political leaders would not have the benefit of a Columbia education. Other institutions, in those last years of the last recession, might be inspired to follow suit. I have rarely felt so joyful as I did when we heard that with your help, Columbia would keep its doors open to families and communities such as those that had sent me and many of my classmates.
Benjamin Todd Jealous '94 is president of the National Association for the Advancement of Colored People.
Janine de Novais '99
Everyone has that big dream — you know the one. As a kid growing up in Cape Verde, mine was never too specific compared to those of all my friends. I wanted to be a sociologist, or a filmmaker, or a journalist — mostly a writer of any kind. The only constant was the site of my dreams: New York City. I was thrilled when my mother moved us to the States in 1991. But Brockton, Mass., wasn't really the Big Apple. I would have to cover much ground quickly to get from there to where my life awaited me. I worked as hard as I could in school and then I asked about "the best school in New York." Then I applied.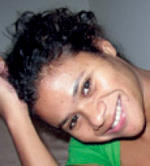 Janine de Novais '99 Photo: Jalen de Alba de NovaisReceiving my letter of acceptance was amazing, but it was heart-wrenching as well: I had gotten in but I could not afford to go. My mother became frustrated with what she saw as my youthful intransigence. I would not consider another school. How could I have come so far and be made to turn back? When the invitation came to visit in April, I jumped on the bus, hoping and praying for a miracle. The rest of the story, I must say, is straight out of a dream. I fell in love with the campus and the friends I made and the clear possibilities before me. I told myself I had to try. I took a deep breath and told Peter Johnson of the Admissions Office, who had invited me to campus, the secret of my particular predicament. Time stood still for what seemed like an eternity but was really barely a couple of minutes. Then Peter said, "Tell your mother you are coming in September."
John Kluge '37's generosity stood behind Peter Johnson's words to me that day. He is the reason Peter and his colleagues have been able to say the same to countless other young people.
I am a single parent, and more than ever I really believe that the dreams of young people move history forward. In an ideal world, we would all know to invest greatly in those dreams lest we stagnate ourselves and fall behind. Unfortunately, fewer and fewer deserving young people who are less affluent, who are youth of color, who are children of recent immigrants or non-traditional in other ways, are being given the chance that I was given. John Kluge '37 embodied the best ideal in American higher learning: that democracy depends on a diverse citizenry being given the opportunity for self-cultivation and intellectual growth.
Having grown up on Columbia's campus, my son, Jalen, now finds himself on Harvard's campus as I pursue a doctorate in education. While he loves it here, he remains a Columbia cub through and through. If we consider the great opportunities before him by virtue of my education, then the true depth and breadth of John Kluge '37's gifts to students is made clear.
Janine de Novais '99 is a doctoral student at the Harvard Graduate School of Education.
Derek Mitchell '03
As we celebrate Mr. Kluge's life and contributions, it is an immense privilege for us, the students whose lives Mr. Kluge touched and so generously influenced, to honor his memory. Each of us, in our own way, has been impacted by the vision to which he was so deeply committed.
The Kluge program creates an environment in which minority students can learn from each other, provide encouragement and explore college life together. It made me feel I was a member of a small, supportive community within the larger context of Columbia University. I felt more integrated into the life of the University because of the interactions it facilitated with fellow students, faculty and staff. The program's regular cultural outings also allowed me to more closely engage with New York City. The Kluge program was always doing everything it could to help me have the richest and most meaningful college experience possible.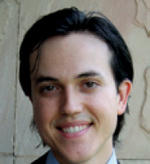 Derek Mitchell '03 Photo: Courtesy Derek Mitchell '03The program is the success it is because of the amazing faculty and staff at its helm. As my interests and ambitions evolved, I could always turn to the advisers for guidance, support or just a chat. Mr. Kluge's program could not be in better hands.
I came to Columbia from San Diego, about 10 miles from the international border. Our family looks a lot like many others in the southeast corner of the city; Mom's family is Mexican and Dad's is Caucasian. Most of my dad's family are still unclear what the Posada, our annual Christmas party, means for Mexicans, but Mom passes out translations of the Spanish songs we sing to help them along. Both my parents began their careers as teachers at public schools near the border. My mom is assistant superintendant of a school district in the barrio; every day she battles the challenges facing low-income communities with a tenacity I can only hope to have inherited. Nineteen years ago, my father became principal of the school I had attended since kindergarten and went on to transform it into one of the most distinguished independent schools on the West Coast. My parents have raised me to value service, sacrifice and spirituality as the principles by which one should live. Life for me is about striving to pursue those values in the work and relationships that I pursue.
My experience at Columbia College provided everything I had hoped for and more to equip me for such a life. I came to college with a desire to study the world's religions, especially those of South Asia. Under Professor Jack Hawley's guidance, I quickly discovered how the urban environment surrounding our university could be a vast opportunity for exploring the world's faiths. By my junior year I resolved to deepen my knowledge of South Asia's religious traditions by studying abroad in India. I'll always remember those six months in Delhi as a turning point in my life. The ideas I encountered, the crushing poverty that surrounded me and the struggles of activists and thinkers I met all told me that India would be at the center of my life's work. Support from the Kluge program allowed me to spend a summer studying Hindi. As I began searching how to avoid doing more harm than good in a country other than my own, Mahatma Gandhi's vision of a nonviolent society powerfully captured my mind and heart. Under the guidance of Professor Dennis Dalton, I turned my deep interest in Gandhi's vision into a successful application for the Fulbright fellowship.
I spent nine months in Delhi learning from one of India's most accomplished and battle-tested Gandhians how we may once again inspire faith in the power of nonviolence. My later travels around the country as a fellow of the Institute of Current World Affairs introduced me to courageous men and women striving through Gandhi's methods to build the institutions of their democracy. I saw that just as Americans once had to fight for an eight-hour work day, minimum wages, and gender and racial equality, so Indians are struggling to build a more just society. I remain in India to work in solidarity with these struggles. Time and again I have observed how a Columbia education provided me the tools to function with awareness and humility in the world. I remain forever grateful for the opportunities that Mr. Kluge's devotion to our university has made possible.
Derek Mitchell '03 recently completed the Phillips Talbot Fellowship for South Asia of the Institute of Current World Affairs.
Jonathan Walton '08
T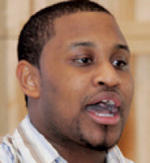 Jonathan Walton '08 Photo: Columbia University his poem I wrote for Mr. Kluge's 95th birthday celebration captures the nature of what Mr. Kluge lived for: A life of humility-filled service that consistently invites all to get involved.
What If
Speechless — he spoke volumes
letting his actions speak for him
giving as though what he earned was never his
giving as though giving was the only way to live
giving so that those on the outside could be welcomed in
giving because all had been given unto him.
Suffering from a disease called generosity
a condition called compassion
An influenza that made him altruistic
Kindness, joy, peace — clear symptoms
Something serious, yes but something clearly not contagious
I see him and I ask what if?
What if this city could be so sick of seeing the gap
between the haves and the have-nots
that we lived to close the void
between the Upper East Side and the South Bronx
Brooklyn Heights and Bed-Sty
Stuy-town and the Lower East Side
What if it wasn't a mystery why Jimmy at 66th and 5th got on the
6 to play basketball with Ray every Saturday @ 135th
Or Ye-Jee from Westchester caught the Metro-North to play nieta
to Abuelos y abuela's at a Heights' nursing home
What if it wasn't a mirage to see Winston, a senior at St. John's
eating lunch with Alberto, an ex-con in Central Park.
What if it wasn't newsworthy to dive into the subway to save a
life but normal to love our neighbors as much as we love
ourselves so it's expected to lay down your life
What if we walked in the same principles we supposedly stand on.
Intentionally invested in people like we do our portfolios
Checked up on our children as often as our checkbooks
Chased after our loved ones like we do those on TV that we don't
even know.
We love to honor heroes on CNN but why don't more of us want
to be like them?
We love to speak like Jesus on Sundays but Mondays don't want
to be like Him.
Quote the Koran, memorize the hadith, preach karma and
meditation and ideas of the East
but leave mercy, hope, peace, and justice on the mats where our
knees used to be
Know the stories of the Torah and Tanach but before the power of
these are unleashed
Somewhere they are blocked
But what if the barriers were broken and agape became our focus
A compassion that surpasses races and classes — a grace that
saves regardless of birthplace or nation state
A love that says that Staten Island is not too far or yes, I'll take you
and pick you up from JFK.
A love that says it's not too late to talk, a love that makes the "just
because" phone call.
What type of world would we live in if we opened our hearts and
let the world in.
Love for ourselves but also for our families
but not those by blood, all those kin to humanity
Jonathan Walton '08 is New York City urban project director for InterVarsity Christian Fellowship.
Donna D. Desilus '09
Though the Kluge Scholars Program has supported hundreds of students since its 1987 inception, I have always felt that this was an individual gift made to me. John Werner Kluge '37 made it clear on numerous occasions that he wanted to "invest in minds, not buildings." And so each of his scholars was chosen to represent him and his history — hard-working individuals to whom he wanted to give the same opportunity and resources that he was so freely given by the Columbia community. And yet despite this unrestrained act of generosity, I always have felt compelled to accept his gift not only as an opportunity but also a challenge.
At 8, John arrived in Detroit from his native Germany to a world unlike his own. After struggling with his stepfather over the importance of education, and losing the battle, he left home at 14. He opted to tread the challenging path to college despite how rare it was for a young man of his background at that time. In this respect, I have always felt that Kluge and I were similar. I too am an immigrant to the United States, coming from Haiti at 5, and was raised in an urban locale. As a teenager, I faced similar challenges while following the path to college, a rarity in my home of Four Corners, Boston. I also long identified with the gratefulness Kluge had for his many supporters, who helped him achieve his goal of getting a good education. Just as he had fondness for Mrs. Gracia Gray DaRatt, who took him in when he left home and encouraged his intellectual abilities, and for Judge Allan Campbell and Allen Crow, who mentored him in his youth, I have extreme gratitude for my mentor, Jacqueline Cooke Rivers, who nurtured me in the same way, and for the hard work and sacrifice of my parents, who left a decent life in another country so that I might have an excellent one here. But most importantly, I identified with the pressure Kluge faced knowing that the cost of Columbia tuition would be far from his reach as well as the determination he needed to persevere even with that knowledge.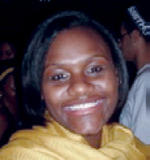 Donna D. Desilus '09 Photo: courtesy Donna D. Desilus '09Despite the many years that separated our time in Morningside Heights, when Kluge and I arrived at the 116th Street gates, we were given access to many of the same opportunities, financial resources and intellectual giants that our more privileged peers received. We studied the same great books, struggled with the same principles of economics and arrived at the same University commencement, he at the 183rd and I at the 255th. Someone before had made that possible for him and in turn he made that possible for me almost 72 years later.
It is this act that I am most moved by. Though generously supported by the University, John made a gift to Columbia in return that is incomparable to what he was given. John's financial aid gift to the University is unprecedented. It is an act of true leadership. Equipped with a Columbia degree in economics, he left Morningside Heights to become a broadcasting entrepreneur and amass a fortune. But instead of giving it away to build buildings, bridges and parks, all emblazoned with his name and building his public prominence, John instead chose to etch his name in the hearts and minds of the thousands of students who will carry his legacy.
John Kluge joins my parents, my "aunt" Jackie and a few nonprofit leaders and historical figures in the group of heroes I hope to someday model. All of these were people given maybe a little or maybe a lot, and who exercised leadership beyond what was wise for them to give an opportunity to those who needed more than they needed. John's legacy is one of responsibility to those who are less fortunate than you are, of giving to ensure that others have access to the resources you were given and of a personal leadership that shows commitment to bettering the human condition. This type of leadership to me represents not just a model for all of those who hold comparable positions to Kluge as giants in their fields but also as a challenge to all those who follow him and will carry his torch. Kluge once said that "in the sands of time individuals make very little difference." Despite this fact however, he kept the mantra of "what little difference you can make, you should try to make."
I and the sea of other Kluge Scholars, students who continue his legacy, accept that challenge.
Donna D. Desilus '09 is associate director of the Columbia College Young Alumni Fund.