Features
The Subtle Maestro of Scissor Sisters
Scott Hoffman '99 may be part of out-and-proud glam rock band Scissor Sisters but "Babydaddy" honed a consistent and careful work ethic as an undergrad
By Ben Johnson
As pop star Kylie Minogue prances onto the Pyramid Stage in thigh-high boots and a lace bodysuit, joining Scissor Sisters as a special guest for the 2010 Glastonbury Festival in front of some 180,000 spectators, it's as if the nexus of the glam dance music universe finally has been found.
Minogue, who has sold more than 60 million records around the world, has plenty of competition for audience attention. Scissor Sisters' singer Jake Shears channels Prince in a high falsetto and hops around in nothing but suspenders, shredded jeans, and combat boots. His ginger-haired bandmate Ana Matronic shimmies in her purple dress and belts out the words to "Any Which Way," a clubby ode to hooking up that draws the crowd's roar. As spectacles go, Scissor Sisters is a hit.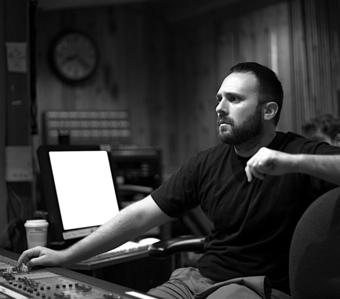 Scott Hoffman '99 is the driving force behind the hit band Scissor Sisters. photo: kevin tachmanBut while these three singers provide eye candy to the audience teeming on the fields of Somerset, England, a subtle maestro is hard at work.
Scott Hoffman '99 is the calm driver at the periphery of this pulsating, glitzy mother­ship. Despite being part of a big day's penultimate act, the bearded man in sunglasses exudes relaxed joy, whether he's grasping the neck of his white Fender bass or laying hands upon a silver synthesizer.
One could credit Hoffman's cool to the fact that the group's new album, Night Work, is thus far a critical success, earning raves from Entertainment Weekly to Mojo Magazine. But the role of even-keeled, well-rested director is one Hoffman has played since the days of composing into headphones in Carman Hall, and one that has helped make Scissor Sisters a world-famous, multi-platinum-selling band.
"The Jew in me wants to stay in the tour bus and try to avoid the mud," jokes Hoffman before the show, admitting he doesn't exactly embody the rock star stereotype. "But Glastonbury is a magical place. They set up bars and tents and art installations everywhere. It's as much about the music as it is the tribal gathering. It's like a mixture of Coachella and Burning Man."
Giant outdoor festivals like California's Coachella and Nevada's Burning Man — both of which feature contemporary music, alternative lifestyles and campy entertainment — have been a part of Hoffman's regular vocabulary since he graduated from Columbia with a degree in creative writing. And they are perfect for Scissor Sisters' contagious pop — a dance-inducing mix of pulsing disco beats, funk-influenced bass lines and rock 'n' roll guitar licks that manages to celebrate and reflect on dance floor hedonism at the same time.
But Glastonbury in particular holds special meaning for Scissor Sisters. In 2004, the festival effectively marked the band's introduction to Europe, bringing the New York City group's genre-bending style of dance music to a new fan base that has proved voracious.
"The record had been slowly inching up the charts," says Hoffman, recalling the group's first mainstream milestone. "We played Glastonbury, and the next day we got the call, telling us it had hit No. 1."
Self-titled debut Scissor Sisters spent a month as the top record in the United Kingdom, and was 2004's top-selling album there, moving 2.7 million copies in that year alone. The follow-up, 2006's Ta-Dah, hit the same peak, and spent 50 weeks on the U.K. charts overall. The group's return to the fields of Somerset is a not-so-subtle nod to their success in England thus far; a notch in the revolving doorway of fame, logging the growth of the band from Manhattan cabaret curiosity to full on rock band. Scissor Sisters completed an extensive European tour in mid-December and opens a U.S. tour (with Lady Gaga) on February 19 in Atlantic City, N.J.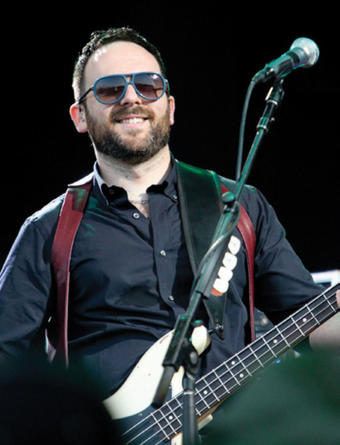 Hoffman got his nickname, Babydaddy, during his college years while hanging out with an older crowd in New York's club scene. photo: kevin tachman"It's a funny thing — we kind of grew backward," says Hoffman, a polite 33-year-old who says the band's first official gig was at The Slipper Room, a Lower East Side burlesque spot. "Jake and I started performing as a duo in 2001. We would sort of get up on stage, and I would play my laptop while Jake basically took his clothes off. Later on, we realized that we wanted to actually perform this music as a band."
Hoffman and Scissor Sisters front man Jake Shears (born Jason Sellards) met through a mutual friend in Lexington, Ky., where Hoffman grew up. There, Hoffman had developed an appetite for records from his older brother, Ben, who fed him everything from glam rock legend David Bowie to Seattle grunge kings Nirvana. An obsession with hair metal followed, as did the high school revelation of Nine Inch Nails' punishing industrial music and the dystopian post-rock of Radiohead.
"I would play my laptop while Jake basically took his clothes off. Later on, we realized that we wanted to actually perform this music as a band."
"My musical discovery definitely moved on into electronic and disco music, and the mix of the two," says Hoffman. "Finding out why and how that all happened became really interesting to me."
When Hoffman left Kentucky to study at Columbia, his own musical journey had prepared him for Scissor Sisters. And when Shears moved to the city as well, it wasn't long before the two collaborators fell in together and started spending time at downtown clubs, making friends with others seeking the same entertainment. It was in this circle of friends where Hoffman, younger than his cohorts but mature and rocking a substantial beard, got the nickname that would later become his official Scissor Sisters handle: Babydaddy.
But beyond the places and pulses of city music, there were other kinds of knowledge the self-described "Kentucky boy" had yet to gather, and he did that gathering on campus.
"I went to Columbia because I wanted to get a challenging education and pursue some of my loves, such as understanding fiction and more of the arts," Hoffman says. "Plus I was into the idea of going to a big city like New York after living in a smaller town all of my life. My parents also were very demanding and wanted me to go for the best."
Scissor Sisters, made up of (left to right) Hoffman, Jake Shears, Ana Matronic and Del Marquis, has released three hit albums. photo: Red Light Management"What impressed me about Scott wasn't as much his music as his discipline," says Ethan Davidson '99, a friend and former bandmate of Hoffman's who is a communications director for an urban development company in Atlanta. "He's a very creative person, but it's how he goes about it. You'd go by his dorm room and he'd say 'Don't disturb me. I'm writing right now.' Columbia was a good fit for him — he was a disciplined guy with his head on straight."
Davidson, who visits with Hoffman when both are in New York, jokes that the musician's Chelsea apartment is highly organized, just like his old Columbia dorm room — but filled with nicer stuff, of course. The influence of his time at school isn't lost on Hoffman, either.
"I think it was the most important experience to get me to what I'm doing right now," he says. "The way Columbia developed my understanding and ability to discuss a piece of art or literature, how we would talk about themes and ideas and have a real discourse — that ran right into the way Scissor Sisters creates music. We spend a lot of time refining and talking about what we do musically. We feel like we're creating something that verges on art; something conceptual that shows a bigger picture."
One of Hoffman's favorite professors at Columbia may have helped shape his ability to create the big picture in the band. Colin Harrison, a novelist and former editor at Harper's Magazine who now is a senior editor at Simon & Schuster, taught several writing workshops at Columbia, one of which dealt with voice and narrative through the lens of music appreciation.
"We'd listen to clips of singers — Patsy Cline, Louis Armstrong, Tom Waits — to discuss the power and emotional intensity of voice for the purposes of writing," says Harrison, whose 1996 crime novel, Manhattan Nocturne, received a "Notable Book" nod from The New York Times. "We'd explore how you sense, feel and keep narrative going."
Anyone delving into the deep cuts of this quartet's three albums (a fifth musician joins them for live performances) would notice an attention to voice and narrative; both lyrically and musically, the recordings all succeed as broad statements filled with juicy details.
In a market dominated by digital singles and one-track downloads, the band's commitment to a long play artistic statement is admirable, whether or not they are working in a medium facing extinction. Since Scissor Sisters first gained attention for their 2004 club-ready cover of "Comfortably Numb," by concept-album giants Pink Floyd, it's been a theme, but not one necessarily obtained with ease.
"We take this seriously as a job — a job that we love," says Hoffman, who collaborates closely with Shears on a majority of the band's songwriting. "We did about 1½ years of writing consistently and we hit a wall. In a moment of frustration, I suggested Jake go away for a bit, and he did — to Berlin."
After some time in the German city's thriving nightlife scene, Shears felt rejuvenated. With some production assistance from the accomplished Stuart Price (Madonna, The Killers), and a Robert Mapplethorpe photo for the album cover, the band found itself with what may be their most ambitious and seamless work yet.
Thus far, fans have responded; 25,000 copies of Night Work were purchased in the United States alone within two weeks of the album's release. Some three years in the making, the album boasts an instantly catchy single, "Fire with Fire," as well as brooding, drawn out anthems like closer "Invisible Light." A collaboration with Bryan Ferry for a new recording from seminal art rockers Roxy Music is forthcoming, but for now, Hoffman is concentrating on the grueling tour schedule and looking forward to his eventual return to New York city.
"I sometimes feel like a smaller town kid, but it feels like home," says Hoffman. "I imagine I'll always keep coming back to New York."
Scott Hoffman '99 rocks with his band Scissor Sisters on their hit single Fire with Fire.
Ben Johnson is a music writer for the Staten Island Advance and numerous other publications. His band, Conversion Party, released its second album last fall.