Features
How to Cope During a Recession? Start a Food or Beverage Business
By Dina Cheney '99
Hear the word "recession," and opportunity is likely the last thought that comes to mind. Yet, a tough economy can promote out-of-the-box thinking and present openings in the marketplace. These two stories — of food and beverage businesses started by young alumni, one right before the recession and the other in the thick of it — illustrate that an economic downtown isn't necessarily cause for pessimism.
Chocomize
Chocomize, an Internet business that makes customized chocolate bars to order (chocomize.com), began due to a seeming lack of opportunity. The company's founders — Nick LaCava '09, Eric B. Heinbockel '08 and Fabian Kaempfer, an exchange student at Columbia in spring 2008 and a 2009 graduate of European Business School (or EBS Universitaet), outside of Frankfurt, Germany — had planned to work in finance but couldn't find compelling jobs in the field.
Heinbockel, who spent a year looking for a job, had nearly 20 interviews. Although he was offered several positions, he took none of them — they were all commission-based, with low or no base salaries. Later, LaCava, who'd spent two summers before graduation working for Citigroup and who planned to work in sales or trading, also couldn't find employment.
In truth, as Heinbockel pointed out, a full-time job would have proven challenging anyway, since LaCava, then one of the fastest lightweight rowers in the country, was considering joining the U.S. rowing team. In 2009 he did, as a member of the lightweight men's four division. He currently is training to compete in the 2012 Olympics.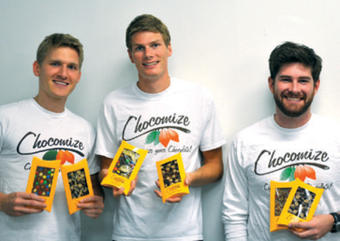 (From left) Fabian Kaempfer, Nick LaCava '09 and Eric B. Heinbockel '08 couldn't land the finance jobs they had hoped for, so they turned to the growing field of mass-customization and founded Chocomize. photo: fabian kaempferBy the early summer 2009, Heinbockel, LaCava and Kaempfer were close friends. Heinbockel and LaCava had met during the 2005–06 school year through the Columbia varsity lightweight rowing team. They became acquainted with Kaempfer when he moved into a Ruggles suite with LaCava and four other rowers during his stint as an exchange student.
Soon, the three began talking about "opportunities outside of the ones we had our hearts set on," as Heinbockel puts it. During those discussions, Heinbockel brought up the growing field of mass-customization, defined by BusinessDictionary.com as "the production of personalized or custom-tailored goods or services to meet consumers' diverse and changing needs at near mass-production prices." Some major companies, including Apple, Dell, Nike and Brooks Brothers, already had been practicing mass-customization. Yet, few food and beverage companies had yet done the same.
Then, something seemingly inconsequential, but ultimately fateful, happened: A motley assemblage of milk chocolate candies, pretzels, gummy bears and granola melted together in the back of LaCava's car. LaCava remembers, "We ended up putting the bag in the fridge to harden it up, and when I tried it on a bet, it tasted delicious. That was when the light bulb went off in our heads, like, 'Wow, this could be a good idea.' "
"We decided that we'd combine an older, but growing market — chocolate — with mass customization, the next wave in retail," recalls Heinbockel. Indeed, the friends' market research showed that traditionally, chocolate companies have emerged or flourished during recessions. During economic downturns, people are looking for affordable comforts and luxuries.
Encouraged, Heinbockel, LaCava and Kaempfer resolved to build a website where visitors could custom-design their own Belgian chocolate bar by choosing from an extensive list of ingredients — everything from the expected (almonds) to the novel (bacon and edible gold). One percent of the proceeds from each bar are donated to charity, and each customer chooses where his or her donation goes: Doctors Without Borders, Michael J. Fox Foundation or Action Against Hunger.
Initially based out of Heinbockel's parents' New Jersey home to save money, the three put their plan into action. LaCava's father, John, a lawyer, advised the friends on copyrighting their name and logo and on incorporating, which they did in August (all three took the title of managing partner), while The New Jersey Small Business Development Centers offered general business assistance. Personal loans came from friends and family, enabling the trio to purchase "$35,000 worth of chocolate-tempering machines in one day," as Heinbockel recalls. "That was nerve-wracking." Meanwhile, knowledge about what to do with those machines was furnished by a Germany-based chocolatier, to whom Kaempfer was introduced by his uncle, a Nuremberg restaurateur.
In November 2009, Chocomize launched its website, and Hein­bockel — who was to handle marketing and public relations — began aggressively reaching out to media outlets. "We realized how important holidays and press coverage would be in building our business," he says. His efforts were successful: O, The Oprah Magazine; The Costco Connection magazine; and other publications mentioned their company. Soon, Chocomize was profitable on a cash-flow basis.
Today, in addition to the three founders, the company has three interns, including Dave Mulhern '10 and Jim Brown '11; three full-time chocolate production workers; and two part-timers who produce chocolate or assist with shipping. The bars are produced and shipped from the company's office and production facility in Cherry Hill, N.J.
The founders plan to move Chocomize to a larger facility (its current factory is just shy of 2,000 sq. ft.). The company also will start selling chocolate to Canadian customers; offer more shipping options and a fourth base chocolate; purchase more equipment; and hire more people.
"We fall into the category of accidental entrepreneurs," Hein­bockel says. "We are risk-takers to a degree, but the recession gave us the opportunity where we had nothing to lose. Ultimately, I'm glad that I didn't find a job. It allowed me to find work that I'm happier doing."
Echoes LaCava, "I'm really glad that I didn't end up getting a more traditional job. Not only have I learned an incredible amount about running a business, I absolutely love what I'm doing. It's great being your own boss, and there's no greater satisfaction than seeing your hard work pay off. Making chocolate and working with your best friends every day is a blast."
VeeV
The founders of VeeV, the first acai-based spirit, graduated before the recession and were able to begin their careers at investment banks. Brothers Courtney Reum '01 and Carter Reum '03 both worked in the investment banking division of Goldman Sachs. Yet Courtney knew that he would ultimately take an entrepreneurial path.
While at Goldman, he worked on many deals, including a large alcohol company merger, as well as the IPO for Under Armour. "The founder of that company had a good idea, and went for it. Why can't I do that?" Courtney recalls thinking. On a surfing trip to Brazil — a respite from his grueling work schedule — he was offered a bowl of granola, banana, honey and a then-mysterious fruit called acai (pronounced ah-sigh-EE). Courtney thought the fruit was delicious, and filed away the memory.
About a year later, he began brainstorming intensively about what type of business to start. He decided to invent an alcoholic beverage that would offer a "better way to drink" — better tasting, better nutritionally and better for the environment. Recalling his trip to Brazil and the growing craze for nutrient-rich "superfruits" (such as pomegranates and the lesser-known acai), he resolved to create "the world's first acai spirit."
When Courtney shared the idea with Carter, his younger brother was dubious about leaving his finance job. "Why should we risk everything?" Carter recalls asking. "I was surprised Courtney thought I'd actually be crazy enough to leave a great job at Goldman to join him in trying our hand at our own venture."
Although Courtney did convince his brother to join him, the two didn't know the alcohol business and realized they needed help. That came from Britt West '97, then a brand director for Grey Goose Vodka at Miami-based Bacardi US (which had acquired the vodka brand). At the time, Carter was on the board of Columbia College Young Alumni, as was a close friend of West's, who introduced them in late 2006.
In May 2007 in Los Angeles, VeeV was launched, with the brothers literally selling bottles out of the backs of their cars.
West remembers his first encounter with the Reums. "Like most people, when they asked me what acai was, I said I'd never heard of it," he says. "I thought that Courtney and Carter were ahead of their time, as functional fruits and beverages were just becoming more mainstream. Plus, the brothers planned to donate a portion of the product's sales to stewardship of the Brazilian rainforest. I realized that not only was that something they were passionate about; it was also something that would appeal to our target market. Finding more environmentally and socially responsible ways of doing businesses would become a long-term trend, even in an industry not known for its environmentally sensitive behavior."
After first consulting for the Reums, West joined the company full-time in June 2007, becoming a managing partner (the Reums are co-founders and managing partners).
Brothers Courtney Reum '01 (left) and Carter Reum '03 left jobs at Goldman Sachs to chart their own course, founding VeeV to fill a niche in the adult beverage market. photo: courtesy veevDuring just two months in late 2006, the Reums secured funding from friends, family and a handful of angel investors, mostly individuals they'd met through their careers at Goldman Sachs. "We would probably not have been able to raise enough money during the recession," says Courtney. "All we had then was an idea, something that was interesting and different. We didn't have a fully-vetted business plan or even a fully thought-out product."
Armed with capital, they found a distiller with environmentally sensitive practices and began the research and development process. "We gave the distiller lay terms, and they turned our vision into a product," says Courtney. "We went through dozens of iterations of the formula, tasting them with panels of experts to get feedback." Once the formula was finalized, they submitted paperwork to the Alcohol and Tobacco Tax Trade Bureau, the agency for such product approvals, to get approval of the recipe and package design.
Courtney came up with the company name: VeeV. "It has no meaning," he says, "but is close to the word for 'life' in several Latin-based languages. We also like it because it's one syllable and a palindrome, making it an easy call to a bartender in a crowded bar (for example, a 'VeeV and soda')."
In May 2007 in Los Angeles, VeeV was launched, with the brothers literally selling bottles out of the backs of their cars — they didn't yet have a distributor or major sales infrastructure in place. After introducing the product to the Los Angeles market, they moved on to Florida, Illinois, other California cities and Texas, with Courtney (and sometimes West or Carter) spending two to six months in each location getting the brand up and running.
Meanwhile, Carter and West made sure that existing markets were moving in the right direction. "Carter and I are the faces of the brand," Courtney explains. "Launching markets ourselves gave us firsthand knowledge of how consumers interacted with our product and showed us how to best sell it."
In many ways, the timing of VeeV — being launched a few months before the recession officially began — was perfect. Potential new brands that would have posed competition couldn't secure funds, so, West explains, there was a "thinning of the herd, a shakeout in the industry." All the while, their business was growing.
Furthermore, in summer 2009, VeeV noticed an unprecedented media opportunity. As Courtney recalls, "There was an incredible amount of open media that could be purchased for 20 cents on the dollar. We seized this opportunity and had a summer-long advertising campaign across five markets. We would never have been able to afford it in 'traditional' circumstances. Our efforts further stood out because the big companies in our industry were slashing media spending."
The company's decision to focus on the "on-premise" market (bars, nightclubs and restaurants) allowed the partners to spread the gospel about their product and see how consumers reacted to it. During this time, multinational alcohol conglomerates were doing just the opposite, shifting their emphasis to the "off-premise" market (liquor and grocery stores) to try to sustain volume sales during the recession. "This gave us a window of opportunity to exploit," Courtney says. "We became even more aggressive in the on-premise market, and that action has built lasting business relationships. Now, our sales are about 70 percent on-premise."
All of these efforts have paid off. Today, VeeV is available in almost every state, and, according to Courtney, the company had $2 million in sales last year, a 250 percent increase. W Hotels, Virgin American Airlines and Celebrity Cruises serve the spirit.
The company has grown to about 20 employees, including the brothers and an office manager, who are based in Los Angeles; West, who still lives in Miami; and a v.p. of sales, Tim Maccara, who works out of San Francisco. Courtney is national sales director. Even the Reums' sister, Halle '06, helps out part-time. "In truth, we're based wherever there is a hotel room and an Internet connection," West says. "We all log quite a few frequent flyer miles."
"Regardless of the economy, we'd still be doing this," Courtney notes. "We would certainly not be working in investment baking. None of us came into this project looking to dip our toes in the water with a fallback plan that we could all return to our previous jobs.
"When I left my seemingly secure job at Goldman Sachs, given where the economy was, all my friends were saying, 'Are you mad?' or 'You must be crazy!' Now, they say, 'You must have seen that one [the economic collapse] coming, huh?' I just have to laugh because if that were the case, I'd probably be retired already."
Carter adds, "I'm thrilled that my brother pushed me to think outside of the traditional path and onto something more entrepreneurial. The experience I've gotten at such a young age never would have been possible if I'd continued at an investment bank. I always say that VeeV is our 'business school.' And the success we've had has been even sweeter given that my brother and I are doing this together."
Dina Cheney '99 is the author of Tasting Club (DK, 2006) and Williams Sonoma New Flavors for Salads (Oxmoor House, 2009) as well as a freelance writer and recipe developer. She also blogs about food and drink at dinacheney.com.