Obituaries
1929
Irwin W. Smith, retired insurance agent and teacher, Wallingford, Conn., on February 18, 2010. Smith was born in New York City on December 17, 1907. He was a WWII veteran, serving in the Army. Smith earned a master's from New Jersey State College in Montclair and a J.D. from NYU. He was an insurance agent with John Hancock Life Insurance Co. for 30 years until his retirement and then was a permanent substitute teacher at Paramus H.S. in New Jersey for 25 years. Smith was predeceased by his wife, Marjorie Fricke Smith, and is survived by a son, I. Stuart, and his wife, Betty; daughters, Merilyn L. Sandberg and her husband, Paul, and Dorothy S. Mullen; six grandchildren; and two great-grandchildren. Memorial contributions may be made to Masonic Charity Foundation, PO Box 70, Wallingford, CT 06492.
1938
Alvin K. Link, retired executive, Los Angeles, on February 23, 2010. Link was born in Brooklyn, N.Y., on September 17, 1917. He entered with the Class of 1938 but earned a B.S and an M.S. from the Business School in 1938 and 1939, respectively, and obtained a C.P.A. certificate from the State of New York. Link was v.p., secretary and treasurer of Layne and Bowler Pump Co. in City of Industry, Calif., for many years. He was active for many years with Children's Home Society of California, a large child welfare agency, first with the Los Angeles district on its Board of Directors and later on C.H.S.' state board, eventually being elected president. Link is survived by his wife, Eileen Patricia Cole Link; children, Diane B., Susan L. Flanagan and her husband, J. Michael, Kenneth R., and Richard A. and his wife, Kathy; and four grandchildren. Memorial contributions may be made to USC Norris Cancer Center.
1941
Edward J. Amontree, retired dentist, Sarasota, Fla., on February 4, 2010. Amontree was born on May 2, 1919, in Harlem and grew up in Brooklyn, where he graduated from Brooklyn Tech. He studied journalism at Columbia before graduating from the Dental School in 1944. Amontree was a captain in the Army during the Korean conflict, running the dental clinic at Fort Belvoir, Va., where he met his wife, Eva Johanna Hagenstein. The couple moved in 1955 to Sarasota, where Amontree set up his dental practice and they raised their family. After a long and distinguished career, including extensive research on the effects of light on dental health, Amontree retired at 82. He was an avid fisherman and sailor and enjoyed restoring classic automobiles. Survivors include his sons, Michael and Tom; daughter, Madelaine Dudney; and four grandchildren.
Leonard M. Shayne '41Leonard M. Shayne, retired foreign trader, New York City, on October 26, 2010. Shayne was born in New York City on September 29, 1920, and attended public schools. He entered the College with the Class of 1941 but earned a B.S. in 1941 from the Business School. Shayne was coxswain of the freshmen crew. He served in England in WWII as a sergeant with the 8th Air Force from 1942–45, then joined the family business, Leading Forwarders, to do freight forwarding and customs brokering. Shayne was regarded as an expert in his field and lectured at CUNY Baruch's Zicklin School of Business and The City College of New York. He wrote an industry memoir, Not All Importers-Exporters Are Crooks. Shayne became the president/co-owner of Leading Forwarders and co-owner of Leading Export Service Corp. with his brother, Kenneth. A founding father of The National Customs Brokers & Forwarders Association of America, Shayne was at one time its president and held the 2009 NCBFAA Centurion Award. Lifelong friend Ray Robinson '41 noted, "He was a charming, gracious man with a thirst for knowledge, and he never stopped learning." Shayne married Theresa "Teri" Deerson in 1952; she predeceased him in 2006. He married Trold Onsberg that year. She survives him, as do his children and their spouses, William and his wife, Caren, and Claudia Shayne-Ferguson and her husband, Earl; and four grandchildren.
1942
George T. Laboda, director of media, Lake Worth, Fla., on February 26, 2010. Laboda was born on October 7, 1919, in the Bronx. He entered with the Class of 1942 but earned a degree in 1942 from the Business School. Laboda served in the Army Air Force from 1942–46, being stationed at Mitchell Field on Long Island, N.Y., and rising to the rank of tech sergeant. Laboda was an avid golfer and a supporter of the Florida Sheriff's Youth Ranches, the Make-A-Wish Foundation and the Grandfather Home for Children in Banner Elk, N.C. He was a founder of the Kravis Center in Palm Beach, Fla., and established the Ruth C. Laboda Foundation as a tribute to his wife of 55 years to continue their legacy of helping others and furthering the arts. Laboda also was predeceased by a son, Ron, and is survived by his companion of 14 years, Roseanne McElroy; sister, Emilia McCusker; sons, Thomas and his wife, Rosa, Richard and his wife, Joan, and Lawrence; daughter Kathy and her husband, Jim; five grandchildren; and four great-grandchildren.
Sam Pisicchio, retired Coast Guard member and employment consultant, Napa, Calif., on February 24, 2010. Born in Corato, Italy, in 1920, Pisicchio and his parents immigrated to New York when he was 3. After graduating from Freeport (N.Y.) H.S., he majored in journalism at the College. Upon graduation, Pisicchio enlisted in the Coast Guard, where he served for 23 years, retiring with the rank of commander. His tours of duty took him and his family to Boston, Washington, D.C., Cape May, N.J., Cleveland and Long Beach, Calif. In 1965, Pisicchio settled in Napa Valley, where he was an employment consultant for the Napa County Welfare Department until 1980. He is survived by his wife of 64 years, Dawn; daughters, Nancy, and Valerie Straw; and a granddaughter. Memorial contributions may be made to Hospice by the Bay, 190 West Napa St., Sonoma, CA 95476.
1944
Harold W. Polton, retired business executive, Pompton Plains, N.J., on April 2, 2010. Polton's Columbia education was interrupted by military service when he enlisted in the Army. He served in Iowa, Washington, D.C., and Hawaii before returning to complete his College degree. Polton spent his business career in paper recycling and real estate in New Jersey. He is survived by his wife of 62 years, Kathleen Thomson Polton; sons, Arthur, Thomas and Richard '70; seven grandchildren; and one great-grandson.
1945
Bruce L. Schalk, retired accountant, Whiting, N.J., on March 4, 2010. Born in Flushing, N.Y., Schalk served in the Pacific Theatre from 1942–46. He earned a degree in economics from the College and was a member of Beta Theta Phi. Schalk was an accountant for Housing and Urban Development for many years before retiring in 1988. He enjoyed gardening, reading and traveling. Schalk also loved music and sang in a church choir for 34 years. Surviving are his wife of 56 years, Emily (Sklenka) Schalk; daughters, Claudia, and Lauraine Pizza; sister, Georgia, and her husband, Harold Zeidel; two granddaughters; and four nieces. Memorial contributions may be made to Memorial Sloan-Kettering Cancer Center, 1275 York Ave., New York, NY 10065.
Other Deaths Reported
Columbia College Today also has learned of the following deaths. Complete obituaries will be published in an upcoming issue, pending receipt of information. Due to the volume of obituaries that CCT receives, it may take several issues for the complete obituary to appear.
| | |
| --- | --- |
| 1936 | Charles R. "Captain Dick" Murray Sr., retired sales representative, Charlottesville, Va., on November 21, 2010. |
| 1937 | Bertram Fuchs, retired gastroenterologist, Marathon, Fla., on October 18, 2010. |
| 1940 | Seth G. Neugroschl, computer and technology expert, New York City, on November 4, 2010. |
| 1941 | Douglas L. Gruber, retired talent agency owner, Sun City Center, Fla., on October 11, 2010. |
| 1942 | Alan E. Baum, retired radiologist, Fort Pierce, Fla., on October 10, 2010. |
| | Sanford A. Bayer, antiques and fine arts dealer, Greensboro, N.C., on June 27, 2010. |
| | Robert E. Healy, physician, Amesbury, Mass., on October 16, 2010. |
| | George C. Thompson, retired Columbia professor of business law and accounting, Greenwich, Conn., on October 12, 2010. |
| 1943 | Albert W. Cayot, sales manager, Boxford, Mass., on November 22, 2010. |
| 1944 | Albert P. Ryavec, San Diego, on October 14, 2010. |
| 1947 | Henry G. Burger, retired anthropologist, automated word-finding expert, Overland Park, Kan., on October 14, 2010. |
| | Gerald S. Lesser, professor of child development, Lexington, Mass., on September 23, 2010. |
| 1949 | Perry E. Morrison, business executive, violinist, Pittsburgh, on August 24, 2010. |
| 1951 | Robert J. Archer, Portola Valley, Calif., on September 4, 2010. |
| | Jerome K. "Jerry" Chase, car dealership owner, Wayland, Mass., on October 29, 2010. |
| | Muir N. Weissinger Jr., St. Augustine, Fla., on July 2, 2009. |
| 1954 | Thomas E. Sinton Jr., retired business executive, Mahwah, N.J., on November 11, 2010. |
| 1955 | Alan D. Pasternak, consultant and lobbyist, Lafayette, Calif., on September 24, 2010. |
| 1956 | Joseph A. Parker, engineer, Toms River, N.J., on November 11, 2010. |
| 1958 | Donald Festa, retired colonel, Oakland, N.J., on October 14, 2010. |
| | John J. Rothschild, cardiologist, New York City, on November 4, 2010. |
| | Asher Rubin, retired deputy attorney general, San Francisco, on September 29, 2010. |
| 1960 | William V. Borden, playwright, novelist, poet and English professor, Rockwall, Texas, on October 23, 2010. |
| | Henry Schoenfeld, attorney, Takoma Park, Md., on September 21, 2010. |
| 1961 | Donald G. Roesch, retired attorney, Woodside, Calif., on September 19, 2010. |
| 1962 | Lawrence I. Lubkin, retired high school teacher, Tucson, on September 27, 2010. |
| 1965 | Garland E. Wood, financial executive, Weston, Conn., on November 15, 2010. |
| 1971 | Paul C. Jamieson III, former attorney, amateur chef, Stamford, Conn., on October 8, 2010. |
| 1976 | Mark J. Heller, business executive, Potomac, Md., on October 22, 2010. |
1946
Wayne J. Hallenbeck, retired insurance executive, Mansfield, Ohio, on February 10, 2010. Born on January 7, 1925, Hallenbeck enlisted in the Army in 1943 and served in the European theatre of operations during WWII, receiving a Purple Heart. He then resumed his studies at Columbia and graduated in 1948 with a B.A. in political science. Hallenbeck had a 35-year career in the insurance industry, starting with Aetna in New York and Security Insurance in New Haven, Conn. In 1960, he and his family moved to Mansfield, where he worked at Lumbermens Mutual Insurance Co. Hallenbeck was v.p. of claims and retired from Lumbermens in 1981. He was an active bowler and golfer and a former member of Westbrook County Club and the B.P.O.E. Hallenbeck is survived by his wife, Shirley; sons, Wayne Jr. and his wife, Lisa, and Kirby and his wife, Toni; daughter, Susan Hallenbeck and her husband, William Holland; and two grandchildren. Memorial contributions may be made to MedCentral Hospice, 335 Glessner Ave., Mansfield, OH 44903.
1949
William G. Ivie Sr., retired store manager, Cartersville, Ga., on February 10, 2010. Born on August 14, 1927, Ivie lived in Brooklyn until he was 12, then moved to Morningside Drive. He graduated from the Bronx H.S. of Science. Shortly after his marriage to Leslie Jean Soper in 1951, he served briefly in the Naval Reserves. In 1959, the family settled in Harrington Park, N.J. Ivie was a volunteer fireman, Little League coach and member of the community planning board. He also helped build the Harrington Park town pool and served on election committees for local politicians. Ivie's entire professional life was as a store manager for Woolworth. He and his wife settled in Palm Beach Gardens, Fla., in 1983, then moved closer to their family in 2000. Ivie was committed to the Not in Bartow project, which provided food to poor families during the holidays, as well as Advocates for Bartow's Children, a group dedicated to helping local troubled children. Ivie also was a devoted New York Giants fan. He is survived by his wife of 59 years; children, William G. III, David A., and Susan Barrett; eight grandchildren; and brother, Robert. Memorial contributions may be made to Advocates for Bartow's Children, Box 446, Cartersville, GA 30120.
1950
Desmond J. Nunan Sr., retired educational system administrator, Ocean City, N.J., on May 5, 2010. Born in New York City, Nunan had lived in Allentown, Pa., and summered for many years in Ocean City before moving there in 1981. At Columbia, he was a member of the crew and the Glee Club. Nunan was a teacher for the West Chester, Pa., School District for 12 years, an administrator for the Allentown School District for 16 years and most recently was with the New York State Education Department for four years before his 1992 retirement. He was a member of the American Legion Post #624 in Ocean City; past commodore of the Honorary First Defenders of Allentown, Pa.; past president of the Allentown Principals and Administrators Association; and a former member of the Ocean City Zoning Board. Nunan also was on the Cape May County Selective Service Board for 20 years and an active member of Our Lady of Good Counsel Church in Ocean City. Surviving are his wife, Dolly; children, Desmond Jr., Christopher and his wife, Cindy, Peter and his wife, Lisa, Aiden, and Julie Ann Maloney; seven grandchildren; sister, Mora Sullivan; and sister-in-law, Frances.
1952
Vernon C. Wynott Jr., sales executive, referee, Belmont, Mass., on April 17, 2010. Wynott was a member of the Belmont H.S. Athletic Hall of Fame. He was a retired Naval officer, having served with the Beach Jumper Unit at Little Creek, Va., from 1952–55. At Columbia, Wynott was Honorable Mention All American in football. He refereed high school and college football for 35 years. Wynott was employed by Lewis-Boyle and Pillsbury in sales and was trustee of Belmont Savings Bank. His last time in public was on Thanksgiving Day 2009. It was a special day for his family, as his grandson, Michael, was playing his last high school football game, and Wynott was named honorary captain for Belmont H.S. and was at midfield for the coin toss. The ending was especially exciting, as Belmont came from behind late in the fourth quarter to win 8–7, when Michael took the snap for the extra point, faked and threw for a successful two-point conversion. Wynott was thrilled. He is survived by his wife, Sheila; sons, Vernon III, Dennis and John; sister, Dot McBride; and eight grandchildren.
1953
Jay A. Levine, professor, Chicago, on February 22, 2010. Levine was born in New York City in 1932. He earned a master's in 1954 from GSAS in English and comparative literature and a doctorate in English literature at The John Hopkins University. Before going to the University of Illinois at Chicago, Levine taught English literature at Chicago, UC Berkeley and Cornell. A scholar of 18th-century British literature, he chaired the English department at UIC and was dean of the College of Liberal Arts and Sciences from 1985–95. Levine is survived by his daughter, Julia H.; brother, Neal; sister, Harriet "Sandy" Miller; former wife, Karen L.; close friend Bob Hiebert; and many nieces and nephews. Memorial contributions may be made to the Parkinson's Disease Foundation, 833 W. Washington, Chicago, IL 60607-2327.
1954
Max R. Pirner Sr., retired engineer, Humble, Texas, on May 9, 2010. Pirner was born on December 8, 1932, to German immigrants. He attended De Vilbiss H.S. in Toledo, Ohio, where he met his wife of 53 years, Marilyn Mae Hahn Pirner, on a New Year's Eve blind date. In 1949, Pirner was named All-City Quarterback and played in the Ohio North/South game. He earned a B.A. from the College and a B.S. in 1955 from the Engineering School, and lettered for four years in football. Pirner was commissioned as a second lieutenant in the Marine Corps, where he served as an infantry platoon leader and rifle company commander. He completed service in 1958 as a captain. Pirner held positions in the food and petro-chemical industries for more than 40 years and was a football official for more than 20 years. He is survived by his wife; daughters, Deborah Lynn Pirner and her husband, Greg Jarrett, Pamela Mae Pirner Bergeland and her husband, Mark, Karen Marie Pirner Braaten and her husband, Mark, Sandra Kay Pirner Atwood and her husband, Pat; son, Max R. "Rick" Jr. and his wife, Darla; 18 grandchildren; five great-grandchildren; and sisters, Carolyn Penland and Susan Wiechman. Memorial contributions may be made to the Salvation Army, MD Anderson Cancer Center or Shriners Hospital.
1955
Bede C. Sullivan, library cataloguer, Washington, D.C., on February 22, 2010. Sullivan was a native of Chicago. He served in the Marine Corps in the 1950s. Sullivan worked for 30 years at the Library of Congress, first in the division for the blind and later as a cataloguer of foreign-language materials. He specialized in Romance languages and took classes in others, such as Swahili and Indonesian, in order to write descriptions of books for the library's catalogue. Sullivan previously worked for the public library systems in New York City and the District of Columbia. He was a member of Holy Trinity Catholic Church in Georgetown. Survivors include his wife of 48 years, the former Carol Miller; children, Nora Mejia, Emily Dennis and Peter; a sister; and four grandchildren.
1960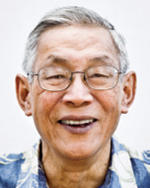 T. Irving Chang '60T. Irving Chang, retired attorney, Honolulu, on April 1, 2010. Chang was born on October 8, 1939, in Honolulu. He attended Iolani School and graduated from the New Mexico Military Institute in 1956. At Columbia, Chang played football. He earned a law degree from the University of Michigan in 1963, then clerked for the Honorable Jack Mizuha of the Hawaii Supreme Court. His next job was as a deputy prosecuting attorney in Honolulu. After four years, Chang opened his own practice, focusing on corporate law and bankruptcy for more than 30 years. He was the longtime chair of Columbia's Alumni Representative Committee for Hawaii and served on Columbia's national Board of Visitors. He also was the chairman of the boards of the Hawaii Youth Symphony Association and the Hawaii Chapter of United Cerebral Palsy. After retiring in 2004, Chang focused on traveling, listening to his eclectic music collection on the Internet and trading stocks. He recently turned to tending to fruit trees, a bee hive and hibiscus plants. Chang is survived by his wife, Jocelyn (Joce); children, Allison '94 and her husband, Ivan Huang, Kimberly '95, Timothy and his wife, Gina, and Jonathan '98 and his wife, Pauline; sister, En Harriet Chang; mother-in-law, Gladys Yee; and three grandchildren.
1975
Joseph F. Slade III, physician, professor of orthopedics and rehabilitation, Guilford, Conn., on May 21, 2010. Slade was born on January 4, 1953, in Washington, D.C. He was a professor of orthopedics and rehabilitation, with a joint appointment in plastic and reconstructive surgery, at Yale University School of Medicine and was the director of the Hand and Upper Extremity Service. He joined the Yale full-time faculty in July 1993 following his training at the University of Connecticut School of Medicine, Duke and the University Miami/Jackson Memorial Medical Center. Slade then served in the Air Force during Desert Storm. He made many contributions to clinical care, including the development of new approaches to the treatment of hand and wrist fractures. Slade also lectured around the world, conducted scholarly research and authored numerous scientific articles. He is survived by his children, Joseph IV and his wife, Kimberly, and Andrew; sisters, Carol and Veronica; fiancée, Kathleen; and a granddaughter. Memorial contributions may be made to the Joseph Slade III MD Memorial Fund c/o Department of Orthopedics and Rehabilitation, Yale University, PO Box 208071, New Haven CT 06520.
Lisa Palladino