Around the Quads
Dean Austin Quigley to Step Down in July 2009
Columbia College Alumni Association to Honor Quigley with 2008 Alexander Hamilton Medal
By Alex Sachare '71
When Austin Quigley steps down as dean of Columbia College and Lucy G. Moses Professor in July 2009, he will have headed the College longer than all but one of those who preceded him. Only Herbert E. Hawkes, dean of the College from 1918–43, will have served longer than Quigley's 14 years.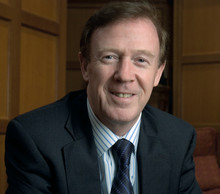 Dean Austin Quigley has guided the College through a 14-year period of remarkable success and growth. PHOTO: ALAN ORLING"Deciding when to move on from a position of responsibility is always a challenge, but wisdom is on the side of doing so when things continue to go well, so that a successor will have an opportunity to steer that positive momentum toward new priorities," said Quigley, who announced his plans in a letter to members of the Columbia community on May 21.
In recognition of Quigley's distinguished service and accomplishments, the Columbia College Alumni Association will present him with the 2008 Alexander Hamilton Medal at the American Museum of Natural History in New York on Thursday, November 13. "Austin Quigley has been a remarkable presence in the Dean's Office, and his 14-year tenure has been an extraordinary period for Columbia College," said CCAA President Geoff Colvin '74. "He reinvigorated the College, enhanced its reputation and generated renewed support among its alumni. It is appropriate that, as Austin enters his final year as dean, he receive the highest honor that the College bestows."
President Lee C. Bollinger has announced that after Quigley steps down as dean, Quigley would continue as the Brander Matthews Professor of Dramatic Literature and also serve as special adviser to the president for undergraduate education.
"Fourteen years is a remarkable tenure in any academic leadership role, and Austin has presided during an era of extraordinary transformation at the College," said Bollinger. "The quality and manifold diversity of our students, the ways in which they engage with the institution and its faculty while they're here, the involvement of our alumni and parents — all this and more is a tribute to Austin's leadership. In the year ahead, we will have ample opportunity to celebrate Austin's tenure. For now, please join me in thanking him for his exceptional service to Columbia as Dean of the College."
Quigley has headed the College at a time of remarkable progress, as reflected in admissions statistics, facilities renewal, fundraising levels, faculty investments, curricular innovations, student achievements, financial-aid upgrades, student services enhancements, alumni program initiatives and more.
For example, when Quigley became dean on July 1, 1995, the College had received 8,714 applications for the Class of 1999. Applications have increased every year since then, despite calamitous events such 9-11 and economic downturns; this past year, the College received a record 19,116 applications for the Class of 2012.
Other measures include selectivity, the percentage of applicants offered admission, and yield, the percentage of accepted students who matriculate. Selectivity has improved from 23 percent in 1995 to 8.68 percent last year, making the College one of the most selective schools in the country, and yield has increased from 41 percent to more than 60 percent.
Quigley's tenure as dean has been marked by the construction of the Alfred Lerner Hall student center — which includes the Roone Arledge Auditorium, new facilities for WKCR and the Double Discovery Center, a home for the Office of Multicultural Affairs, modern restaurants and theater and orchestra rooms for student use — and the Broadway Residence Hall, and the renovations of Furnald Residence Hall, Butler Library, including the Milstein Family College Library, and Hamilton Hall, including 37 completely refurbished classrooms. Admissions and financial aid for the College and SEAS have been consolidated under one Office of Student Affairs, streamlining these administrative functions, and the relationship among the College, SEAS and Barnard has become closer than ever.
There has been a vast upgrading and expansion of student services, from Orientation through Class Day, and a concurrent growth in alumni relations and development, as reflected by increased attendance at events such as Alumni Reunion Weekend and Homecoming, greater than three-fold growth in College Fund and Parent Fund giving, and development of a Senior Fund that this year set a record with 85 percent participation. There have been significant investments in faculty enhancement and expansion, including an increase in endowed chairs for faculty from five in 1988–95 to 38 at present, as well as in curricular innovation, including the addition of "Frontiers of Science" to the Core Curriculum, the proliferation of interdisciplinary majors and the creation of a Center for the Core Curriculum in Hamilton Hall. During Quigley's tenure, there has been the largest upgrade in College financial aid in history, funded in significant part by a $400 million pledge by John Kluge '37, the largest individual gift ever devoted exclusively to student aid, half of which is dedicated to the College.
"The fundamental responsibility of any dean of the College is to leave the institution in better shape than one found it, and I have sought every year to pursue that goal," observed Quigley. "Success on so many fronts is always collective success, not that of any single individual. It has been my good fortune to work closely with a talented College staff, a dedicated faculty, a creative and supportive University leadership, a deeply committed group of alumni and parents and a remarkably talented student body. Together, we have strengthened an already prestigious undergraduate College to make it one of the most sought-after educational institutions in the land, carefully preserving its long-established historical character while setting new goals and instituting new traditions."
Born in Northumbria, near the English border with Scotland, Quigley earned his bachelor's in English literature from Nottingham University and his master's in linguistics at Birmingham University before moving to the United States, where he earned his Ph.D. in English and comparative literature and literary theory at UC Santa Cruz. Before coming to Columbia in 1990, Quigley taught at the University of Massachusetts and the University of Virginia, where he chaired the English department. He also has taught at the University of Geneva, the University of Konstanz and the University of Nottingham.
At Columbia, Quigley established the undergraduate major in drama and theatre arts, revived the doctoral program in theatre and helped reinvigorate the M.F.A. program in theatre at the School of the Arts. He served for three years as chair of the Lionel Trilling Seminar series and has continued to teach and write during his term as dean, publishing a book and several articles. He also has served as president of the national Association of Literary Scholars and Critics.