Around the Quads
Five Minutes with... Christopher Peacocke
Christopher Peacocke, professor of philosophy, was formerly the Waynflete Professor of Metaphysical Philosophy at Oxford. He is a fellow of the British Academy and holds the Richard Wollheim Chair of Philosophy at University College London, where he teaches in the summer. His latest book, Truly Understood, proposes a substantive theory of understanding and applies it to central issues in the philosophy of mind. CCT caught up with him in the spring to find out more.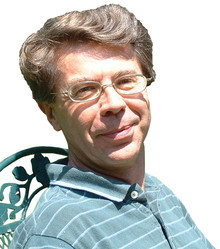 Antonia Peacocke '12Where did you grow up?
Oxford.
What might you be, if you weren't doing what you're doing now?
I would be a musicologist. I taught Music Humanities in the spring semester, for the first time — teaching music is a huge pleasure and a completely unexpected development in my life.
In philosophy, one of my interests is the philosophy of perception. For anybody who thinks about perception or consciousness, their mind turns (if only on holidays or weekends) to the perception of music. The foundational question of what it is to perceive emotion in a piece of music is extremely difficult and hasn't been satisfactorily dealt with. You get live data all the time on this problem if you teach Music Humanities [laughs].
Which classes are you teaching in the fall?
I'm doing my graduate seminar on the integration of the theory of understanding with some classical issues in metaphysics, including the nature of the self. My other fall course is an introductory graduate ProSeminar.
How did you get interested in philosophy?
When I went up to Oxford I read PPE (politics, philosophy and economics). My economics tutor tried to persuade me to have a career in economics, and he had quite a good argument. His argument was that economics was only about 100 years old, and you didn't have to be particularly bright to have your name on lots of important theorems … whereas philosophy had been going for 2,000 years and the chance of making any kind of contribution was virtually negligible.
And he was right in some respects, you know. But once you get interested in meaning and truth, you can't spend your life in economics. Everything else seems like a minor problem.
You've spent most of your life in England, but you have ties to America, too.
I had a Kennedy scholarship at Harvard, and my first teaching job was at Berkeley. My wife's American, even though she trained as a London barrister. She's the first American woman at the English chancery bar — the kind of bar that's discussed in Bleak House.

You taught at King's College London, Oxford and NYU. When did you come to Columbia?
We moved here in 2004, and we've become a Columbia family. My son is at Columbia, and my daughter recently was awarded a John Jay Scholarship.
What do you like here?
The library. I can't understand why my colleagues don't spend more time in this absolutely magnificent library where you can work undisturbed. I just love it.
Where do you live?
We live on 110th and Broadway, in the same building as the Columbia School. But because my wife goes back and forth — she has an office here and in London — we have to keep an apartment in London as well. It's both a luxury and a strain.
Any pets or children?
Two children. No pets [laughs]. Couldn't have pets.
How do you recharge?
We have a little place in the Connecticut countryside — it's enormously important as a safety valve. I don't mow the lawn or garden or anything. I just enjoy being there.
If you could go anywhere in the world, where would it be?
Barcelona or Venice.
What's something your students would never guess about you?
They'd probably be surprised that I am very interested in wine. They think of me as more austere than I am. I got seriously interested in wine, especially French wines, before I left Oxford. You have access to unbelievable cellars, so I stocked up as much as I could.
What's your favorite food?
Chocolate. [Laughs.] Probably goes with having a taste for red wine.
Interview: Rose Kernochan '82 Barnard
PHOTO: ANTONIA PEACOCKE '12