Bookshelf
Meredith Norton '92's Lopsided: Not Your Ordinary Cancer Memoir
By Maryam Parhizkar '09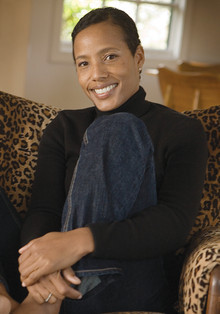 Meredith Norton '92 PHOTO: CARMEN ALVAREZ"Does this happen with any other ailment? Do fellow hemorrhoid sufferers clasp hands and chant, 'Die hemorrhoids!'? … Were I to chant anything, it would be, 'Please God, don't let this disease make me campy!' " writes Meredith Norton '92, reflecting upon awkward encounters with other cancer patients and survivors in public places.
For most people, cancer is no laughing matter. For Norton, however, humor seems to have been a key ingredient in her to approach the disease, as reflected in her debut book, Lopsided: How Having Breast Cancer Can Be Really Distracting ($23.95, Viking).
By 34, Norton had been everything from a public school teacher to small-company CEO, but not long after marrying and giving birth she found herself combating inflammatory breast cancer (IBC), an often lethal but rare form of the disease. In Lopsided, she has created a witty memoir chronicling her medical struggle from her strange symptoms while in Paris ("After all the smug misdiagnoses and placebos I'd been given at the hands of French physicians, I had more faith in a troop of trained chimpanzees") to her return home to California, where she underwent treatment.
While undergoing chemotherapy and surgery, Norton received many sympathetic gifts from friends, including several hats, "at least two wigs in the mailbox every week," and various books. "There were lots of books by Lance Armstrong [written by a ghostwriter] … although they were mostly copies of one book, Every Second Counts," she writes, as part of her running motif involving her impressions of Armstrong throughout her cancer experience. "Give me some fat slob on welfare who never graduated from junior high and can't ride around the block without choking on his cigarette, and yet manages to pull himself together, go macrobiotic, and beat cancer, and I will show you one inspired Meredith Norton."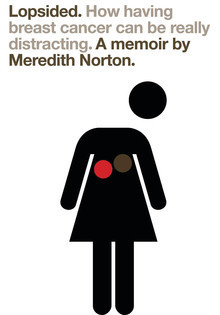 In the same chapter, Norton draws a parallel between Armstrong's photograph on his book cover and one of herself that had been on the Columbia College homepage for some time during her years as a student. Norton includes various allusions to her experience as an undergraduate, including her experience with the Core Curriculum science requirement taking the "Dinosaurs and Life" and "Physics for Poets" courses. She also mentions the inspiration she found in listening to Gertrude Elion, a Nobel Prize-winning biochemist and pharmacologist, give her honorary degree speech at her commencement. "Another honorary degree went to Katharine Hepburn," Norton says. "What dying children had she saved from sexually transmitted diseases?"
The Columbia references are only a part of Norton's memoir, which is mostly about her cancer treatment but is frequently interspersed with anecdotes and asides from her atypical life experiences outside of cancer. Her stories range from accounts of a family reunion at an alligator farm to bizarre experiences with ex-boyfriends. Aided by her varying sources of inspiration — whether they be Armstrong, family members or strangers — Norton ultimately beat the odds of a 40 percent survival rate and prevailed in the fight for her life, although not without the necessary struggles. It is storytelling that critics have found reminiscent of David Sedaris or Augusten Burroughs, with funny and poignant moments gracefully intertwined. "Currently, there is no fire to put out, but things aren't static enough to be suspenseful, either," she writes in her closing paragraphs. "There is none of that quiet waiting for disaster to strike. My life is back to being as normal as it ever was."
Born and raised in the San Francisco Bay Area, Norton majored in film studies with a special concentration in creative writing. After graduating, she briefly worked in documentary filmmaking and then took up teaching junior high school history in Oakland, Calif., while briefly co-running her own pillow-making company [see November 2001]. In between that and her move to France, Norton's occupations included hymnal editor, art restorer, game show producer, Hollywood talent agent assistant and engineering graduate student. This year, though, Norton will spend the summer promoting her memoir in California and in New York. She lives in Sonoma County with her son, Lucas.
Maryam Parhizkar '09
is a Houstonian, violist, new music enthusiast and English major. She contributes to
CCT
and
The Blue and White
,
Columbia's monthly undergraduate magazine.