Cover Story
Lions Win Ivy Baseball Crown
By Stephen Eschenbach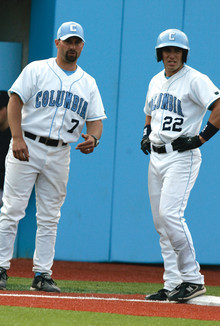 Coach Brett Boretti (left, with outfielder Mike Malfettone '08) guided the lions to the Ivy crown in his third season at Columbia. PHOTO: GENE BOYARSThe last time Columbia won a baseball title, in 1977, Jimmy Carter was President, a gallon of gasoline cost 65 cents and Rocky won an Academy Award for Best Picture. Columbia tied Cornell for a share of the Eastern Intercollegiate Baseball League (the eight Ivy schools plus Army and Navy) championship that year, after winning the title outright the year before.
More than 30 years later, the Lions are back on top. Columbia, mired in last place as recently as three years ago, captured its first Ivy League baseball championship this spring (the EIBL gave way to the Ivy League in 1993) by beating Dartmouth in a best-of-three playoff series.
"It's a great feeling," says co-captain Henry Perkins '08, the Ivy League's Player of the Year. "For us to come full circle after four years and to finish on top of the league is fantastic."
The Ivy title earned Columbia a berth in the NCAA baseball championships, but the Lions were ousted from the double-elimination tournament by Coastal Carolina and East Carolina. Despite those defeats, the experience was a positive one, according to coach Brett Boretti, who has headed the team for three years. "We got a little taste," he says. "We know we belong, and we want to get back here."
"The biggest positive is to realize this wasn't a fluke thing for Columbia," declares John Baumann '08, a pitcher as well as a four-year starter on the basketball team. "We would have liked to have fared better here, but Columbia is going to be a perennial powerhouse in the Ivy League. That's the most gratifying thing."
Columbia's baseball fortunes began changing when Boretti was named coach. "The whole mentality changed. We started expecting to win," recalls Baumann, who predates Boretti's tenure and was a freshman on the 2005 team that had only five Ivy wins.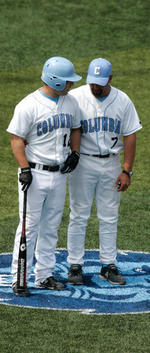 Boretti (right) discusses strategy with first baseman Ron Williams '09 in the on-deck circle. PHOTO: GENE BOYARSBoretti came to Columbia from Franklin and Marshall, where he compiled a 116–82 record over five seasons and won a conference championship, and brought with him a positive attitude. "It's about confidence, the way you approach things," says Boretti. "You have a purpose every time you practice."
Practice became a conduit through which Boretti changed the team's attitude. "The energy Boretti brings to the field … he's intense," notes Noah Cooper '08, who won the 2008 Blair Bat for leading the league with a .507 average. Motivation also was delivered in the form of positive messages played through speakers during practice.
Boretti also structured practices to make them more goal-oriented. Intrasquad games became skins games, where sides win individual innings, and, according to Cooper, the lesson being "focus on one pitch at a time, what you can control." The necessary mental changes followed. Instead of thinking "Don't swing at a high pitch," Cooper explains, "you're thinking 'swing in the zone.' " For Baumann, it was the realization that "baseball is a process-oriented game. As a pitcher you can control the tempo, and imagine yourself succeeding."
Emphasis on defense is another feature of a Boretti practice, the coach explains, because "players are always going to find time to hit." The new defensive emphasis has shown up in games. Princeton coach Scott Bradley agrees, noting "They're much better defensively, much more solid in the infield."
Baseball also is the beneficiary of a rejuvenated athletics program under the guidance of Athletics Director M. Dianne Murphy. Increased resources are directed to teams, which are evaluated against "set measures and targets for athletics success," writes Murphy in an e-mail. "We go out every year looking to win championships and achieve competitive success in all sports."
Indeed, baseball's title was one of four for Columbia in the 2007–08 academic year, along with men's golf and men's and women's fencing. Added to the five Ivy crowns won in 2006–07, this marks the highest two-year total of Ivy championships in Columbia history. Those teams prove, according to Murphy, that "there is room for top-rate academics and championship-level athletics to coexist in college sports."
Boretti says that the baseball budget is "like night and day from three years ago," with the team benefiting from a new batting cage, bullpens and, most importantly, a new artificial surface for its home field, renamed this spring for Hal Robertson '81E, a former varsity baseball and football player. It also was a signal to the University community to get behind athletics. "People didn't know what was going on" with baseball before the increased funding, says Perkins. "Now we feel the University is behind us." To Boretti, bigger budgets are a sign "the culture of athletics" has changed.
In Boretti's first season, the Lions won games in the Ivy League, which is divided into two divisions. In the next season, they reached the .500 mark, at 10–10, for the first time since 2002. To Boretti, that season proved they could win the Gehrig Division, pointing out, "We were 8–4 in our own division, we knew what we could do."
Coming into 2008, Boretti knew that "you've got to have four starters," to anchor a rotation for a championship team, and that Baumann, Bill Purdy '08 and Joe Scarlata '09 would fill three slots. They had combined for a 10–6 mark in 2007, with Scarlata injured for most of the season.
Boretti's efforts in positive thinking also were bearing fruit. "We struggled with attitude the first couple of years," remembers Baumann, but this season "we thought, 'why not us, why not now?' " Perkins agrees: "We were believing we're in this league to win."
"Columbia is going to be a perennial powerhouse in the Ivy League."
This positive attitude was tested when Columbia lost its first eight games, all on the road, but Boretti wasn't worried. "It wasn't a big deal," he explains. "We were playing an aggressive schedule." Columbia broke through with an 8–5 win over Georgia Southern, but at the beginning of league play had a modest 4–14 record. The question of who would be the fourth starting pitcher, however, was answered by Geoff Whitaker '11, who picked up two of the team's four wins, had the most strikeouts on the pitching staff and won Ivy Rookie of the Week honors.
The first weekend of league play indicated it might be Columbia's year when the Lions swept both games of the Brown series for the first time since 1997. This was followed by a split with Yale, then a sweep of Harvard, the first in 15 years. Scarlata earned Ivy Co-Pitcher of the Week honors with his Harvard win, a 2–0 complete game shutout.
After a split with Dartmouth, the Lions went into a pivotal Princeton series with a two-game lead over the Tigers, winners of seven of the last 10 Gehrig Division flags and five Ivy titles in that span. That lead was erased when Princeton took the first two games of the four-game series, but the Lions bounced back.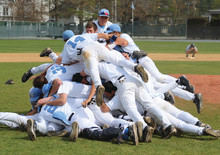 The Lions pile on in celebration after winning the Ivy League championship at Dartmouth with a 7-5 victory in the deciding game of their best-of-3 series on May 7. PHOTO: GIL TALBOT"The next day they were confident, and beat us in a pitcher's duel," says Bradley, the Princeton coach. A Baumann three-hitter reclaimed the division lead, then Columbia expanded the lead with an extra innings 7–4 win. "They're a tough, gritty bunch of kids who competed every game. It was a real defining moment," notes Bradley.
After Princeton's first-day sweep, Boretti told the Lions that they "can't worry about what happened," and to focus on the next day's games. The resulting wins restored Columbia's lead in the Gehrig Division and more importantly, "gave us a little bit of space," says Perkins.
Columbia never looked back. A four-game split with Cornell gave them a three-game cushion, and a win against Penn brought Columbia its first Gehrig Division championship since 1993, coincidentally on the day the field was renamed in honor of Robertson. Columbia went on to a first-ever four-game sweep of Penn.
Among those in the crowd when the Lions clinched the division title was Rolando Acosta '79, '82L, a star pitcher on the EIBL champion 1976 team and now a New York State Supreme Court Justice. The 1976 team was successful on and off the field, with players becoming lawyers, physicians and business executives. For example, catcher Joe Greenaway Jr. '78 is a federal judge, pitcher Bob Klapisch '79 is a well-known sportswriter and pitcher Ralph Izzo '78E is president and CEO of Public Service Enterprise Group, a $12-billion electric and power utility corporation.
Acosta says of the present team, "They not only have the talent that I remember from the 1976 champions, they also have a sense of team spirit and confidence that I think makes them winners. Like the 1976 team, I am confident that these guys will do fine on and off the field."
Next up for the Lions was Dartmouth, winner of the Red Rolfe Division with a 15–5 Ivy record that matched Columbia's, in a best-of-three playoff for the league championship. Columbia's most impressive game of the series may have been its second game loss. After winning the first game 11–7, the Lions fell behind 14–3 in Game 2. They scored 12 runs over four innings to tie the game, but a ninth-inning run by Dartmouth gave the Big Green a 16–15 victory and forced a Game 3.
After jumping to a 3–0 lead, Columbia fell behind 5–3, but a three-run homer by Alex Ferrera '11, his second of the day, gave the Lions a lead they would not relinquish. Perkins homered for an insurance run and also pitched four innings to save the 7–5 win.
The championship did not go unnoticed. Murphy reported receiving "congratulatory e-mails and phone calls from alumni from all over the world — as well as from excited University trustees and many of my University colleagues." Eight Lions earned All-Ivy honors, with Perkins a unanimous choice for the First Team, where he was joined by Baumann and Cooper. Nick Cox '11 was unanimously named Rookie of the Year, made the All-Ivy Second Team and was one of 20 outfielders named to the Freshman All-American team by Collegiate Baseball newspaper and Louisville Slugger, the bat manufacturer.
Rookies played a pivotal role in Columbia's success. "The first-years contributed immediately," says Cooper. Whitaker did much more than plug the fourth starter's hole in Boretti's rotation, leading the staff in wins with a 6–3 record. Cox was second on the team with a .355 overall batting average, and Ferrera "was huge at shortstop, stabilizing the infield," Boretti notes.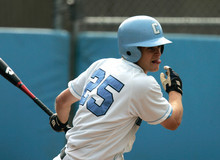 Second baseman and co-captain Henry Perkins '08, the Ivy League Player of the Year, finished his Columbia career among the top five in hits (186), double (36), and triples (11) PHOTO: GENE BOYARSWith the league championship decided on May 7 and the NCAA tournament starting the weekend of May 30, there was a long layoff that other schools don't have to contend with. "It's a little frustrating, but we can't control it," says Boretti, who arranged a three-game series against Patriot League champion Bucknell to keep the Lions sharp.
Columbia was seeded fourth in an NCAA Regional pool that included Coastal Carolina, Eastern Carolina and Alabama, with the games to be played in Conway, S.C. In the first game, Mike Malfettone '08 gave Columbia its only lead in the series with a solo home run in the third inning, but Coastal Carolina, ranked 17th in the country, rolled to a 10–2 victory. In the next game, the Lions were shut out by East Carolina 9–0, and their season was done.
"I'm very proud of my team and what they accomplished this season," says Boretti, whose club had a 22–30 overall record despite playing 38 of 52 games on the road. "We got a taste of the next level, now we have to get back to work and do it all over again. I told the team it is much easier to become a champion than to stay a champion. That is what we have to work toward now."
Stephen Eschenbach
of Millburn, N.J., recently was the lead writer for the Ivy League's 50th anniversary online celebration (www.ivy50.com).