Features
Klein: "We are the architects of our own destiny."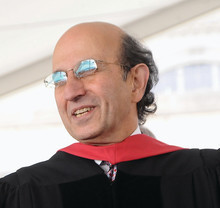 NYC Department of Education Chancellor Joel Klein '67 (above), the keynote speaker at Class Day, urged graduates to take chances and not be afraid of twists and turns in their career paths. The text of his speech can be found here. Photos: Eileen BarrosoJoel Klein '67, chancellor of New York City's Department of Education, delivered the Class Day 2008 keynote address on May 19 and urged the graduating seniors not to be afraid to confront the challenges they will face in their careers.
"Hard as it may be, you've got to get outside your current comfort zone sooner or later, and if you want my advice, sooner is better," Klein told members of the Class of 2008. "We are all so programmed, so eager to know what we are expected to do next, that all too often we don't realize that we are the architects of our own destiny. Rejoice in that knowledge. It's truly empowering."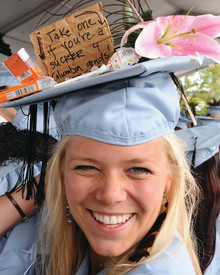 Dean Austin Quigley drew rousing cheers as he addressed the College's latest graduates, who also heard from salutatorian Julia Ann Kalow '08 and class president Neda Navab '08. President Lee C. Bollinger also addressed the approximately 1,000 seniors but saved his lengthier remarks for the University Commencement on May 21. Several awards and prizes were handed out by Dean of Student Affairs Chris Colombo, Dean of Academic Affairs Kathryn Yatrakis and President of the College Alumni Association Brian C. Krisberg '81.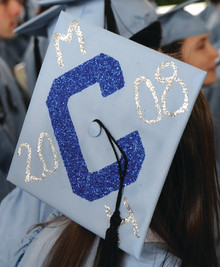 Two days later (the schedule was changed this year so that South Field could accommodate Barnard's Class Day, which had to be moved from the Barnard campus due to construction, on May 20), more than 30,000 students, family members, faculty, alumni and guests filled Low Plaza for Commencement, at which approximately 11,600 students received University degrees.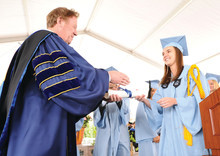 Senior Fund Gift Chair Dana Pavorini '08 presents Dean Austin Quigley with a scroll containing the names of the 865 donors to the Senior Fund, whose 85 percent participation set a record for Ivy League liberal arts colleges. Pianist Emanuel Ax '70 was one of seven recipients of honorary degrees at Commencement. The others were anti-poverty organizer Fazle Hasan Abed, philanthropist Dawn Greene (widow of Jerome Greene '26, '28L), medical researcher Eric Lander, former Columbia professor of history William Leuchtenburg, pioneering engineer and SEAS professor emerita Gertrude Neumark '51 GSAS and cultural anthropologist and retiring Barnard president Judith Shapiro '72 GSAS.
Alicia Graf '03 GS, a modern dancer with the Alvin Ailey American Dance Theater, received the University's Medal of Excellence, awarded annually to an outstanding University graduate under 45. Mark L. Amsterdam '66, '69L and Christophe Alain Mathieu Knox '95 were among 10 Alumni Medal recipients.
Alex Sachare '71