Alumni Profiles
Carmen Yuen '05 Redesigns Food, Fashion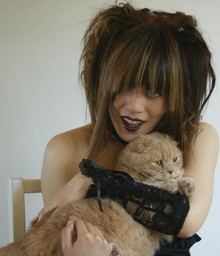 Carmen Yuen '05, at home in Canada with her Scottish Fold, Basil Farrow. The author/designer divides her time among Vancouver, Tokyo and New York. PHOTO: CARMEN YUEN '05Carmen Yuen '05's interest in fashion is hereditary. Yuen, who is professionally known as La Carmina, comes from a long line of Hong Kong clothing-makers, and though her family immigrated to Canada before she was born, she remembers growing up with an awareness of the artistry that goes into creating a wardrobe. The idea that this designer's love of fashion is rooted in tradition might seem strange to some of her fans, since "traditional" is not a word that most people would apply to the bold colors and Victorian cuts that make up Yuen's clothing line.
Yuen's Web site and blog, www.lacarmina.com, describes her clothing as "seasonless outerwear for modern Marie Antoinettes." The designer explains that her style represents an eclectic mix of Victorian, Rococo and Tokyo street fashions. Yuen's line also is geared toward consumers with an interest in "Gothic Lolita," a fashion movement based around youthful clothing with a dark, punk edge — developed in Japan during the 1970s — that is now increasingly popular in the United States.
"I've always been a person who identifies strongly with subcultures," says Yuen. "I think that, when they hear the word 'fashion,' a lot of people just imagine Chanel going down the runway, but there are so many other possibilities. My work helps expose people to some of those alternative styles."
Yuen's ambitions go beyond creating a niche for herself in the fashion industry. In addition to her role as a designer, she is a published author, illustrator and photographer. Her first release, The Cosmos in a Carrot: A Zen Guide to Eating Well, was published by Parallax Press in October 2006, while the author was a student at Yale Law. The book fuses nutritional information and health advice with Buddhist notions of balance and moderation.
Building on the success of that initial work, Yuen has signed contracts to write two new books about food and culinary culture. Crazy, Wacky Theme Restaurants is an exploration of Tokyo's most outrageous eating experiences, from dining rooms that look like dungeons to waiters dressed as ninjas and monsters. The book is scheduled to be released by Mark Batty Publisher this July.
Yuen's latest project is titled Cute Yummy Time and will be published by Perigree/Penguin Group USA in November. This third book will give readers ideas for creating artistic images out of common foods. The trend of "cooking cute" already is popular in Japan, and Yuen has striven to make the technique more accessible to American readers by creating aesthetically appealing dishes that appeal to Western palettes; examples of the author's ingenuity include boiled eggs crafted to look like hatching chicks and cheese balls fashioned into edible blowfish. In addition to creating novel recipes, Yuen photographs and illustrates all of her work.
When asked about the diversity of the projects she has undertaken, Yuen attributes much of her success to the availability of digital cameras and online media outlets, which she believes have made it possible for ordinary individuals to enter fields that once required financial clout and professional connections. "New technologies have really democratized the whole artistic process," Yuen says. "Before I started out, I wouldn't have imagined that I'd be able to do what I've done without expensive equipment, special lighting and an army of assistants."
Yuen, who graduated from the College in three years with a major in political science, was exposed to a broad range of experimental fashions while in New York, and that has since informed her own work. It was while interning for a film producer in the city during her final year at the College that Yuen got the idea to become an author; her boss asked her to write a manuscript proposal for a book he wanted to get published, and Yuen decided to try her hand at writing one of her own.
Asked about her favorite Columbia courses, Yuen describes Asian Humanities classes with the John Mitchell Mason Professor Emeritus, Provost Emeritus and Special Service Professor in East Asian Language and Culture Wm. Theodore de Bary '41. "He really made Asian culture come to life," she recalls, adding that De Bary's perspective on Japanese customs has influenced the way she thinks about Tokyo's foods and fashions.
Yuen describes her decision to apply to Columbia as something of a fluke; a Vancouver native, she knew little about American schools during her college application process, but a short visit to Morningside Heights left her feeling enthusiastic about Columbia. "When I saw the campus, I just thought, 'This is the place for me.' I didn't get that same feeling from any other school," Yuen says.
After leaving Columbia, she studied entertainment law at Yale, earning her degree in 2008. The experience of law school, however, made Yuen rethink her desire to become a lawyer. Instead, spurred by the success of her first book and her already-popular blog, she decided to channel her legal savvy into other professional endeavors.
Yuen shows little surprise as she reflects on her journey from Columbia to Yale to book publishing and the fashion industry. "I like to give things a go," she explains. "Some things work out that you never expected."
Grace Laidlaw '11