Alumni Profiles
The Adventures of Ari Gold '92
By Kim Martineau '97J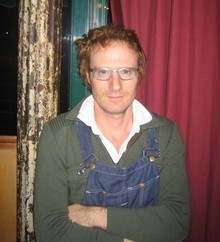 Still waiting for a distributor for his film, Ari Gold '92 has been touring with his band, The Honey Brothers. PHOTO: KIM MARTINEAU '97JBefore he learned to play ukulele or drums, Ari Gold '92 was flailing his arms to the beat of his favorite tunes. That childhood pastime, which he calls "air drumming," drives the plot of his first feature-length film, Adventures of Power, which aired at the Sundance Film Festival last spring.
An unlikely comedy, Adventures of Power tells the story of a small-town misfit (played by Gold) who, in his quest to become a champion air drummer, falls in love and helps striking mine workers in New Mexico stand up to management. The movie has won several Indie awards but lacks a distributor.
"For now I'm surviving on fan mail," Gold says with a shrug at a coffee shop in the East Village.
It's the first professional disappointment for a 37-year-old director with a student Academy Award and three other Sundance-certified movies to his name. But Gold seems to be taking the setback in stride. Someone must have liked Power, he points out. Why else do air drumming videos keep cropping up on YouTube?
Gold grew up in San Francisco in the 1980s, too late for the hippies on Haight-Ashbury, too early for the 20-something dot.com millionaires. A child of divorced parents, Gold lived with his mother. When she remarried, he and his brother and sister acquired two more siblings, a situation he describes as "Brady Bunch without the laugh track."
Gold spent one year at Stanford before transferring to Columbia, where he fell in with a creative crowd that appreciated his curiosity and sense of humor. Not everyone who realizes they picked the wrong school does something about it, noted longtime friend Andrew Vladeck '92, a musician.
"It's emblematic of Ari's nature, that he can't sit still," says Vladeck. "It's no accident that he pulled up stakes to find the right place for himself."
Right place it was. Gold took a writing class with novelist Mary Gordon, joined the improvisation group Six Milks and with friends pulled off a daring late-night stunt: scaling St. John the Divine, then covered in scaffolding. He harbors one grudge against his alma mater, however. As a transfer student, he was not allowed to study abroad, dashing his plans for Paris.
At Columbia, Gold dreamed of becoming a writer like his father, Herbert Gold '46, '49 GSAS, a novelist known for chronicling suburbia. Not long after college, however, the younger Gold changed his mind. "I just knew I liked telling stories and didn't want to be stuck alone typing all the time," he says. He enrolled in film school at NYU. There, he made an Oscar-winning short about his mother's death, Helicopter, which includes a late-night shot of Butler Library.
In Power, Gold's character finds a creative outlet playing air drums during talent night at his aunt's bar. The supporting cast features some notable names: Adrian Grenier and Jane Lynch, who star in the TV series Entourage and The L Word, respectively, as well as comedy legend Michael McKean, lead singer in the parody band Spinal Tap.
In the spirit of low-budget productions, Gold's family is involved. His twin brother, Ethan, wrote the songs and classical score for Adventures of Power. His father plays a blind air drummer, a step up from his previous role as a motorist in his son's earlier movie, Frog Crossing, a comedy about an environmentalist trying to rescue frogs on a lonely highway.
With Power in limbo, Gold has turned to other projects. Earlier this year, he and his band, The Honey Brothers, toured the East Coast. The band formed eight years ago, after Vladeck taught Gold to play the ukulele one day in Tompkins Square Park. It was Gold who pushed to form the band, possibly because of the escape it provides from the tedium of filmmaking. "He had a taste of something so immediate, so joyful, so light," Vladeck says.
Gold's next film is set in Belgrade in the late '90s, a period of Serbian nationalism and NATO bombings. "It's about normal people trying to sort out their love lives while politics hangs over their heads," Gold says.

Click here to see a trailer for Ari's film Adventures of Power:
Kim Martineau '97J is a science writer for Columbia's Lamont-Doherty Earth Observatory.