Alumni Profiles
Sheldon Barr '60 Handles with Care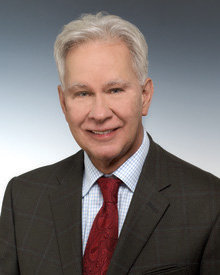 Sheldon Barr '60, an art dealer who specializes in Venetian glass, believes that in the 19th century, with more control over the art and the temperature in the furnaces, Venetians perfected their glass. PHOTO: JEFFREY BUCARI A Guggenheim vase by Giuseppe Barovier, thought to be one of only five in the world, is housed by Sheldon Barr '60 in his Gardner & Barr Venetian Glass Gallery on the Upper East Side. According to Barr, the Guggenheim vase is exceptional: With no central stem, all of its weight is supported by ornament. A light suspended from the ceiling illuminates the pale, blue-green cup of the vase, one of approximately 50 pieces in that showcase. Multiply that showcase by seven; add a spectrum of color; add a soupçon of soft, classical music; and arrive at an ambience that screams "fragile."
Though Barr graduated from the College as a pre-med student, the liberal arts education led him down a different path to his career choice as an art dealer. "When I started at the College, I was sort of programmed into becoming a doctor, because most of my older cousins were doctors. But because of all the other things Columbia had to offer, I quickly began to realize that I was much more interested in the arts than being a physician," he says.
A year after graduation, after time as an executive at Macy's, Barr returned to Columbia and entered the School of Architecture, Planning and Preservation. Today, he credits Professor James Marston Fitch at that school with much of his outlook on the arts.
"I learned a lot about suitability by studying architecture. What I mean is, things have to be true to themselves — objects as well as people. What I learned to look for are things that are representative of the time they were made in," Barr says.
In 1963, Barr left the University without an architecture degree, devoting himself entirely to the art world as a dealer who was, he says, "always searching for something neglected or overlooked."
He found it. While in Paris, Barr became interested in Art Deco, an art form none of his contemporaries seemed to be dealing in. In 1967, he opened America's first Art Deco gallery on East 60th Street. "I like being a pioneer," Barr says.
After closing that gallery in the late '70s, Barr returned to Paris with his current business partner, Tom Gardner. "Sheldon is extremely intelligent with an extraordinary memory," says Gardner. "He continually reinvents himself." The two bought new merchandise and opened a gallery in Paris specializing in 19th- and 20th-century European and American furniture, ceramics and art glass.
In 1980, Barr returned to the United States, exhibiting in prestigious antique shows across the country until 1987. He then returned to New York with Gardner, opening a gallery in Place des Antiquaires on East 57th Street specializing in Art Nouveau/Art Deco furniture and Louis Comfort Tiffany lamps. In 1990, Barr opened a second gallery, specializing in 19th- and early 20th-century French and Italian furniture, sculpture and paintings, in the same venue. Near the end of his tenure at Place des Antiquaries in 1992, Barr became aware of Venetian glass. The Gardner & Barr Venetian Glass Gallery opened in 1992.
"I began to realize Venetian glass of the 19th century was not only sold and exhibited at the Great Exhibitions, but had won many gold medals," Barr says. "I had long ago decided that if I was lucky enough to find something new again, I was going to write the first book on it."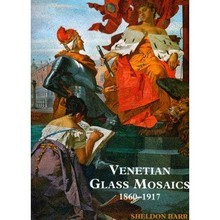 Barr's latest book. Barr published Venetian Glass: Confections in Glass 1855–1914 in 1998, then Venetian Glass Mosaics: 1860–1917 in 2008. He is now seeking a publisher for his third book, an expanded version of the first.
When asked about a memorable experience at the College, Barr recalls a course on Asian art he audited at Barnard taught by Professor Jane Gaston Mahler. "The course made me optimistic. It made me feel that, given the right breaks, there's nothing I can't accomplish. It gave me the courage to go on and be myself," he says.
Born in Washington, D.C., and raised in New York City, Barr initially chose the College because of his financial situation. If, in the beginning, it was fiscally responsible for Barr to attend the College, in the end, he says, "Columbia made me who I am. The city was our classroom, as well as the College. That's why I think I really made the right choice, and I met a fantastic group of people," he says. Barr's best friend at Columbia, Dr. Dick Nottingham '60, recently passed away, and he remains in contact with Dr. Paul Brief '60.
Now, at 71, Barr has no intention of slowing down. He is guest curator for "Ecclesiastical Tiffany," an exhibition opening October 1, 2010, and lasting until January 30, 2011, at New York's Museum of Biblical Art. He also plans to keep adding to his personal collection and to continue placing artifacts in museums — a few years ago he gave some Venetian glass pieces to the British Museum in London. Ultimately, says Barr, "I think I've done my job."
Gordon Chenoweth Sauer '11 Arts