Around the Quads
Kofi Annan Joins First Group of Global Fellows
Former United Nations Secretary-General and 2001 Nobel Peace Prize recipient Kofi Annan joined the Columbia community this spring as a member of the first group of Global Fellows, part of an initiative to bring distinguished leaders to campus to play significant roles in designing, shaping and implementing solutions to critical international problems. Fellows will serve as important resources for academic and professional programs across the University through public lectures; seminar meetings with faculty and students; mentoring SIPA students; and providing advice on research and teaching in their areas of knowledge and experience.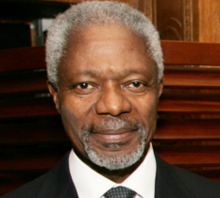 Kofi Annan PHOTO: BRUCE GILBERTIn an e-mail to the University community on May 14, President Lee C. Bollinger noted, "Annan already has deep professional bonds with many of our faculty (notably Jeff Sachs, director of Columbia's Earth Institute, and Michael Doyle of the School of International and Public Affairs) and has done many things with Columbia over the years. He will now forge more formal links with our schools, faculty and students."
The Global Fellows program, being launched by SIPA Dean John Coatsworth, will bring students together with global practitioners to share firsthand knowledge of experiences in the life of an international or public figure. The other Global Fellows in the program's inaugural year will be Tung Chee Hwa, former and first chief executive of Hong Kong, and Alfred Gusenbauer, former chancellor of Austria.
Annan will also participate in several other Columbia global initiatives, including the Committee on Global Thought, led by University Professor Joseph Stiglitz; the World Leaders Forum; the recently launched Global Centers; and the Earth Institute.
Annan currently leads the Kofi Annan Foundation and is a chair of the board for the Alliance for a Green Revolution in Africa, among many other activities.