Around the Quads
Senior Dinner Sends Students, Dean on Their Way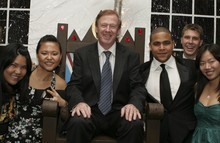 Students gather around as Dean Austin Quigley holds court for a final Senior Dinner. It seemed less like a farewell meal and more like the final concert of a beloved rock star.
Before they had finished their second glass of wine under a tent on South Lawn, the raucous Class of 2009 was cheering for Dean Austin Quigley at what was his Senior Dinner as well as theirs.
"It's an honor to be graduating from the College along with Dean Austin Quigley," said Student Council President George Krebs '09, who introduced Quigley, the night's keynote speaker. "Everyone who knows Dean Quigley knows of his dedication to the College."
Seniors enjoyed a formal dinner and wine under a tent on South Lawn on May 4. Quigley, who is stepping down after 14 years as Dean of the College, poked fun at the class and delivered a stand-up routine that had them roaring before closing with praise for the school and his final senior class.
"Your lives will always be, in part, Columbia lives," he said. "The chief value of a Columbia life is the great company you always keep."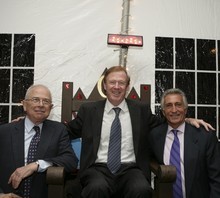 Columbia College Alumni Association former president Gerald Sherwin '55 (left), Quigley and Columbia College Fund chair Mark Amsterdam '66 enjoy the Senior Dinner. PHOTOS: CHAR SMULLYANApproximately 900 seniors gathered for the semi-formal dinner on May 4, the last day of classes. The dinner is an annual tradition that is one of the highlights of the graduation season. At the event, which was sponsored by the Alumni Office, Kristin Kramer '09, Senior Fund chair, announced that the Senior Fund Gift Committee had received gifts from 90.5 percent of the class, beating all other Ivies and crushing the Class of 2008 record of 85 percent.
Outside, it was drizzly and cool, but under the tent, things heated up quickly. Students ate, drank and danced late into the night as if finals had just ended instead of starting the following week. Maybe they were partying with one of Quigley's jokes in mind:
"Ask not what the Core Curriculum was about," he said, "because it's about to make you rich."
Ethan Rouen '04J