Around the Quads
Leighton, Mazower Receive Van Doren, Trilling Awards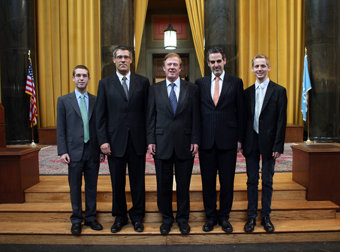 (From left) Co-chair of the 2009 Academic Awards Committee Avram Sand '09, professor of chemistry James Leighton, Dean Austin Quigley, Ira D. Wallach Professor of World Order Studies Mark Mazower and committee co-chair Ian Corey-Boulet '09. PHOTO: DANIELLA ZALCMAN '09James Leighton, professor of chemistry, was awarded the 48th annual Mark Van Doren Award and Mark Mazower, the Ira D. Wallach Professor of World Order Studies, was awarded the 34th Lionel Trilling ['25] Award at a ceremony in the Faculty Room of Low Library on May 7. The awards are unique in that the winners are determined by the College undergraduates who form the Academic Awards Committee of the Columbia College Student Council.
The Van Doren Award is presented to a faculty member for "his or her humanity, devotion to truth and inspiration of leadership" as demonstrated in his or her commitment to undergraduate teaching. The award is named in honor of Van Doren, a Pulitzer Prize-winning poet, novelist, literary critic and longtime member of Columbia's faculty with a reputation for pedagogical greatness. Leighton has taught at Columbia since 1996, during which time he has conducted considerable research into the development of efficient methods and strategies in asymmetric synthesis, and is a recipient of the Columbia University Lenfest Distinguished Faculty Award. He currently teaches organic chemistry at the undergraduate level, and the Academic Awards Committee found compelling students' appreciation of him as an accessible and committed teacher.
The Trilling Award honors a book from the past year by a Columbia author that best exhibits the standards of intellect and scholarship found in the work of Trilling, the distinguished author, literary critic and longtime faculty member. Mazower was honored for Hitler's Empire: How the Nazis Ruled Europe, which the committee described as "an elegantly argued account of the designs, mechanics and long-term effects of Nazi imperial administration within Europe. It is a bold re-examination of a much-studied subject that ought to interest specialists and ordinary readers alike."
The Academic Awards Committee is a group of 10 students, representing a cross-section of classes and majors within the College. Beginning in the fall, the committee co-chairs select new members and solicit nominations for each award. For the rest of the fall semester and well into the spring, committee members audit the classes of Van Doren Award nominees to observe the quality of their instruction. At the same time, committee members read titles under consideration for the Trilling Award. Working collaboratively, the committee meets every week to confer on the selection process and to evaluate nominated professors and titles. This process culminates in the selection of the winners in the spring.