Around the Quads
Alumni in the News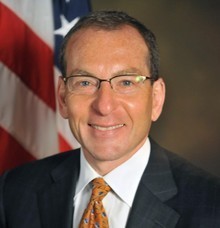 Lanny Breuer '80, '84 SIPA Lanny Breuer '80, '84 SIPA, '85L and Ronald Weich '80 are joining Attorney General Eric H. Holder Jr. '73, '76L in President Barack Obama '83's Department of Justice. The Senate confirmed Breuer in April to serve as assistant attorney general, criminal division, where he will supervise more than 700 staff members who enforce federal criminal laws. Before joining the Justice Department, Breuer, like Holder, was a partner at Covington & Burling, where he co-chaired the firm's white collar defense and investigation group and was vice-chair of the pro bono committee. He also served as special counsel to President Clinton and cut his teeth in criminal prosecutions as an assistant district attorney in Manhattan in the 1980s.
Obama nominated Weich to serve as assistant attorney general, Office of Legislative Affairs. Weich, who in recent years was twice named one of the 50 most influential congressional staffers by Roll Call, has been working as chief counsel to Senate Majority Leader Harry Reid. He also has worked in a similar capacity for senators Edward Kennedy and Arlen Specter. Weich has spent much of his legal career in the public sector, working as an assistant district attorney in Manhattan for four years and as general counsel to the Senate Labor and Human Resources Committee.
---
Damon Winter '97's photographs of Barack Obama '83's Presidential campaign won him a Pulitzer Prize for feature photography. The photos for The New York Times "deftly captur[ed] multiple facets of" the campaign, the Pulitzer Board wrote. Winter joined the Times in 2007 after working for the Los Angeles Times, The Dallas Morning News, Newsweek and other media outlets. He has had assignments around the world and was a Pulitzer finalist in 2005 for a photo essay on sexual abuse victims in Alaska, part of a portfolio that earned him the National Journalism Award for Photojournalism that year. CCT is planning a feature on Winter, including photographs, for the September/October 2009 issue.
---

Ramin Bahrani '96 Two College graduates were awarded Guggenheim Foundation Fellowships. Ramin Bahrani '96, an adjunct assistant film professor, wrote and directed the international sensation Man Push Cart, which won more than 10 film prizes. His most recent films are Chop Shop and Goodbye Solo. Later this year, Bahrani will be the subject of an international retrospective at the MoMA in New York, Harvard and the La Rochelle Film Festival in France.
John Glusman '78, '80 GSAS' work focuses on the sinking of the Arisan Maru, which led to greatest loss of American life in a 20th-century maritime disaster. The Japanese vessel was transporting 1,800 allied POWs during WWII when an American submarine torpedoed it, killing all but eight. Glusman is the author of Conduct Under Fire: Four American Doctors and Their Fight for Life as Prisoners of the Japanese, 1941–1945, which won the 2007 Colby Award for the best work of nonfiction by a first-time author.
---
Anna Boden '02 has made another mark on Hollywood. Along with Ryan Fleck, she wrote and directed Sugar, the story of a baseball player from the Dominican Republic who comes to the United States chasing dreams of the majors and finds challenges in adapting in a different country. The movie was lauded at the Sundance Film Festival and received stellar reviews in the national media before being released in theaters across the country in April.
---
Once again, the Great White Way is lit up with the names of College graduates.
Next to Normal, which made its Broadway debut at the Booth Theater in March after stints Off-Broadway and in Washington, D.C., has managed to snag three Tony awards, 11 Tony nominations, great reviews and four College graduates working to ensure its success. Brian Yorkey '93, who wrote the lyrics, and Tom Kitt '96, who composed the music, won the Tony for best original score; they met while working on The Varsity Show. Kitt also won for best orchestration. Laura Pietropinto '00 is the assistant director, while Noah Corman '96, v.p. of Sh-kboom Records, is producing the cast recording. The show's leading actress, Alice Ripley, took home the Tony for best performance by a leading actress in a musical.
Two-time Tony Award-winning actor Brian Dennehy '60 returned to Broadway this spring, starring opposite Carla Gugino in Eugene O'Neill's classic Desire Under the Elms. The play, which tells the story of a widower who returns to his family farm with a young wife, runs through July 5 at the St. James Theater.
---
In this economic downturn, people are still trusting Michael Brown '80 with their money. Brown was ranked No. 28 in Barron's annual "Top 100 Financial Advisers" list, published in April. He works for Bank of America and manages $5.9 billion in assets, with a typical account having a net value of $50 million.
---
It looks like Steve Perlman '76 has gotten a head start on the race to develop the next way to play video games. In an interview with the San Jose Mercury News, Perlman discusses his OnLive service, which debuted earlier this year at the Game Developers Conference and was "the talk of the show," according to the Mercury News. OnLive, his startup, delivers all types of games over the Internet, eliminating the need for costly consoles and allowing players to wile away the hours killing mutants on their home computers, laptops or big-screen televisions.
---
Michael Oren '77, '78 SIPA has been chosen by Prime Minister Benjamin Netanyahu to serve as Israel's ambassador to the United States. A senior fellow at the Shalem Center, a research institute in Jerusalem, and a former Israeli paratrooper, Oren has appeared frequently on television and in newspapers as a commentator on Middle Eastern affairs. He volunteered as a liaison officer between the military and press during Israel's offensive against Palestinian militants in Gaza earlier this year.
---
The political gossip world is aswirl with news that Hyperion will publish a book by Meghan McCain '07. McCain has been a columnist for IAC startup The Daily Beast, where she has been writing about how the Republican Party can lure younger voters. The book will expand on the ideas in these columns, touching on issues "from what the party needs to do to attract others like her, to the importance of technology in reaching out to younger voters, to what needs to be done to keep young people passionate and involved in politics in the future," according to Hyperion. This is McCain's second book. Her first, published last September, was a picture book, My Dad, John McCain. McCain also appeared on The Colbert Report in May.
---
Even before he received his degree, Kyle Thurman '09 was making a name for himself in New York's cutthroat art scene. A March 16 blog in The New York Times featured Thurman and his friend, Matt Moravec, who surprised the art world by curating a successful show while in their early 20s. The show, "New Deal," ran through March 29 (while Thurman was in his final semester at the College) at the Art Production Fund gallery. The eclectic mix of works featured 11 young New York-based artists, collected by Thurman and Moravec during an eight-month tour of city galleries.
---
Julia Stiles '06 is starring in Oleanna, written by David Mamet, at the Mark Taper Forum in Los Angeles May 28–July 12. She previously performed the role on London's West End. Stiles has been spending her free time writing on a wide variety of topics. The die-hard Mets fan covered opening day at Citi Field for The Wall Street Journal, discussing everything from how the economic crisis is affecting free agents to the team's improved bullpen to the new upscale food selection at the stadium. She also blogs at juliastilesblog.com, where she posts movies she directed and recently detailed a discussion she had with NYC Schools' Chancellor Joel Klein '67.
Ethan Rouen '04J