Cover Story
Holder and Bollinger Send Quigley, Class of 2009 on Its Way
By Ethan Rouen '04J; photos by Eileen Barroso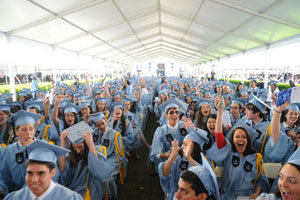 The Class of 2009 celebrated Class Day on May 19 on South Lawn. PHOTO: EILEEN BARROSOThe Class of 2009 could barely contain itself as its members welcomed Attorney General Eric H. Holder Jr. '73, '76L to the podium as the keynote speaker for this year's Class Day, May 19.
Holder delivered a witty, inspiring speech that included reminiscences of his oddball freshman-year roommates — he had two who eventually left campus — and jealousy of the current Carman Hall residents. "I couldn't believe there was air conditioning there. What's next, Mr. President, hot and cold water?"
After sending students, families, alumni, faculty and staff into stitches, Holder struck a more serious tone, urging graduates to give back to their communities.
"Set your sights beyond the career that will offer the greatest financial reward to the one that will reward your soul," he said. "You must do your part to improve the world around you. This difficult time in our country must be an opportunity for you. Your task is not to do well, but to do good." He closed to loud cheers by saying "positive change is not only possible, it is inevitable."
For the fifth year, the procession included the Parade of Classes, with more than 100 alumni marching with their class banners to welcome seniors into the alumni community.
Celebrating the 25th year of coeducation and the final year of Austin Quigley's tenure as Dean of the College, more than 900 seniors packed South Lawn on a perfect spring day to say goodbye to their undergraduate years. Quigley noted that this was a day of transition and observed, "Columbians get together not to lament what the world can be at its worst, but to discover what we each can be at our best."
Kristen Kramer '09 represented the Senior Fund, which surpassed 90 percent participation this year, a school record. She presented Quigley with a scroll with the names of all the seniors who had donated.
The weather cooperated again the following day when the pomp finally came to an end and diplomas were handed out at Commencement.
President Lee C. Bollinger addressed the mass in light blue basking in the sun in the center of campus, and College graduates tossed replica apples — symbolizing the Core Curriculum — into the air to celebrate.
"There is no other occasion I can think of that has a greater purity of happiness and goodwill than this one," Bollinger said. "Years of mental labor and toil have brought you to this moment, and marking this intellectual milestone is our happy and simple mission for the day. I am honored to share it with you."
During Commencement, eight people received honorary degrees:
Kwame Anthony Appiah, a scholar of semantics, African studies and human identity and the Laurance S. Rockefeller University Professor of Philosophy at Princeton;
P.N. Bhagwati, a former chief justice of the Supreme Court of India and a pioneer in the field of public interest litigation;
Caroline Bynum, a professor of European medieval history at the Institute for Advanced Study at Princeton and the first woman to hold the title of University Professor at Columbia;
Ainslie Embree, a scholar of Indian and Asian studies and a professor emeritus of history at Columbia who is considered a founding father of modern India;
Paul Farmer, a medical anthropologist, physician and human-rights advocate who is the Maude and Lillian Presley Professor of Social Medicine in the department of global health and social medicine at Harvard Medical School;
Helene Gayle '76 Barnard, who served 20 years with the Centers of Disease Control and now is president of CARE USA;
H.F. "Gerry" Lenfest '58L, a prominent businessman, philanthropist and Columbia trustee who is one of America's most generous supporters of education and the arts; and
Joseph Sax, who is widely considered the country's leading scholar on water law and is the James H. House and Hiram H. Hurd Professor of Environmental Regulation Emeritus at UC Berkeley School of Law.
In addition, novelist Kiran Desai '99 Arts, who won the 2006 Man Booker Prize and the National Book Critics Circle Fiction Award for her second novel, The Inheritance of Loss, received the Medal for Excellence, which is awarded annually to an outstanding Columbia graduate under the age of 45.
College alumni Stephen H. Case '64; Katharina Otto-Bernstein '86, '92 Arts; George L. Stern '58, '59E; and George L Van Amson '74 were among 10 alumni recognized at Commencement for outstanding work on behalf of the University, and they will receive Alumni Medals at an upcoming Columbia Alumni Association dinner. Joining them are Jacqueline A. Bello '80 P&S; Margarita S. Brose '84 Barnard; Helen Coleman Evarts '70 GS; Lois A. Jackson '73 Barnard, '77 Dental, '80 Dental; James Leitner '77 SIPA; and Richard M. Smith '69 SIPA, '70J.
Five faculty received Presidential Awards for Excellence in Teaching: Wendy K. Chung, assistant professor of pediatrics in medicine; George Deodatis, the Santiago and Robertina Calatrava Family Professor of Civil Engineering; Marguerite Y. Holloway, assistant professor of journalism; Scott A. Snyder, assistant professor of chemistry; and Joseph Tenenbaum, the Edgar Leifer Professor of Clinical Medicine.
For a photo gallery of Class Day and Commencement, click here.