Features
25 Years of Coeducation
More than a quarter-century later, opening the College to women has proven to be a major step in the school's renaissance
By Shira Boss-Bicak '93, '97J, '98 SIPA
Twenty-five years ago, the first Columbia College class that included women was finishing its first year. The 229 classes before the Class of 1987 were admitted as all-male; Columbia was the last of the Ivy League schools to go coed. By the early 1980s, secular, all-male colleges were nearly extinct; even the five U.S. military academies were enrolling women. As a College student in 1980 put it in response to a campus survey, "Life is coed, school should be also."
There was little debate among students, faculty and administrators that the College should no longer be open exclusively to men. "There was never an argument for an all-male school in the middle of New York. How could there be?" says Michael Rosenthal, the Roberta and William Campbell Professor in the Teaching of Literature Humanities and Associate Dean of the College from 1972–89.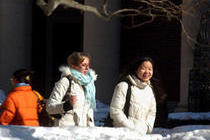 PHOTO: EILEEN BARROSO
The delay in the College going coeducational was because Columbia University already had established an undergraduate school for women, Barnard College, in 1889. It was feared by University administrators that letting women attend Columbia College would weaken, perhaps destroy, Barnard's raison d'être.
Once that possibility was formally examined by a campus committee, and judged to be spurious, the decision was made in 1981 to make entering classes coeducational beginning in fall 1983. The transition was immediate — the first coed class was 45 percent women — and remarkably smooth. Attention from the press and University aside, and outside of lingering gender bias in some classrooms, even some women in the first few coed classes found it nearly undetectable that there had not been female students in the College beforehand.
"It's hard to imagine" that the College had gone coed only two years previously, says Victoria Pennacchia '89. "I couldn't tell when I arrived. It didn't seem like anything new. It felt completely normal."
The decision to become a coeducational college markedly improved Columbia, and didn't harm Barnard, which has maintained its separate and vital identity as a women's college. By at least doubling the size of the College's applicant pool, the inclusion of women immediately made the application process more competitive, and admissions officers could be more selective. Perhaps in part because of coeducation, or at least coinciding with it, the College began a long era that included vast improvements to its facilities, curriculum and reputation.
"It changed the institution completely and will change it completely, forever," said President Lee C. Bollinger at a campus celebration of 25 years of coeducation in March.
Click here to read about nine College alumnae and the diverse careers they have chosen.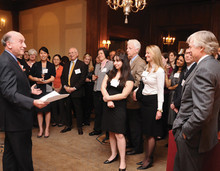 President Emeritus Michael Sovern '53, '55L, who was in office when the College became coeducational in 1983, speaks about the process during the March 31 celebration at the President's House. President Lee C. Bollinger (far right) looks on. Photo: Eileen Barroso
The question that remains for many who have come through Columbia since is: Why so late?
Columbia examined the issue of admitting women at least as early as 1879, when its then-president, Frederick A.P. Barnard, appealed to the University's trustees to approve coeducation. He renewed the proposal the following two years, without success.
Instead, the school created the Collegiate Course for Women in 1883, allowing women to enroll in a home-study program and sit for the exams alongside male students for the same credit. Several women earned bachelor's through CCW, the first in 1887. One CCW student, Annie Nathan Meyer, was instrumental in the formation of a college for women at the University. Barnard opened in 1889, and would ultimately and ironically turn out to be the main impediment to making the College coeducational.
Before 1983, the only modern-day women graduates of Columbia College were Anna Kornbrot '74E, '75 and Ann (Candy) Stein '78E, '78, who were accepted into a joint program between the (coed) Engineering School and the College that allowed engineering students to apply to earn a B.A. as well as a B.S.
"The only visionary I encountered was Peter Pouncey, then-Dean of the College," Kornbrot wrote in an essay in Columbia College Today's Winter 1992–93 issue for the 10th anniversary of coeducation. "He was in favor of coeducation at the College, and, I believe, took a diabolical delight in the predicament my application presented to the University."
Stein, admitted as an Engineering student, was drawn to Columbia specifically because of the joint program with the College. When she arrived on campus expecting to enter the program, the gender barrier hadn't occurred to her. "The catalogue just said 'engineering student'; it didn't say anything about male or female," Stein says.
Kornbrot had just entered the College through the same loophole. "I was told, 'We're fixing it — you now have to get your degree from Barnard,' " Stein recalls. "I said, 'I don't think so. I'm not getting a B.A. from the all-girls school I haven't even taken a class at.' " When Pouncey told her to submit her application in writing and she did, she was accepted.
PHOTO: EILEEN BARROSO
Barnard objected to these exceptions. As it stood, Columbia was for men, Barnard was for women, and an intercorporate agreement between the schools prohibited Columbia from admitting women.
The issue of whether, and more pointedly how, to make Columbia coeducational was on the minds of faculty and at least some College administrators in the 1970s but was not necessarily on the negotiating table. Partly this was because of more immediate challenges the University — along with New York City and even the country — had been grappling with at the time: fiscal crisis, wartime protests and an overall atmosphere of disgruntlement.
Yet a faculty resolution and student surveys showed that the status quo of an all-male College was unacceptable to most faculty and unappealing to most students. In addition to limiting its applicant pool by not admitting female students, the College was turning off male potential applicants who did not want to attend an all-male school. "A vanishingly small number of students came to Columbia College because it was an all-male college, and many came because they had been led to believe that Columbia and Barnard students' lives were more together than they actually were," says Roger Lehecka '67, dean of students from 1979–98.
By the mid-1970s, a portion of undergraduate housing was coed through an exchange program with Barnard, and since 1973, the schools allowed cross-registration of most courses, the Core excepted. But the coed experience was especially limited for College freshmen, who took Core classes not open to women and most of whom lived in all-male Carman Hall. "There were Barnard women, but really they were sequestered from us," says Steve Cohen '86, a member of the last all-male entering class. "It was a very heavy workload, and it was basically joyless."
Lehecka says, "Here we were admitting 700, 750 really smart guys, putting them in Carman and in all-male courses, and emotionally a lot of them were less mature at the end of the freshman year than at the beginning. We weren't providing a sound education in that way."
Some members of the faculty had been campaigning for years for coeducation. "I was driven by the romantic idea that my daughter was applying to colleges and could not apply to the College," says Robert Pollack '61, professor of biological sciences and Dean of the College from 1982–89. "All of this that was so desirable to me was unavailable to her. The idea that there were other parents, especially alumni parents, of daughters who couldn't come here seemed inexplicable."
Carl Hovde '50, Dean of the College from 1968–72, and Peter Pouncey, dean from 1972–75, promoted the idea of coeducation, and Pouncey sought to make the College coed in 1975 but was prevented by then-president William McGill. The exploration that did take place centered on the possibility of merging or partnering with Barnard, but Barnard was disinterested in such a path, as it had a firmly established identity and functioning structure as a women's college and already offered its students the benefits of being part of Columbia University.
The Core Curriculum also was a factor, as Barnard would need to both require and teach the Core courses in the event of a merger. "Fusing with Barnard would have been the end of the Core, because the faculty of Barnard wouldn't teach the Core," Pollack says. "They refused, and they were right. They have their own curriculum." The Columbia faculty, however, were equally insistent on maintaining the Core, as well as opening the College to women.

"In the end, what many of us failed to understand is that Barnard wanted to be what it was, a women's college, and Columbia didn't want to be what it was, a men's college," Lehecka says.


Past Deans of the College (from top) Arnold Collery, Robert Pollack '61 and Peter Pouncey, along with University Professor Ronald Breslow (bottom), were instrumental in making the College coeducational.
The turning point was in 1980, when then-Dean of the College Arnold Collery, a strong supporter of coeducation, appointed a committee of several faculty and active alumni to examine the coed question. Ronald Breslow, professor of chemistry and University Professor, chaired the committee. "Everyone had a feeling the only choice was to fuse with Barnard, and Barnard would be swallowed. It was sort of a stalemate," Breslow says. "From Barnard's point of view, there was no advantage to going coed, but we [the College] couldn't afford not to, from a competitive standpoint. Collery deserves a lot of credit for deciding something had to be done about it."
Breslow and his committee replaced assumptions with actual research. They looked at about a dozen other places where a formerly all-male college in proximity to a women's college had gone coed. In each case, the women's college survived. A prime example, Breslow says, was Notre Dame and Saint Mary's, located across the street from each other.
The committee also analyzed where College applicants would come from, and reported that Columbia College would not be competing with applicants to Barnard as much as with applicants to schools such as Penn and Princeton. The Breslow committee concluded that a coed Columbia and healthy Barnard could coexist.
The report was presented to Collery, who "was wildly enthusiastic about it," Breslow says, and subsequently to the president of the University, Michael Sovern '53. Sovern took the findings to the University trustees, who in December 1981 approved making the College coeducational.
The first and most obvious change was in recruiting and admissions. Following a period during which the number of applicants had been stagnating, the school received 55 percent more applications in 1983. The 2,169 applications from women "exceeded the most optimistic projections for the impact of coeducation on College admissions," CCT reported in Spring 1983. The incoming class of 800 included 357 women, a far greater percentage than any other Ivy school in its first year of coeducation.
"At a stroke, coeducation dramatically improved the intellectual quality of the entering class," Hovde wrote in an essay in the Winter 1992–93 CCT. "For a few years before that, the students in the bottom fifth of the all-male admissions were not as strong as they should have been, and that serious problem simply disappeared."
Selectivity increased from 40 percent of applicants admitted in 1982 to 31 percent in 1983. Average SAT scores for math and verbal increased 10 points each. More than 75 percent of those admitted were in the top 10th of their high school class, versus 60 percent the previous year. The class also was more nationally representative and ethnically diverse than previous classes.
Collery appointed a committee on coeducational planning, chaired by Rosenthal, to plan the transition. "The Columbia administration did a fine job learning from the mistakes other colleges had made going coeducational and was well prepared, anticipating most of the problems that could occur," says Lorna Duphiney Edmundson, who was coordinator of coeducation from 1983–84 and now is president of Wilson College.
Among the issues to be worked on were establishing a women's athletics program, revamping housing and health services, and addressing any gender biases in the curriculum and classroom.
Some in the Columbia community were concerned that admitting women, and thereby roughly halving the number of male students, would negatively affect the men's sports teams. The Fall 1983 CCT included a two-page feature by Ronald Blum '83, "Will coeducation hurt football?" The opening paragraph noted that the football team had won only four of its last 44 games.
A bigger concern was the enormous potential cost of establishing and maintaining a parallel women's sports program, which the then-athletics director, Al Paul, said cost peer schools $500,000–$600,000 per year. "An equivalent expenditure would make athletics by far the most expensive cost related to the University's decision to admit women to the College," reported CCT's then-editor, Jamie Katz '72, in the Fall 1982 issue.
Yet Title IX of the Federal education amendments of 1972 made it a requirement to offer both sexes equal opportunities to participate in and benefit from "any education program or activity." This means schools receiving Federal funding, Columbia included, must have women's sports programs equivalent to the men's.
A novel solution was negotiated by Pollack in his new position as dean: The Columbia-Barnard Athletic Consortium, through which undergraduate women from Columbia, Barnard and Engineering compete on the same teams, representing Columbia University. This moved existing Barnard teams to Division I Ivy League competition from Division III Seven Sisters, and meant the College's first women students could compete on varsity teams in fencing, tennis, basketball, track and field, cross country, swimming and diving, volleyball and archery. The program soon expanded to include other sports, and the consortium remains in place today: Of Columbia's 29 varsity teams, 15 are women's.
Rachelle Tunik '89 competed alongside Barnard women on the crew team during her first year. "I don't think anyone was even conscious of who was in each school," she says. "We were just exhausted from the workouts!" [Editor's note: The Consortium just celebrated its 25th anniversary. See "Roar, Lion, Roar."]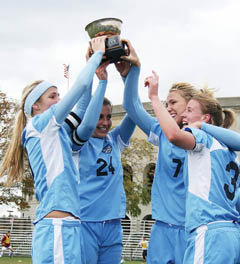 Members of the Columbia women's soccer team celebrate winning the school's first Ivy League championship in 2006.PHOTO: KURT SVOBODA/COLUMBIA ATHLETICS
Improving the residence halls also became a priority. Pollack pushed to guarantee students housing for all four years as well as to renovate existing residence halls, which had become dilapidated. He says, "It was a bit of strategy: Use the excuse of coeducation to make it a better place for the kids, period."
Steve Cohen '86 says of the 11th floor of John Jay, where he lived his first year, "There were 50 18- to 19-year-old boys stuck together, which I think is basically unhealthy. It was like a George Orwell story about being at a boys school." He describes the showers being located past a bank of often-malfunctioning urinals: "They flushed steaming hot water, so a cloud of urine settled, and you had to walk through it on the way to the showers."
Rosenthal, too, says that faculty and College administrators used coeducation to get the University to allocate resources to improve student housing. "The attitude was that guys could manage," he says, "but when we goaded them with images of women coming with their mothers concerned for their well-being, that prompted action." During summer 1983, Carman Hall, where most of the incoming women would be housed, underwent a nearly $1 million rehabilitation: new paint, furniture and carpeting; repairs to radiators, bathroom appliances and locks; and a redesigned main entrance and lounge.
"I don't think you'd have known it was the first year of coeducation," says Susan Kraham '87, who lived in Carman. She and other alumnae say that the transition to coeducation was eased by relationships with more senior Barnard students and mentoring by the Barnard faculty. "I wonder if the transition was harder for Barnard women than Columbia," Kraham says. "They were there for the before and after. Columbia women by definition only had the after."
Katherine Bouma '88 had a Barnard senior as her Carman RA. "That was smart of them, to bring in some older women," she says. "I had an older female role model, and she told me things like, 'They're not girls, they're women.' "
The coed bathrooms of Wien (formerly Johnson) and Furnald existed for many years — Furnald until 1996 and Wien until a couple of years ago (just as other schools are starting to favor coed bathrooms to accommodate transgender students). "It was very strange to be an RA to a football team and have to discipline them for playing their radios too loud, when they'd seen you in a towel!" says Rita Pietropinto-Kitt '93, who was an RA in Wien.
University Health Service had for years served female graduate students, undergraduate Engineering students and other women on campus. With a new population of hundreds of young women coming in, a Women's Health Center was opened in John Jay in fall 1983. The College's Counseling Service was expanded, and educational programs, such as on sexual harassment and staying safe, were instituted.
"It was a decent community that took care of us and didn't let us be taken advantage of," Bouma says.
Student activities had been coed for years, and the College's women found no glass ceilings to break. "They fit in and in many respects took over, in happy ways," Rosenthal says. By graduation time for the Class of '87, women held about 75 percent of the leadership roles in student organizations and nearly swept the graduation awards. The senior class president, salutatorian and valedictorian were all women. "The only men on the program were from the administration!" Sovern recently remarked of Class Day 1987.
One area of complaint that did come up, for several years, was reports of bias in the classroom. Some professors described as "old school," in this case literally, were either disapproving of having women students or unused to it to the extent of not knowing how to engage them. It didn't help that the faculty as well as administration were overwhelmingly male, resulting in a lack of female role models as well as perspective, although coeducation itself was brought about almost purely through the initiative and efforts of male faculty and administrators.
The faculty and curriculum needed updating to reflect the reality, not only in the College but in society, that women were taking their places as equals. Pollack and Rosenthal met with humanities and social sciences departments to discuss the implications of coeducation, sensitivity in the classroom, the need for eventual course changes, and the hiring and tenuring process.
Curricular changes were the most difficult to accomplish. "It's not a matter of adding women and stirring," Edmundson says. "It's much more complex."
The faculty established a committee on gender studies, the Institute for Research on Women and Gender in 1987, and added a major in women's and gender studies. The Core content was adjusted slightly: Jane Austen was added to the Literature Humanities syllabus in 1985, Sappho in 1986 (until 1992) and Virginia Woolf in 1990.
"I did feel there wasn't a lot of female representation in the Core," Tunik says. "It was left to your instructor to incorporate the text of women as one of the optional texts. Some did and some didn't."
Pennacchia says that her Lit Hum professor made it clear that he thought Austen and Sappho didn't belong and that he didn't want to teach them. Some faculty and students, including women, didn't support what they saw as including token female authors on the syllabus. Bouma says that including more women writers in the Core was "a raging debate" on campus — much the same as including more ethnic diversity is now.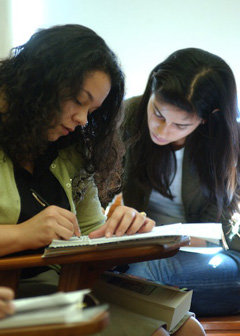 PHOTO: EILEEN BARROSO
After a quarter-century of coeducation, the curriculum continues to evolve — for instance, Music Humanities has since added the first woman composer, Hildegard of Bingen, to the syllabus — as do the faculty, courses and student body, which is ever improving in intellect, diversity and breadth of interests. Even the Varsity Show reflects the changes. "There's not quite as much joking about the tradition of studying the dead white males as there was when we were there," says Pietropinto-Kitt, who teaches in the theater department. However, she says, "They're still telling the same Barnard jokes 15 years later, which is a shame."
"The College got better, more diverse, and rejuvenated in the teaching as well," Pollack says. "It became a safer, happier, more interesting place," he adds, noting that the country was going through a similar transition.
Today's faculty includes many more women; they make up 40 percent of tenure-track and 26 percent of tenured professors. "We've worked steadily and diligently attracting and hiring women faculty and continue that work, especially in the sciences," says Kathryn Yatrakis, dean of academic affairs.
In February, Bollinger announced the appointment of the College's first woman dean, Michele M. Moody-Adams, a philosophy professor and administrator from Cornell, which makes a fitting exclamation point to the first 25 years of coeducation at Columbia College.
Shira Boss-Bicak '93, '97J, '98 SIPA, a contributing writer to CCT, is working on her second book. She writes about the joys and challenges of having dogs and saving for her third whippet at Saving for Sesame. Read about her first book, Green With Envy: A Whole New Way to Look at Financial (Un)Happiness, at www.shiraboss.com.