Features
Lookback: The Miracle on Morningside
'76 Lions go from worst to first, win Ivy baseball crown
By Jonathan Tayler '09
Kurt Peters '78 couldn't believe it. For the first time in a long time, Peters and the Columbia baseball team were on the right side of the ledger against Harvard, and it wasn't close, either. The first game of the Saturday doubleheader had seen 19 batters cross the plate for the Light Blue. Game 2 was well on its way to being a rout as well. But Peters, the Lions' starting third baseman, was still hearing it from the Harvard dugout.
"I had to listen to it the whole time," Peters says. "We're kicking the [stuffing] out of them, and they're ragging on us."
So when Peters came up to bat, he decided to show up the jeering Crimson squad. Peters tried to bunt for a base hit, a violation of baseball etiquette when your team is comfortably in front. His attempt rolled foul, and when Peters returned to the Columbia dugout, head coach Dick Sakala began to reprimand his third baseman. Sakala didn't get far, however, before the towering figure of first baseman Bob Kimutis '76 intervened.
"Bob was a big, burly guy with a handlebar mustache, and he used to chew tobacco," Peters recalls. "He comes over and steps in between me and coach Sakala, and he looks at Sakala and he says, 'When you got 'em down …' and he spits this big wad of chew near Sakala's foot, 'you stomp on 'em.' "
"In my mind," Peters says, "that set the tone for the attitude of the team."
Sakala's 1976 Columbia team began the year with nowhere to go but up. The Lions had finished the 1975 Ivy League/Eastern Intercollegiate Baseball League season — the EIBL consisted of the eight Ivies plus Army and Navy — with a league-worst record of 3–10–1 and an overall mark of 7–16–1. Although most players expected better, a championship was not a realistic goal.
"Going into my senior year," says outfielder Charlie Manzione '76E, "I think we were all hoping for an improvement, maybe .500 level or better."
"I think we knew that we should be better," echoes Harry Bauld '77, who had started every game at shortstop for Columbia in 1975. "We seemed to have some talent there in '75, but it was young and unseasoned. We didn't know what to expect."
The team boasted a diverse roster in terms of experience. Kimutis and catcher Jim Bruno '76 provided the senior leadership. Bauld, second baseman Eddie Backus '77 and designated hitter Rob Murphy '77 had come up together from the freshman team to the varsity. Peters and centerfielder Mike Wilhite '78, '07 Arch., were sophomores, joining the varsity team for the first time. But arguably the biggest addition to the team was a player who had never stepped foot on a collegiate baseball diamond before his first practice in fall 1975.
By the time Rolando Acosta '79, '82L came to Columbia, he already was more accomplished than most 18-year-olds could ever hope to be. A standout at DeWitt Clinton H.S. in the Bronx, Acosta had not lost a game as a starting pitcher in almost two years. While in high school, he was twice named All-City while leading his team to a city championship in 1975, pitching the deciding game at Shea Stadium.
"I was a cocky kid with very little experience losing on the baseball field," Acosta recalls. "I don't know whether I could be humbled in those days."
After his phenomenal 1975 season, Acosta was recruited by several prominent baseball schools. But he wasn't interested in being just a pitcher. The teenager from the Dominican Republic, who had come to the United States just four years earlier, wanted an education as well. It became a choice between Ivy League schools, and given Columbia's reputation and location and the presence of a highly regarded coach in Sakala, it was an easy choice.
When Acosta arrived at Columbia, it didn't take long for the brash young hurler to make himself known on the team.
"He had … today they call it swagger, back then we called it cockiness," Kimutis says.
"Talk about competitive; he had a ridiculous amount of confidence," Bauld says, "and he came in with a lot of what we thought was bluster."
The 1976 season was the first in which the Ivy League allowed freshmen to compete on varsity squads. That rule change permitted a bevy of players — Acosta, outfielder Tony Ramirez '79, and pitchers Ricky Espitia '79 and Tom Whelan '79, among others — to make an immediate impact for the Columbia team.
"There were so many new faces," Sakala said at the time. "As far as they were concerned, there was no past. They didn't relate to last year or the year before."
Acosta had every expectation that he would be a difference maker for the Lions.
"It never occurred to me," Acosta says, "that I would be anything other than one of the top pitchers on the team."
The 1976 season started much the same way 1975 had ended. With snow blanketing New York City, Columbia's team headed south, as it did every year, to play a spring break schedule of southern colleges. That year's opponents included NCAA Division II champion Florida Southern, as well as regional powerhouses Rollins, Eckerd and Jacksonville. With only indoor practices under their belt, the Lions won just once in seven games.
But to the players, Florida felt like the start of something new. "We had a couple of really good games," Bauld says. "When we came out of Florida, we knew that we were pretty good."
It was clear that the talent level was high. Acosta pitched well in his first collegiate starts, as did Whelan and Espitia. Murphy hit .385 on the trip. And Kimutis, who had quit the Columbia football team before the season in order to dedicate himself to baseball, began a 1976 campaign that would transform him into an almost-mythological figure in the minds of his teammates.
"From the beginning, something came upon him. He was just killing the ball," Acosta remembers. "It seemed like no one could get him out," Manzione adds.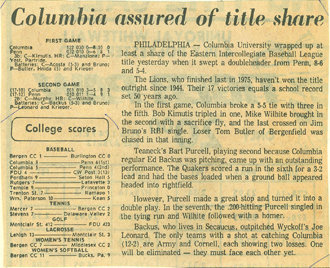 For Kimutis, who had picked Columbia over Harvard and Cornell, his senior season offered him a chance to go out, athletically, on his own terms.
"I pretty much carried a football mentality to the baseball field," Kimutis explains. "I was not someone that was going to back down from anybody or anything at any time."
The 6-2, 245-lb. Kimutis — "For those days, that was not a little guy on the baseball field," he says with a laugh — took it upon himself to lead the team as a senior. And it started with his mentality at the plate, where the right-handed Kimutis stopped trying to pull every pitch and instead worked the entire field. The result was a stunning display of offense, including numerous home runs over the short fence in Columbia's right field and into the Hudson River just beyond.
"He was putting it in the middle of the river so many times, people were saying, 'Where the hell was this guy for three years?' " Acosta says.
Perhaps most importantly, the team was beginning to grow confidence that it could awaken a baseball program whose distant past included Hall of Famers Eddie Collins (Class of 1907) and Lou Gehrig '25 but that had not won anything in more than a decade.
"What needed to happen was [the creation of] a chemistry that would somehow do away with this mentality of, 'There's no way for us to win.' " Acosta says.
"We came out of Florida very confident and thinking that we could play well against the Ivy teams," Bauld says. "But the question was: How does a team learn how to win?"
When Columbia started winning, the victories came fast and furious. The Lions swept three games against Yale and Brown in their first weekend of conference play, outscoring their opponents by a combined 25–10, with Kimutis hitting three home runs and driving in nine runs to earn EIBL Player of the Week honors. "Once we swept that weekend, you saw the attitude changing with some of the folks who had negative experiences," Acosta says.
The league domination continued as the Lions stomped Dartmouth 7–0 behind Acosta's two-hit pitching, then scored 33 runs to sweep a doubleheader from Harvard to push their league record to 6–0. "My job's easy this year," Sakala joked to Spectator. "I just show up to the games."
The combination of a potent offense — "We'll lull you to sleep, and then all of a sudden pow, pow and it's all over," Wilhite told Spectator — and the 1-2 punch of Acosta and Backus at the top of the pitching rotation carried the team. "I forget how many records were broken, but it felt like we were breaking records every day," Acosta says.
Columbia finally slipped against Army the next weekend, the Cadets dealing Acosta his first loss of the season. The next day, the Lions dropped the opener of a doubleheader against Cornell 10–2; a loss in the nightcap might have ended Columbia's pennant hopes, but Wilhite had other ideas. After he crushed a home run in his first at-bat on a pitch "at eye height [that he] tomahawks 380 feet over the wall in left field," according to Bauld, Wilhite came up again in the ninth inning. Columbia had scored two runs to trim the deficit to 6–5 and had a man on first when Wilhite stepped to the plate.
"Same thing happens," Bauld says. "Wilhite gets behind in the count, it's a different pitcher, and he throws another pitch up there, about eye level, and Wilhite tomahawks that one to the same spot in left field." The home run gave the Lions a 7–6 win and a split of their doubleheader against Cornell and kept them in the pennant chase.
In its next weekend games, Columbia beat Princeton 8–3 and swept Navy 1–0 and 11–1. All that was left was a doubleheader on April 28 against defending league champion Penn in Philadelphia. The winner would take home the EIBL title.
"Once we saw the possibility of winning, there was no way in hell we were going to let Penn stand in the way of that," Acosta says. "We went in there to drive that stake through their heart."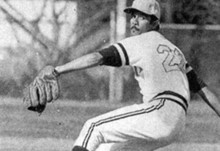 Rolando Acosta '79, '82L in his College game-playing days.It wouldn't be a storybook season if the underdogs didn't win it all. In that sense, the Penn games could be seen as anticlimactic, the ending long ago scripted along with an entire season that had seemed impossible almost from the start.
"I remember being pretty expectant," Peters says. "I expected us to win."
"We were all believers at that point," Acosta added. "I remember people telling me, 'This team hasn't won in, like, 300 years. Are you crazy? Lou Gehrig's not here,' and I'm like, 'We have the talent, we've already cleaned out the division anyway.' "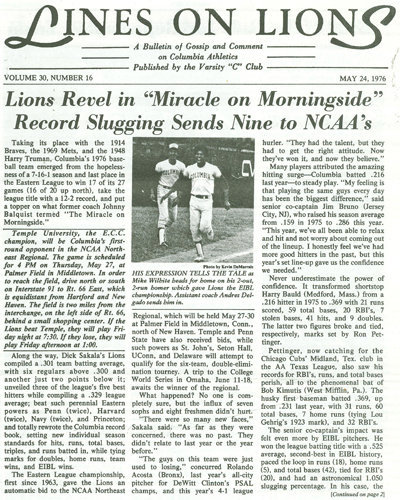 In the opener, Kimutis snapped a 5–5 tie with a run-scoring triple in a three-run fifth inning, and the Lions held on to win 8–6. In the second game, Wilhite's two-run homer capped a three-run rally in the seventh inning that lifted Columbia to a 5–4 win and the league title with a 12–2 record.
The EIBL title earned Columbia a berth in the NCAA Northeast Regional, where the Lions lost to Temple 6–2 and St. John's 10–5. Those games were forgettable to most of the players; what stuck with them was a once-in-a-lifetime season in which Columbia went from the bottom of its league to the top.
"When the time came, people just came through, and we expected it to happen," says Bauld, who had batted just .216 in 1975 but led the Lions with a .364 mark in their championship season. "It's just that strange, unique kind of constellation of things that come together at times."
Acosta started 11 games and compiled a 5–4 record, including 4–1 in the EIBL, and led the team with 52 strikeouts and a 3.33 ERA. Bauld was one of nine Lions to hit .300 or better as Columbia compiled a team average of .297, including .301 in league play. Kimutis slugged seven home runs, drove in 32 runs and walked 25 times in 29 games, and Wilhite backed him up with four home runs and 28 RBI.
"The funny part about this is that we did something that nobody expected, and when we did it, I'm not sure anybody really knew what to do with it," Kimutis says.
The Lions could never quite repeat their 1976 success. Columbia shared the league title in 1977 with Cornell before losing a one-game playoff for a berth in the NCAA Tournament, but slumped to 8–6 the year after and soon dropped from the ranks of contenders. The 1976 title would be Columbia's only outright baseball crown until 2008.
The players moved on with their lives away from baseball. Acosta went to the Law School and became a judge. Kimutis became a mining engineer. Bauld joined the staff of Horace Mann H.S. as a teacher. There have been reunions, informal and infrequent, but the players never forgot the team or each other, years after that championship doubleheader at Penn.
"I think we've had quite a bit of attention paid to us, and to think that however many years later people still think of us, it's a good thing," Peters reflected. "There have been a lot of Ivy League champions since then, but people still think about our team."
"We made believers out of everyone else," Acosta says.
Jonathan Tayler '09 was an editor and staff writer for the sports section of the Columbia Daily Spectator.