Letters to the Editor
Lions of the Diamond
Joshua Robinson '08's excellent article on Fernando Perez '04 (May/June) states that only three other former Lions (Lou Gehrig '25, Gene Larkin '84 and Frank Seminara '89) played Major League Baseball.
In September 1903, 16-year-old Eddie Collins (Class of 1907) enrolled at Columbia. Collins starred at quarterback and became captain of the Lions' baseball team. He was talented enough that, during the summer after his junior year of college, he played for the Philadelphia Athletics, using the name "Sullivan" in an attempt to maintain his college eligibility. Unfortunately, he was found out and ruled ineligible for further intercollegiate play. So during his senior year at Columbia, he coached the Lions in baseball before returning to the major leagues.
Collins played 25 seasons for the Philadelphia Athletics and Chicago White Sox. His Hall of Fame credentials included 3,315 base hits and a .333 lifetime batting average. He also stole 744 bases, making him one of only five players in major league history with at least 3,000 hits and 500 stolen bases.
Thomas Hauser '67
New York City
Your May/June 2009 issue was great, as usual. One error: the article about Fernando Perez '04 stated that only three Lions before him went to baseball's major leagues (Seminara, Larkin, and Gehrig). There was a fourth, Eddie Collins of the Class of 1907. Eddie was the greatest second baseman of all time and the 11th man elected to the Hall of Fame, with hitting and base-stealing statistics that boggle the mind (.333 batting average and 744 stolen bases). In fact, the all-time greatest baseball team would have Lions on the right side of the infield — Gehrig and Collins. Roar, Lion, Roar.
Mickey Greenblatt '61, '62E
Potomac, Md.
In an article about Fernando Perez '04 of the Tampa Bay Rays (May/June), Joshua Robinson '08 mentions that there were only three Lions who played major league baseball — Frank Seminara '89, Gene Larkin '84 and Lou Gehrig '25, who left the College after two years. I was shocked that a fourth Lion, Eddie Collins (Class of 1907), was not mentioned. Collins was considered to be one of the finest professional second basemen of all time and is a member of the Baseball Hall of Fame (along with Gehrig).
Collins was the only college graduate to play on the Black Sox scandal team; he was not involved in throwing the games and was not prosecuted. In Collins' later years, he was a scout for the Boston Red Sox. He was the one who discovered the talents of a young Ted Williams and recommended him to the Red Sox organization.
Dr. Murray Strober '48
Passaic, N.J.
In his excellent article on Fernando Perez '04 (May/June), Joshua Robinson '08 erred when he wrote only three other former Lions had ever made the big show. There were at least two more.
That George Smith (Class of 1915), "Columbia George," is no longer remembered is not surprising. But he had more than a cup of coffee. During an eight-year stint in the National League (1916–23), Smith pitched for both the New York Giants and the Brooklyn Dodgers.
That the first Lion elected to baseball's Hall of Fame and one of the first six chosen (among the others were Babe Ruth and Ty Cobb) was forgotten is surprising. Eddie Collins (Class of 1907) could play.
John McCormack '39
Dallas
Editor's note: These are a sampling of the many letters and e-mails we received about the omission of Eddie Collins (Class of 1907) from the list of Lions who made it to the major leagues, although McCormack was the only one to note the omission of George Smith (Class of 1915), who indeed was nicknamed "Columbia George." We thank you all for your careful reading and hope to do a better job of backstopping in the future.
Perez Earns a Fan for Life
I thought I would add a short story to your excellent profile of Tampa Bay Rays outfielder Fernando Perez '04 (May/June).
In May 2008, while Fernando was playing for the AAA Durham Bulls, I took my then–7-year old son, Teddy, to see the team play a weekend series against the Atlanta Braves' affiliate. Midway through the Saturday night game, Fernando made eye contact with Teddy who yelled "Roar, Lion, Roar." A grin broke out across Fernando's face, and after the game he spent 10–15 minutes talking with Teddy as if they were best friends. The following day, Fernando spent additional time with Teddy during batting practice — asking Teddy not just about baseball, but about what he was doing in school as well. Teddy then spent the whole summer following and emulating his new friend.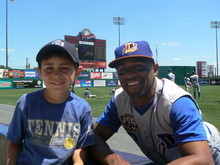 Fernando Perez '04 was a member of the minor-league Durham Bulls when he befriended 7-year-old Teddy Freeman. When Fernando was called up to the Rays for the 2008 pennant race, Teddy and I went to see him play in Baltimore. Fernando recognized Teddy during pre-game drills, and he spent about five minutes with him — again asking about baseball and school, and encouraging Teddy to work hard at both. He spoke to Teddy with genuine interest and affection, and managed to live up to even Teddy's high expectations for his new friend.
Through his demeanor and undeniable baseball talent, Fernando earned a "fan for life" in my son, who now wears his Perez No. 38 jersey at least once a week, and calls out Fernando's name as he rounds the bases in Little League. And in a time when professional athletes so often disappoint, Fernando earned my respect and gratitude for the kindness he showed toward a previously unknown 7-year-old fan. Fernando is a true son, and an excellent ambassador, of Columbia College. I am proud to call him one of our own.
Alan Freeman '93
Potomac, Md.