Roar, Lion, Roar
Men's Tennis, Golf Win Ivy Crowns
C
olumbia's men's tennis and golf teams won Ivy League championships this season, the second crown in three years for tennis and the second in a row for golf.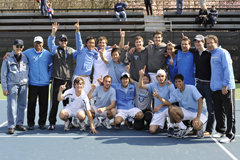 Columbia's men's tennis team celebrates its second Ivy League championship in three years. PHOTO: COLUMBIA UNIVERSITY ATHLETICS
Coach Bid Goswami's tennis team clinched its title with a 7–0 sweep of Princeton, giving Goswami his seventh Ivy crown in his 27-year career. The Lions went 6–1 in Ivy play and 16–6 overall, losing to Miami in the opening round of the NCAA championships.
Haig Schneiderman '12, who won 22 singles matches in his first year of college play, was a unanimous choice for Ivy League Men's Tennis Rookie of the Year. Bogdan Borta '10, who posted 18 singles wins, was named to the All-Ivy first team, Jon Wong '10 and Mihai Nichifor '10E were named to the second team and Schneiderman received honorable mention.
Coach Rich Mueller's golf team overcame a three-stroke deficit going into the final round of play and edged Penn by one stroke to repeat as champions. The competition came down to the last hole of play between Brendan Doyle '12 and Penn's Scotty Williams, another first-year golfer. Doyle made par to give Columbia a three-round total of 858, while Williams could do no better than bogey, leaving Penn at 859. The top four three-round scores posted by members of the five-man teams are used to compile the team score.
Clark Granum '11E was Columbia's top individual performer, tying for fifth place at 213 and earning All-Ivy recognition. Austin Quinten '11, who led the Lions with a two-under-par 68 in the final round, matched Doyle's 214 total to share eighth place. Chris Arkin '09 was 14th and Philippe Fossaert '09 was 29th.
Football To Open vs. Fordham September 19
Columbia's football team will open its 2009 season on September 19 in the eighth annual Liberty Cup game against Fordham, to be played at the Rams' Jack Coffey Field. Columbia's home opener will be the following Saturday, September 26, when the Lions host Central Connecticut on Robert K. Kraft ['63] Field at Lawrence A. Wien Stadium, which is part of the Baker Athletics Complex.
The Lions open the Ivy League portion of their schedule the following week at Princeton. After their final non-league game, at Lafayette on October 4, the Lions will return home to face Penn in the annual Homecoming game on October 17.
Tickets for Homecoming and all Columbia games are available online or by calling 888-LIONS-11.
Following is the complete 2009 schedule:
September 19, at Fordham, 6 p.m.
September 26, Central Connecticut, 12:30 p.m.
October 3, at Princeton, TBA
October 10, at Lafayette, 6 p.m.
October 17, Penn (Homecoming), 1:30 p.m.
October 24, at Dartmouth, 12:30 p.m.
October 31, Yale, 12:30 p.m.
November 7, Harvard, 12:30 p.m.
November 14, at Cornell, 12:30 p.m.
November 21, Brown, 12:30 p.m.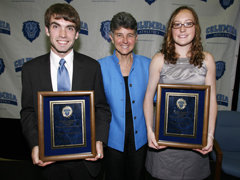 Director of Intercollegiate Athletics M. Dianne Murphy joins Maniatty Award winners Jeff Randall '09 and Hannah Galey '09 at the Varsity 'C' Celebration.
Eric Blattman '80 (left), who has served on baseball's Alumni Advisory Committee for more than 25 years, is presented with the Athletics Alumni Award by Varsity 'C' President Michael Brown '80. PHOTOS: COLUMBIA UNIVERSITY ATHLETICS/GENE BOYARS
Athletes Feted at Varsity 'C' Celebration
Swimmer Hannah Galey '09 and distance runner Jeff Randall '09 were each presented with the Connie S. Maniatty ['43] Outstanding Senior Student-Athlete Award at the 88th Varsity 'C' Celebration, held at Levien Gym on May 5.
Galey, an All-Ivy first team honoree this year, broke the school 100-meter freestyle record previously held by Olympic gold medalist Cristina Teuscher '00 and also established school records with the 200 medley relay, 400 medley relay and 200 freestyle relay teams. Randall, a six-time All-Ivy honoree in the 3,000-meter run, 3,000-meter steeplechase and distance medley relay, finished second in the steeplechase at the prestigious Penn Relays.
The Varsity 'C' Celebration also featured the presentation of the Athletics Alumni Award to Eric Blattman '80 (baseball/football), and the watch award presentations for the Columbia senior student-athletes earning the highest cumulative grade-point averages and at least two varsity letters. Gena Miller '09 (field hockey) earned the Marion R. Philips Watch, while Jonathan Chan '09 (men's tennis) earned the Dwight D. Eisenhower Watch.
Columbia Athletes Honored
Rower Meredith Mead '11 was named to the Pocock All-America first team, according to the Collegiate Rowing Coaches Association. She is the first Lion in women's rowing history to be bestowed first-team status, and was one of 45 rowers from around the nation to be recognized as one of the outstanding performers in women's collegiate rowing.
Fencing All-American and national champion Jeff Spear '10 was named to the ESPN The Magazine Academic All-America first team. He joins basketball co-captain Patrick Foley '09, who was selected earlier this year.
In addition to the tennis players and golfers mentioned above, several other Lions gained All-Ivy honors in spring sports. In baseball, catcher Dean Forthun '10 made second team, and pitcher Joe Scarlata '09 and outfielder Nick Cox '11 received honorable mention. In softball, first baseman Danielle Pineda '10, outfielder Jackie Ecker '11 Barnard and designated player Maggie Johnson '11 received honorable mention. In men's track, Stefan Vutescu '10 (100m) and Jeff Randall '09 (steeplechase) made first team and Jeff Moriarty '11 (800m) made second team. In women's track, Sharay Hale '12 (400m), Megan Lessard '09 (1,500m), Kyra Caldwell '12 (100m hurdles) and Elisse Douglas '09 (triple jump) made first team, and Hale (200m), Monique Roberts '12 Barnard (high jump) and Douglas (long jump) made second team, as did two Columbia relay squads, 4x400m (Laura Vogel '11, Caldwell, Jacqui Brown '11 and Hale) and 4x800m (Laura Meadors '12, Serita Lachesis '10, Jackie Drouin '11 and Lessard).
Consortium's Silver Anniversary Celebrated
A year-long celebration of the silver anniversary of the Columbia-Barnard Athletic Consortium concluded on May 5 with an event in Low Library that paid tribute to the women athletes, coaches and administrators who have brought distinction to Columbia athletics during the past 25 years. The event featured a video of highlights during the past 25 years along with the recognition of the 25 Most Influential Athletic Alumnae and an Honor Roll of the top female student-athletes of the last quarter-century.
Barnard trustee Cheryl Milstein '81 Barnard (left) and Olympic swimmer Cristina Teuscher '00 at the silver anniversary celebration of the Columbia-Barnard Athletic Consortium. PHOTO: COLUMBIA UNIVERSITY ATHLETICS/GENE BOYARS
25 Most Influential
Elizabeth "Tosh" Forde Adams '99, soccer
Tracy Pierce Bender '92, volleyball
Caitlin "Katy" Bilodeau '87, fencing
Ellen Bossert '86, basketball
Ari Brose '84 Barnard, track and field
Joan Campion '92, soccer
Lisa Landau Carnoy '89, track and field
Pia Clemente '93 Barnard, tennis
Alexandra Wallace Creed '88, tennis
Jennifer Drake '97, swimming and diving
Leslie Gittess '88, tennis
Kathryn Hudacek '94, rowing
Janette Kizer-Antiles '92 Barnard, tennis
Ula Lysniak '87 Barnard, '91 TC, basketball
Donna Herlinsky MacPhee '89, tennis
Juliet Macur '92 Barnard, rowing
Devon Martin '90, cross country/track and field
Adebola "Bola" Bamiduro Osakwe '01 Barnard, lacrosse
Rachel Pauley '95 Barnard, '96 SIPA, field hockey
Lisa Piazza '85 Barnard, fencing
Philippa Portnoy '86 Barnard, tennis
Ilaria Rebay '87, track and field
Cristina Teuscher '00, swimming and diving
Sheena Wright '90, track and field
Helen Doyle Yeager '85 Barnard, basketball

Honor Roll
Elizabeth "Tosh" Forde Adams '99, soccer
Jacqueline Adelfio '06E, softball
Caroline Bierbaum '06, cross country/track and field
Caitlin "Katy" Bilodeau '87, fencing
Stacy Borgman '98 Barnard, rowing
Ellen Bossert '86, basketball
Nicole "Nikki" Campbell '02, field hockey
Delilah DiCrescenzo '05, cross country/track and field
Lucy Eccleston '03 Barnard, swimming and diving
Teresa Herrmann '05, swimming and diving
Caitlin Hickin '04, cross country/track and field
Emily Jacobson '08, fencing
Janette Kizer-Antiles '92 Barnard, tennis
Milena Kachar '07, tennis
Kathy Lavold '03 Barnard, volleyball
Kate Lombard '07, lacrosse
Ula Lysniak '87 Barnard, '91 TC, basketball
Marisa Marconi '05, softball
Devon Martin '90, cross country/track and field
Stephanie Miller '07, archery
Shannon Munoz '07, soccer
Elizabeth "Libby" Peters '06, rowing
Katie Beauregard Sheehy '03, volleyball
Cristina Teuscher '00, swimming & diving
Whitney Windmiller '07, golf
Alex Sachare '71