Web Exclusive
25 Years of Coeducation: Profiles
By Shira Boss-Bicak '93, '97J, '98 SIPA
The following collection of alumnae is a brief sampling from the more than 10,000 women who have come through Columbia College in the past 25 years. They are not the most esoteric, the most celebrated or, in a word that seldom makes sense in relation to a Columbia grad, the most "overachieving." They merely give a glimpse of how so many women students have come through Columbia's gates, flourished in its community and made their way in multifarious careers and lives.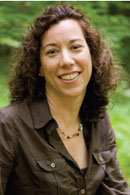 Susan Kraham '87, '92L PHOTO: STEVE LEGATOSusan Kraham '87, '92L
Environmental Lawyer
Hometown: Edison, N.J.
Major: linguistics
Susan Kraham '87, '92L was drawn to the College by its political science and international affairs programs. (Initially she was interested in Barnard, "just to be near Columbia," before the College went coed the year she applied.) Instead of joining the foreign service, however, Kraham's career has taken several twists, with her returning to campus twice more, first for a law degree, and this year as a faculty member at the Law School.
"My undergraduate education didn't prepare me to 'do' anything, but prepared me to learn how to do anything I wanted to do," Kraham says.
After graduation, Kraham worked at a community development organization in Brooklyn and got a master's in urban planning from NYU. The urban redevelopment issues got most interesting when they went into litigation, she says. To further her involvement, Kraham went to the Law School, she says, "with the intent of doing land use and commercial development issues." (During grad school she also met her eventual husband, Adam Joseph '92 Business, with whom she now has three sons.) Kraham's experiences in the Child Advocacy Clinic at the Law School and during a summer Human Rights Internship in Nairobi inspired her to work more specifically on the social justice side of urban development.
After clerking for a justice on the New Jersey Supreme Court, Kraham was awarded a Skadden Fellowship and pursued public interest work and civil rights litigation. She looked for a way to work on environmental justice and land use issues, and found it as a clinical professor at Rutgers in the Environmental Law Clinic, where she supervised law students in live cases. After eight years there, Kraham became in-house counsel at the New Jersey Audubon Society, where she fought not only for habitat preservation but also for preserving urban open spaces. "People who live in cities need open space, too," she says. Kraham's interest in the relationship between food and the environment led her to work on community-supported agriculture projects and species-sensitive farming practices.
Missing students and litigation, she returned to Columbia as senior staff attorney at the Environmental Law Clinic, where again she is melding urban development and social justice issues. One project Kraham supervises involves working with the Human Rights Clinic on the impact of climate change on the global right to food.
"One of the things that drew me back here is the intellectual community and the range of people on campus working on interesting things and using their intellectual abilities to do good," she says.
Kraham lives in Maplewood, N.J., where she is active in community service; she ran the kosher food pantry at her synagogue for three years.
Galia Austin-Léon '92, '05 PH PHOTO: RODNEY LÉONGalia Austin-Léon '92, '05 PH
Pediatrician
Hometown: Queens, N.Y.
Major: pre-med, sociology

Galia Austin-Léon '92, '05 PH didn't travel far from home to attend Columbia, but says she still "found a lot of it foreign and different." Austin-Léon is a first-generation American (her parents emigrated from Haiti and her first language is Creole) and she attended a Catholic school for 12 years. "I didn't know a lot about other religions and cultures," she says. "My experience at Columbia was the best education I could have gotten. Moreover, Columbia is where I met five of my closest friends."
During college, Austin-Léon belonged to the city-wide chapter of sorority Alpha Kappa Alpha and was active on campus in the Black Students' Organization and Haitian Students Association. After graduation, she worked at a doctor's office for a couple of years before going to SUNY Downstate College of Medicine to become a pediatrician, and earned a master's from the Mailman School of Public Health through an academic fellowship. Austin-Léon practices academic medicine at SUNY Downstate Medical Center in Brooklyn, where she teaches medical students and residents and sees patients as a general pediatrician.
"I had a great relationship with my pediatrician growing up for 18 years, so that inspired me," she says. "Kids always bring a smile to my face. They say and do the funniest things."
Austin-Léon previously was associate director of a family-based obesity program at SUNY Downstate for pediatric patients ages 5–18 that brought them together with nutritionists, psychologists and exercise specialists. Three years ago she also activated, and still directs, the "Reach Out and Read" program at SUNY, where patients between the ages of 6 months and 5 years receive free books at every wellness visit.
Austin-Léon lives in Brooklyn with her husband, Rodney Léon, an architect who designed the memorial at the African Burial Ground National Monument in lower Manhattan, and their daughters, Alexandria, 8, and Saniyah, 5.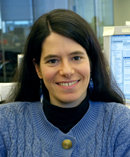 Tami Luhby '92, '97J PHOTO: JOHN COUGHLINTami Luhby '92, '97J
Business Journalist
Hometown: Bronx, N.Y.
Major: history
Tami Luhby '92, '97J wanted to be a journalist since working on her high school newspaper at Horace Mann School in Riverdale. It was reporting for Columbia's Spectator one summer that brought her to the College.
"It was very difficult for a high school junior to get an internship at a newspaper," she says. Spec wasn't taking on high school stringers, but Luhby boldly showed up at the newspaper's offices the summer before her senior year of high school, blended in with summer school students as an outsider, and took on a story. "They never asked me who I was until after I did my first assignment," she says. "I was in over my head and completely freaking out, but I did it and they liked it. That's what made me decide to go to Columbia."
When she got to campus, Luhby went to the Journalism School hoping to take classes there, but was sent away until senior year. Instead of classroom training, she got on-the-job experience working for four years at The Riverdale Press.
Luhby's first job after college was as a reporter-intern at Asbury Park Press in New Jersey, where she felt at home in a rough neighborhood. "It was like the Bronx: a nice urban place, with police everywhere," she says. "I was terrified to live in the suburbs. It's dark, there are no people around — I'd be petrified."
Luhby entered the School of Journalism as a bona fide grad student in 1996, then returned to her native Bronx, where she still resides, and became a business journalist to stay in New York. After working for eight years — six of them as a personal finance columnist — at what she describes as her "dream job" at Newsday on Long Island, she moved last year to CNNMoney.com, where she is a senior writer "covering the biggest story of the times," she says.
As an undergrad, Luhby says she "hung out at the J-school as much as possible." Now a seasoned professional, she still goes there regularly, to teach reporting/writing and Columbia News Service as an adjunct.
When her friend Dina Feivelson '91 was diagnosed with cancer, it inspired Luhby to train for a marathon and raise money for The Leukemia & Lymphoma Society. Luhby has since completed seven marathons and three half-ironman triathlons.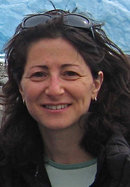 Jessica Zimmerman '95 Jessica Zimmerman '95
Rabbi
Hometown: San Francisco
Major: art history
Jessica Zimmerman '95's criteria for choosing a college were that it had to have programs for marine biology, Czech language and Judaic studies. The Californian had never been to the East Coast when her high school guidance counselor told her, "You belong at Columbia." From the time she visited, Zimmerman says she was home.
"I was young, curious, hungry to explore as many ideas as possible — there's no better place for that than Columbia College in New York City," she says. "The world opened up to me here, in part through the people, in part through the city, and in part through the Core Curriculum, which changed my life."
As part of fulfilling the science requirement, Zimmerman took a class called "Earth, Moon and Planets" with professor of astronomy Joseph Patterson. She says she quickly found herself in over her head: "I couldn't do the math or physics, couldn't do the problem sets, I was basically failing the class." Still, she mustered the courage to ask Patterson how she could land the gig as his research assistant at an observatory in Chile. To Zimmerman's surprise, he called her with an offer for her to travel there during winter break, saying her enthusiasm and interest in learning were more important than the academic preparation.
Zimmerman had wanted since high school to become a rabbi. As she pursued more astronomy courses, and continued even after graduation to work as a research assistant spending many more months in Chile, she saw the scientific training as directly related to her eventual rabbinical career. "What I learned at Columbia was about exploring the universe from every possible angle," she says. "Both religion and astronomy are about exploration, curiosity and the search for meaning. We want to understand our purpose, in a greater context, and religion and astronomy provide two different lenses to look through."
After six years of rabbinical school, Zimmerman was ordained in 2003 and has since served congregations in New York City and Phoenix. She was a student rabbi in Alaska, Costa Rica and India. Zimmerman lives on the Upper West Side and works at Synagogue 3000, a research organization in New York and Los Angeles that studies trends in American Jewish life. "I get to see what's going on across the country. It's a way to learn about some of the most creative and innovative rabbis, cantors, congregations and leaders out there," she says. Zimmerman says her reputation is for being "passionate and caring and curious: all the reasons my high school guidance counselor said I should go to Columbia."
Laura Kaufman '97 PHOTO: DAVID REICHMANLaura Kaufman '97
Scientist
Hometown: Norwood, N.J.
Major: chemistry
Laura Kaufman '97 came to the College because her acceptance package contained a letter inviting her to become a Rabi Scholar. It explained that the University was trying to attract the best science students and outlined the privileges and opportunities she would have as a Rabi Scholar, including summer housing and a stipend to pursue research.
"I'm sure it wasn't clear from my application I was going to be a scientist," Kaufman says. "The Rabi Scholar program made me into a scientist."
The late chemistry professor Brian Bent invited Kaufman to work in his lab after she had taken just one year of general chemistry. She says, "I quickly realized, 'Oh, I do like this!' " Kaufman continued in Bent's lab for several years and majored in chemistry, with a concentration in English. After graduate school at UC Berkeley and postdoctoral work at Harvard, she returned to campus in 2004 as an assistant professor. "This was my dream job upon leaving the College," she says.
Coming full circle, Kaufman joined the Rabi Scholarship Faculty Committee, an endeavor that requires reviewing hundreds of applications to the College to help select the approximately 10 Rabi Scholars in each class. "I feel that the program is responsible for making me into a scientist, and it's important to give others that same opportunity," says Kaufman, who was for one year the committee's interim chair.
She also perpetuates the development of emerging scientists by giving undergraduates research positions in her lab, where she works on supercooled liquids and biopolymer gels. Undergraduate and graduate students frequently seek out Kaufman as a mentor. "I'm approachable, and part of what makes me approachable is I'm a woman, and young — and being small doesn't hurt," she says.
Kaufman is married to chemistry professor David Reichman, and they have a 2-year-old daughter.
Nicola Lopez '98, '04 Arts PHOTO: KATE HOWE '97Nicola Lopez '98, '04 Arts
Artist
Hometown: Santa Fe, N.M.
Major: anthropology
Nicola Lopez '98, '04 Arts didn't know when she came to the College that she would become an artist. She majored in anthropology (not thinking she would become an anthropologist, either) because, she says, "It was about cultural studies and linguistics, history, sociology, writing — it all comes into play."
Like other students drawn to Columbia and New York, Lopez took advantage of opportunities both at school and in the city to indulge various interests. She took a year off before her sophomore year to study piano, and later took a semester off to spend time in Rio de Janeiro, where she interned at a museum and took classes at an art school. During her senior year, Lopez had a studio in the visual arts department, as the art majors did.
It wasn't until after graduating and receiving the Mortimer Hays-Brandeis Traveling Fellowship, a year-long grant, that she says she realized that "art could be a life and not a peripheral interest." Lopez spent half of the following year in Mexico and half in Peru. "It drew on my background in anthropology and brought it into my visual art interest," she says. "I'm very glad I have a liberal arts background and a broader range of curiosities to bring to my work and also my life."
Lopez has been a full-time artist since then, living and working in a loft in Brooklyn creating drawings, prints and installations, and teaching at Bard and other local colleges. She returned to Columbia for an M.F.A. and travels frequently for shows, visiting artist programs at schools and informal getaways to gain fresh perspectives. Lopez's work has been exhibited at galleries in New York, at MoMA, the Los Angeles County Museum of Art, P.S.1 Contemporary Art Center in Queens, and in Minneapolis, Little Rock, Mexico City and elsewhere.
Being an artist is tough, Lopez says, especially financially. In addition to mastering the art-making, she says, artists also have to do background work, prepare documentation and be comfortable speaking and writing about their work. "Columbia has prepared me in an intellectual way," she says. "That's the thing about art; there's no one, or five, ways to go about it and go about building a career in it. It's a constant figuring it out."
Chelsea Wald '00 PHOTO: BERBER ROUWÉChelsea Wald '00
Science Reporter
Hometown: Alexandria, Va.
Major: Astronomy
Chelsea Wald '00 was attracted to Columbia by the Core Curriculum and "the opportunity to learn about lots of different things," she says. Initially conflicted as to whether to pursue science or humanities, she incorporated both into her career and keeps up the spirit and practice of the Core as a science reporter.
Wald majored in astronomy and spent a summer interning at NASA's Goddard Space Flight Center in Maryland, doing solar physics. "The work was fascinating, but it became clear how much solitary time scientific research takes," she says. "I realized that's not for me."
During a semester in the astronomy program at Biosphere 2 in Arizona, Wald started exploring alternatives to a conventional scientific career. "One of them was science writing, although I didn't know what it was really or how to do it."
Wald won a Fulbright Fellowship for archaeoastronomy (a field combining archeology and astronomy) and spent the year following graduation in Chile. "There aren't a lot of archaeoastronomers out there," she points out, "and it wasn't necessarily something I was going to be able to accomplish as a career."
When her now-husband, Cyril Emery '00, whom she met at Biosphere, went to Indiana University for graduate work, Wald went, too, for a master's in journalism. "I learned that science journalism is actually a profession, it wasn't something I was making up. That was a revelation," she says. "I realized I could keep science in my life and contribute to the scientific endeavor in a different way."
For two years, in Washington, D.C., Wald produced a one-minute radio show, "Science Update," for the American Association for the Advancement of Science. Five shows a week were distributed to commercial radio stations and on iTunes. "It was about trying to communicate complicated information in a compelling way in a very short amount of time," she says. "It definitely made me a better writer." It also required reporting on science broadly, including not only astronomy but also physics, biology, math, sociology, health and even economics.
Now Wald is a freelancer in print, radio, online and podcasting (audio broadcasts over the Internet), and splits her time between covering science for scientists and for the general public. "I've thought about going to get a Ph.D., but I don't know what it would be in," she says. "I'm fascinated by everything." She describes intellectual lust for the new "Frontiers of Science" component of today's Core Curriculum. "I would have loved that," she says. "That's what I'm trying to do with my life: to put myself through a lifelong science Core."
Based in Manhattan with Emery, a librarian at the United Nations, Wald says the pair is taking advantage of New York's cultural offerings in part through the Columbia Alumni Arts League. "They act as your social organizer," she says. "Theater, opera, dance — we go to events about once a month."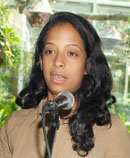 Yscaira Jimenez '03 PHOTO: JOHN CABALLEROYscaira Jimenez '03
Entrepreneur
Hometown: Dominican Republic and Bronx, N.Y.
Major: English, Latin American studies
While a student, Yscaira Jimenez '03 loved that there always was a show, concert, comedy or reading to attend on campus. After graduation, she moved back to the Bronx but kept migrating to far-away neighborhoods to find the same rich offering of cultural events. Jimenez tired of the late-night traveling, however, and the year after graduation, when she earned a bonus from the education company where she worked, decided to pursue an entrepreneurial venture and establish an arts and cultural center close to home.
Four years later, her vision came to life as La Pregunta Arts Café on Amsterdam Avenue, across from City College. "I thought, 'If I fail, I can start over,' " says Jimenez, who as an undergrad belonged to the Columbia Organization for Rising Entrepreneurs.
La Pregunta can host crowds of 50 (seated) to 100 (standing) for meals, meetings, shows and performances. "There's always something going on," Jimenez says. "Film night, poetry, live music, a reading from the graduate writing program at City College, socially-minded individuals who want to bring attention to the election in Bolivia … a lot of student groups and clubs at schools meet there."
Having grown up in the Dominican Republic and the Bronx, Jimenez highlights Afro-Latino culture at La Pregunta ("The Question" in Spanish). She defines Latino as European, African and Latin descent and says, "It's hard to define yourself as Latino without identifying yourself as black or African-American."
The original concept of a cultural and arts club has expanded to a café and organizing outside events. "I didn't expect to be in the restaurant management business or to spin off into catering and events management," she says.
Jimenez says she regrets not having taken advantage more fully of Columbia's resources for entrepreneurs while a student. "For anyone who has even an inkling of entrepreneurial desire, they're probably in the best place in the world to explore that," she says.
After a two-year leave to develop her business, Jimenez returned to the education company she worked at previously and keeps her day job there in business development. She also practices Capoeira, Afro-Brazilian martial arts.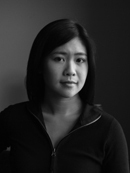 Tze Chun '06 PHOTO: TZE-NGO CHUN '02Tze Chun '06
Choreographer
Hometown: Boston
Major: dance, American studies
When Tze Chun '06 came to Columbia from Boston, she thought she might become a dancer after college … or a fashion designer … or a chef.
A double major in American studies and dance (through Barnard), Chun was involved with Orchesis, a campus dance group with more than 150 members, as a dancer and costume designer and eventually as producer. "It taught me a lot about art management and production," she says. "It prepared me to start my own company."
Chun's business skills were developed as a student manager of the Columbia Bartending Agency and School of Mixology for two years. "It's an express track to entrepreneurship," Chun says. "It was amazing that as a 19-year-old woman in college I was able to take on this enterprise with more than 200 employees and an office staff of 10."
After graduation, Chun figured she was prepared to do two things: open a bar or start a dance company. She chose in 2006 to found Tze Chun Dance Company, a modern company with 18 dancers, in Brooklyn. Chun choreographs works that the company performs at theaters and festivals around New York City. The company is preparing for its first international tour next spring.
"Being a dance major in New York is amazing," Chun says. "You get so much exposure to the newest, most innovative choreography, less than a 30-minute subway ride away." Chun grew up doing some traditional Chinese dancing, and at Columbia studied modern dance and explored ways to combine the styles.
Chun says that Columbia's American studies program influences her choreography. "It has a lot to do with the immigrant experience and the hyphenated experience," she says. "A lot is related to literature or films I watched while at the College." Chun also is incorporating elements of tango that she researched during six weeks spent in Argentina last year on a Jerome Foundation grant.
With her brother, Tze-Ngo Chun '02, a filmmaker, Chun also is working on a book about their mother's growing up in Singapore in the '50s and '60s.