Within the Family
www.college.columbia.edu/cct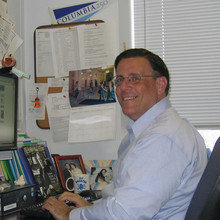 T
his issue of
Columbia College Today
is being published online, and online only. Do not look for it in your mailbox. If you want to read it on paper, whether at the beach, by the pool, in your den, during your next flight, on your favorite deck chair or while riding the train/bus/subway to work, you'll have to print it out and take it with you.
Why the change? It's not exactly news that we are in the midst of a financial crisis. In June, the University's Board of Trustees passed an operating budget for Fiscal Year '10 that is essentially flat; in anticipation of this, the College asked all administrative units several months ago to save whatever money possible in FY'09 (just completed) and scale back budgets for FY'10.
Publishing a magazine is a costly undertaking, and printing and postage represent a major portion of those costs. In order to permit the College to devote a greater share of its resources to its core mission, namely, academic affairs and student services, we decided to deliver this issue to you through cyberspace, and cyberspace only. This allows us to save a significant amount of money and still bring you all the news, features and departments you have come to expect from CCT.
We will be back in print — as well as online — with the September/October 2009 issue, and each bimonthly issue thereafter. That said, given the uncertain pace of the economic recovery, we may choose to again publish next summer's issue, which would be July/August 2010, online only; that remains to be seen.
This is not a change that was done without careful consideration. Reading online is a different experience from reading a printed publication. The impact is just not the same. But times and conditions change, and the message, assuming it still can be delivered effectively, is more important than the medium.
Whether in print or online, our message is the same. You will find all the features, departments and Class Notes in this online issue that you would have found had we published a print edition (note that Class Notes are password-protected as a privacy consideration).
We always are interested in your feedback, but especially in this matter. How do you feel about online-only publication? Do you miss the print edition, or are you fine reading online? Many of you soon will receive a brief online survey asking these questions, and we urge you to respond. You also may contact us at cct@columbia.edu (please use the subject line "Online Issue") or by writing to Online Issue, Columbia College Today, Columbia Alumni Center, 622 W. 113th St., MC 4530, New York, NY 10025. Your responses will help inform our decision-making.