Alumni Profiles
Thomas Kline '68, '75L Helps Return Stolen Art
I
n the movies, Indiana Jones acts alone in taking back pilfered artifacts. In reality, he surely would benefit from the help of
Thomas Kline '68, '75L.
Kline, a New York native and father of three who now resides in Washington, D.C., has been a pioneer in the field of art restitution law during the last two decades and has been involved in cases that twist from The Netherlands to Indiana, from Berlin to Connecticut.
"I started off representing the Greek Orthodox Church in Cyprus," Kline recounts of his first restitution case, in 1989. An art dealer from Carmel, Ind., had purchased four famous mosaics in The Netherlands, not knowing they had been stolen from the church in the aftermath of the Turkish invasion of Cyprus in 1974.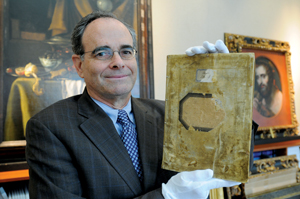 The church asked Kline's law firm, Manatt, Phelps, & Evans, to represent it in recovering the mosaics. "U.S. Customs would not seize them, so the only option we had was to litigate," Kline says.
Kline ended up with a high-wire act. "[The Carmel dealer] agreed to a temporary order against selling the mosaics, on condition that we go to trial in 60 days." Kline's team packed 25 depositions into that time and proceeded with a trial that became politically contentious.
"There's an entity called the Turkish Republic of Northern Cyprus that's only recognized by Turkey, and lawyers for that country showed up claiming to be plaintiffs," Kline says. "There was an argument over unrecognized governments, whether we should recognize their actions … there was a multitude of issues I hadn't anticipated." Nevertheless, five months after the temporary order, Kline's firm won the case and the mosaics were returned to Cyprus.
Gary Vikan, director of the Walters Art Museum in Baltimore, befriended Kline while serving as a witness on that case. "Tom emerged as a leader in the area," Vikan says. "The case was precedent-setting in due diligence with trafficking in antiquities."
Kline's tone is generally calm, but discussing the aftermath of the Cyprus case brings out exhilaration: "Oh man, the issues were incredible!" he says. "I was learning about the art market, international trade … it was fascinating!"
Less than a year after the Cyprus case, Kline — then with the firm Andrews Kurth — took on restitution once again. "I did a case for a German church from Quedlinburg, which was the royal capital, involving recovering medieval religious objects stolen by an American lieutenant," he says. Kline has been in the restitution field, and with Andrews Kurth, ever since.
"I just found it a fascinating area, particularly with my mother being an artist and having a pretty good background in art and art history from Columbia," he notes.
Kline grew up on the Upper West Side, moving with his family to Scarsdale, N.Y., when he was 9. After high school, he came back down the Hudson to major in government at the College. "It's kind of a family tradition," he says of Columbia, referring to his father, Eugene '33, '35L, and his late brother, Robert '66, '70L.
Before attending the Law School, Kline taught social studies at a public high school in Manhattan, a four-year period that "really rounded me out," he says. He still teaches, having taught a course on cultural property for 10 years in The George Washington University's Museum Studies Program.
"Teaching forces you to think more broadly about things, keep up on all aspects of the law," he says. "When you do litigation, you learn a lot about a little, about one issue."
Sometimes, Kline says, the solutions to his cases get innovative. Ten years ago, he represented a Czech Jew named Eric Weinmann who was looking for some artwork his mother had abandoned in Berlin during WWII. "He was in his 30s [during the war] and he remembered this painting," a Courbet.
Weinmann had discussed his search with a friend, who then discovered the painting by chance, hanging in the Yale University Art Gallery. "He found it when he went back for an alumni reunion!" Kline says. "That was very strange. So we made a claim." To return the painting, Kline's team had to prove that its then-owner had purchased the work after Weinmann's mother had fled Germany, and that she had not sold the painting voluntarily.
"The case was not exceptionally long in settling, but it felt that way at the time," Kline says. "We had to do an incredible amount of research to show Weinmann's story was more likely to be right."
When they won the case, Weinmann just wanted to get the painting back, Kline says. "He didn't want a financial settlement, he didn't care about that. So he arranged with Yale for a 10-year loan, and he hung the painting in his dining room."
"Tom's an idealist," Vikan says about his friend. "The cases he takes are for the underdog." His speech slows slightly. "He's a just, good person. He brings his values into the courtroom."
Jesse Thiessen '11 Arts