Alumni Profiles
Michael Goldwasser '93 Drops the Beat
By Jonathan Lemire '01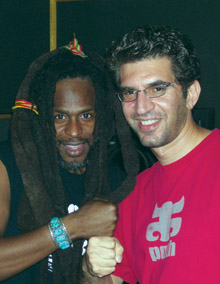 Reggae producer Michael Goldwasser '93 with David Hinds of Steel Pulse. PHOTO: Courtesy of Michael Goldwasser '93A rabbi's son walks into a recording studio and makes a reggae version of a Beatles album.
No, that's not the set-up to a joke. That's the life of Michael Goldwasser '93, one of reggae's most successful — and perhaps least likely — producers.
Goldwasser, the driving force behind Easy Star Records, has received wild acclaim for releasing reggae-flavored song-by-song covers of three classic rock albums. Pink Floyd's Dark Side of the Moon turned into Dub Side of the Moon. Radiohead's OK Computer morphed into an album named Radiodread. And last year Goldwasser produced his most ambitious project yet: The Beatles' Sgt. Pepper's Lonely Hearts Club Band became Easy Star's Lonely Hearts Dub Band.
"I wasn't intimidated by The Beatles, and their fans knew I'd treat their music with respect," Goldwasser says. "We just, shall I say, have a slightly different interpretation."
Goldwasser was born in West Virginia, but his parents — including his father, the rabbi — moved the family to New York when Michael was 7. Immediately, music became a major part of Goldwasser's life, and his jazz-loving parents claim he began writing songs soon after he learned to talk.
"Music was always there, and by the time I was 15, I started performing at clubs in New York City," Goldwasser says. "My parents were very supportive. They knew I was a good kid, and they knew that even if I was playing at a bar, I wasn't going to get in trouble.
"Actually, my father drove me to most of my shows," he says with a laugh, "because I couldn't take my guitar on the subway."
Columbia's location in the city, just a few subway stops away from Greenwich Village's thriving music scene, made Goldwasser's college choice a simple one.
"Being at Columbia was great for me as a musician, not just because of the academic side, though I did take quite a few music classes, but also because it kept my career alive," says Goldwasser, an urban studies major who formed the R&B band Special Request after arriving on Morningside Heights.
Goldwasser, who spent two years hosting shows on WKCR, performed relentlessly in clubs. He vividly remembers playing at the now-defunct Wetlands in 1994 and asking for the score of that night's New York Knicks-Houston Rockets NBA Finals game, only to be informed of the O.J. Simpson police chase that had just captivated the nation.
But Goldwasser's heart thumped to a reggae beat, and he soon quit a clerical job at Metropolitan Hospital to pool resources with a few friends — each donating $1,000 — to start a new label, which took the name Easy Star.
"It was not my life's dream to sit in an office and wear a tie," he said. "We complained about the dearth of quality reggae at the time, and we decided to do something about it."
The friends started amassing tracks that had never received a proper release and produced compilations albums. They'd carry the boxes of CDs to small record stores in Brooklyn and the Bronx and slowly began to make inroads in the reggae world, even though their leader didn't exactly look the part.
"I don't think the fact that I'm Jewish and not Jamaican held me back," Goldwasser says. "I was already somewhat known as 'Mikey the White Guitarist' in music circles so I had that credibility already. And reggae stars are down-to-earth, humble people, people who were not getting rich quick, and they weren't judging me."
"What has been astonishing about Michael's reggae career is the speed with which he was welcomed and taken seriously by many of reggae's greatest artists," says Michael Cooper '93, who was in Goldwasser's first band, The Feds. "Any man-bites-dog sense about Michael playing reggae seems to fade when people hear his music and realize that he is the real deal."
Easy Star's big break came in 1999, when Goldwasser was convinced to try a reggae version of Pink Floyd's iconic album, Dark Side of the Moon.
"We were making great traditional Jamaican reggae but selling, at best, a few thousand copies," Goldwasser says. "We had to try something different.
"At first, I was skeptical [and] I knew the album only incidentally. But I came up with a few basic arrangements, listened and thought 'This might work.' "
Using the stage name Michael G, Goldwasser took years to slowly craft the album, using traditional Jamaican instruments and rhythms yet faithfully maintaining the songs' structure and spirit. It was released by Easy Star in 2003.
"We expected a negative response from rock or Floyd fans, but even those Floyd fans who told us they wanted to hate it, couldn't," he says.
"I'm not suggesting that the Easy Star versions are likely to eclipse the originals, but I can't stress enough how ingenious they are in and of themselves," says Cooper, now a national correspondent for The New York Times. "Dub Side of the Moon is an amazing, painstakingly thought out concept album that I think would stand on its own for a listener who had never heard Pink Floyd."
The album sold an impressive 160,000 copies worldwide. Easy Star found similar success in 2006 with Radiodread, which Rolling Stone praised for its "innovative arrangements and attention to detail."
Snagging a cult following, Easy Star launched a touring band and acquired a famous fan: New York City Mayor Michael Bloomberg's daughter Emma, who asked the group to play at her wedding.
Goldwasser, who has also written original compositions for TV shows such as CSI: Crime Scene Investigation and movies such as Woody Allen's Cassandra's Dream,  tackled history's biggest band for his third tribute album, which was released last year.
"Radiohead has said very nice things about our work, which is very satisfying," says Goldwasser, who lives on a kibbutz an hour north of Tel Aviv, Israel, with his wife, Ami, and 2-year-old daughter, Tali, and runs his business remotely.
"I haven't heard from anyone in the Beatles camp yet," he says, chuckling, "but I would love to get a phone call from Paul McCartney."
Bob your head to Michael Goldwasser '93's cover of a Beatles tune.
Jonathan Lemire '01 is a staff writer for the New York Daily News.