Around the Quads
Roar Lion Roar
By Alex Sachare '71
TENNIS REPEAT: Columbia's men's tennis team, co-captained by Jon Wong '10 and Mihai Nichifor '10E, won its second consecutive Ivy League Championship and its third in the last four years by beating Princeton 6–1 on April 18. The Lions finished the regular season with a 16–4 overall record and 6–1 in the Ivy League to capture their fifth Ivy title since 2000 and eighth under coach Bid Goswami, who took over the program in 1982.
Wong is the first Columbia tennis player to become a three-time Ivy champion, and Nichifor, a transfer from Manhattan, completed his two years at Columbia with a 14–0 record. They were All-Ivy first-team selections in both singles and doubles, and Haig Schneiderman '12, who was 7–0 in singles play at the No. 3 spot, was named to the All-Ivy second team.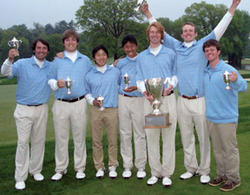 Columbia's men's golf team celebrates winning its third consecutive Ivy League Championship at the historic Baltusrol Golf Club in Springfield, N.J. PHOTO: DAN LAUKATISGOLF THREE-PEAT: Clark Granum '11E shot a three-under-par 67 in the final round at Baltusrol in Springfield, N.J., on April 25 to lead Columbia's men's golf team to its third consecutive Ivy League Championship. The Lions compiled a three-round score of 890 to beat Yale by three strokes for the team title, with Penn third at 898. Granum tied Penn's Scotty Williams for the best individual score at 214 but lost a one-hole playoff for medalist honors.
Brendan Doyle '12 and Michael Yiu '13 tied for seventh individually at 225, Justin Lee '11 tied for 16th at 228 and Ford Fischer '13 tied for 23rd at 233. The team score comprises the top four scores each day.
Granum was named to the All-Ivy first team for the third straight season, while Doyle and Yiu earned second team honors.
STRAIGHT SHOOTERS: The Columbia archery recurve team won silver for the second consecutive year at the U.S. Intercollegiate Archery Champions at College Station, Texas, on May 13–16. Columbia, represented by Sara Goshorn '10, Sarah Chai '12 and Alexandra Garyn '11 Barnard, defeated Connecticut and James Madison before losing to the host school, Texas A&M, by one point.
Goshorn won the silver medal individually in the recurve division, winning four matches before bowing to Jennifer Nichols of Texas A&M 106–94 in the final. Goshorn earned All-America honors for the third year in a row. Chai and Sydney Shaefer '12 (compound) were named All-America for the second consecutive year and Lauren Marion '11 (recurve) achieved All-America for the first time.
GEHRIG TITLISTS: Columbia's baseball team won its second Lou Gehrig ['23] Division title in three years before bowing to Red Rolfe Division champion Dartmouth, two games to one, in the playoff for the Ivy League Championship. Columbia had won the Ivy crown in 2008, Dartmouth in 2009.
Columbia compiled a 26–21 record, including 14–6 in Ivy play, for its first winning record in 23 years. The 26 wins were the Lions' most against Division I opponents in school history. Pat Lowery '12 was named Ivy Pitcher of the Year after going 3–1 in Ivy (5–3 overall) and holding opposing league batters to a meager .172 average. Outfielder Dario Pizzano '13, who hit seven of his 12 home runs in Ivy play and batted .388 against league foes, shared Rookie of the Year honors with Chris O'Dowd of Dartmouth.
In addition to Lowery and Pizzano, catcher Dean Forthun '10 and designated hitter Alex Aurrichio '12 were named to the All-Ivy first team. Pitcher Don Bracey '11 was named to the second team and infielder Jon Eisen '12, first baseman Jason Banos '11, shortstop Alex Ferrera '11 and outfielder Billy Rumpke '12 received honorable mention.
HEPS: Columbians won seven individual titles and two relay crowns at the Ivy League Heptagonal Championships in Princeton on May 9.
Kyra Caldwell '12 was named the meet's Most Outstanding Female Performer. She won the 100m hurdles and 400m hurdles and set an Ivy record with a time of 58.24 seconds in the latter event. Caldwell then teamed with Yamira Bell '13, Uju Ofoche '13 and Sharay Hale '12 to win the 4x400m relay in an Ivy-record time of 3:35.69. Hale won the 200m dash, Jacqueline Drouin '11 won the 1500m run and Monique Roberts '12 Barnard took the high jump.
The men's team made its mark as well. Kyle Merber '12 won the 1,500m run and Jeff Moriarty '11 captured the 800m run, and the two teamed with Mike Mark '10 and Matthew Stewart '11 to win the 4x800m relay.
By virtue of their wins, all received All-Ivy first team recognition. In addition, because they finished second in the events listed, the following were selected for the second team: Hale (100m dash), Bell (400m dash), Drouin (3,000m run) and Ofoshe (long jump).
ROWING: Columbia's varsity heavyweight eight scored a surprising win in its heat at the Eastern Sprints, beating highly regarded crews from Yale and Wisconsin, among others. The freshman eight also surprised the experts by finishing second in its heat behind top-ranked Harvard. Both crews, however, finished sixth in their Grand Finals. Columbia's JV finished third in its opening heat and fifth in the Petite Final. The varsity lightweights finished second in their Petite Final, the JV finished third and the freshmen came in fourth.
ALL-IVIES: In addition to those mentioned in previous items, four other Columbians earned All-Ivy honors in spring sports. In softball, catcher Kayla Lechler '12, who set school records for batting (.368), runs (37) and total bases (79), was named to the first team, and utility player Dani Pineda '10, who played both first base and center field and led the team with six home runs, and designated player Maggie Johnson '11, who pitched and played first base and set a school record with 12 career home runs, made the second team. Golfer Lynda Kwon '12, who finished seventh in the Ivy championships, also made the second team.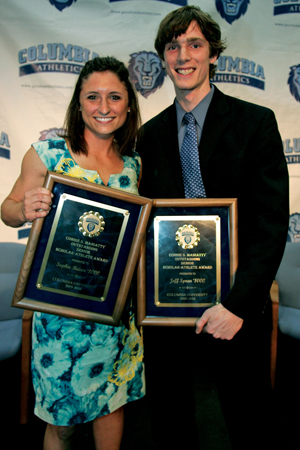 VARSITY 'C': Sophie Reiser '10 (soccer) and Jeff Spear '10 (fencing) were presented the Connie S. Maniatty ['43] Outstanding Senior Student-Athlete Awards at the 89th Varsity 'C' Celebration at Levien Gymnasium on May 4.
Reiser, Columbia's all-time leader in assists, was the Ivy League Player of the Year in 2009 and three times earned All-Ivy first team recognition. Spear, class salutatorian, was the 2008 NCAA sabre champion and a second-team All-American in 2009 and 2010. He received the NCAA's Elite 88 Award at the 2010 NCAA Championships and ESPN The Magazine/CoSIDA's Academic All-America of the Year Award, the first Columbian to be honored.
Phil Satow '63 (baseball) and Lisa Landau Carnoy '89 (track and field) were presented with the Athletics Alumni Awards.
STEINMAN: Sports historian and former sports information director Bill Steinman was one of seven people presented with Lifetime Achievement Awards by the College Sports Information Directors of America in San Francisco on July 5. Steinman publicized Columbia sports for 38 years, joining the Athletics Office in 1970 and retiring in 2008. He continues to serve as a valued resource because of his encyclopedic knowledge of Columbia sports history.
Alex Sachare '71