Around the Quads
Students Honor Davidson, Volk with Van Doren, Trilling Awards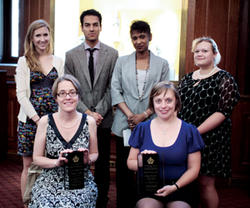 Katharina Volk (seated, left) received the Lionel Trilling Award and Jenny Davidson received the Mark Van Doren Award in Low Library on May 5. Joining them were (from left) Emelie Kogut '10, Nirvikar Jassal '10, Dean Michele Moody-Adams and Anna Malkan '11. Kogut, Jassal and Malkan were co-chairs of the Columbia College Academic Awards Committee, which selected the winners. PHOTO: TINA GAO '10 BARNARD
Jenny Davidson, associate professor of English and comparative literature, received the 49th annual Mark Van Doren Award, and Katharina Volk, associate professor of classics, received the 35th annual Lionel Trilling Award, on May 5 in the Faculty Room of Low Library. The winners were chosen by the Columbia College Academic Awards Committee, composed of students representing a cross-section of majors within the College.
The Van Doren Award honors a Columbia professor for his/her commitment to undergraduate instruction, as well as for "humanity, devotion to truth and inspiring leadership," and is named for Mark Van Doren, a Pulitzer Prize-winning poet, novelist and literary critic. The Trilling Award honors a book from the past year by a Columbia author that best exhibits the standards of intellect and scholarship found in the work of Lionel Trilling '25, the noted literary critic and author. Van Doren and Trilling were longtime members of the Columbia faculty.
Members of the Academic Awards Committee audited the classes of Van Doren Award nominees during the academic year to observe the quality of their instruction and read books under consideration for the Trilling Award. The committee met weekly to confer on the selection process and to evaluate nominated professors and titles before announcing the winners in April.
Davidson, who earned a Ph.D. from Yale in 1999, specializes in 18th-century literature, though she also is an expert on British cultural and intellectual history and English literature. She was cited by the committee for "her innovative assignments, her ability to facilitate student participation — even in lecture classes — and her genuine care for her students' educational experience."
Volk, who was honored for her 2009 book, Manilius and his Intellectual Background, earned a Ph.D. from Princeton in 1999 and has been teaching at Columbia since 2002. Manilius is the first English-language monograph on Marcus Manilius, a Roman poet of the first century A.D., and committee members found it "engaging and accessible, which is a testament to Volk's ability to demonstrate the intellectual and cultural milieu of Manilius."