Around the Quads
Student Spotlight: Thomas Sun '11 Strives To Eliminate Health Inequalities
By Nathalie Alonso '08
The two months Thomas Sun '11 spent as a volunteer at a primary care clinic in sub-Saharan Africa strengthened his interest in global health issues and influenced his subsequent goals.
During summer 2009, Sun interned at the Shifa-al-Asqam (Healers of the Sick) Socio Medical Center in Medina Baye, Senegal, which focuses on all aspects of maternal and child health services in addition to general emergency care. Sun spent his time there assisting the staff in day-to-day tasks such as dressing wounds.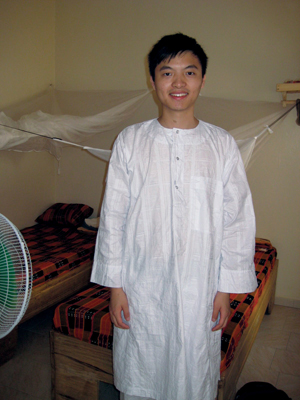 "Many kids came in with scratches and infections because they don't have shoes. They play barefoot in the sand and get caught on metal. We saw many injuries like those," says Sun, who was deeply troubled by the clinic's lack of medical supplies and poor hygiene.
In addition to assisting with medical needs, Sun collaborated with two volunteers to create new forms and digitize the clinic's medical records with the hope that these can eventually be used to produce data for statistical analysis. "The expertise that we were able to offer was mostly technological," he notes.
The Senegal internship was an initiative of the One World Foundation, a New York City-based nonprofit that matches young people with domestic and international projects that promote social justice. The United States Agency for International Development's Global Health Fellows Program provided the funding. A desire to visit Africa to inform his understanding of global health issues motivated Sun to apply, a process that required a written application and a phone interview.
Sun was born in China and was 10 when his family emigrated to Vancouver. "Having witnessed how the Canadian and American health systems work, I wanted a more global perspective on health care," he explains.
While in Senegal, Sun and the other volunteers stayed in a private, two-level building in Medina Baye. The desert heat was intense, he recalls, and power outages were frequent. At the clinic, Sun relied on Evelyn Kamgang, a fellow volunteer who spoke French, to serve as an interpreter for him with the doctors and nurses, who spoke French and Wolof, the local language.
"He always had his notebook out in which he would take copious notes of French phrases and their phonetic sounds, along with Wolof phrases and translations," recalls Kamgang of Sun. "He did not let the lack of French or Wolof speaking skills stop him from communicating with our Senegalese counterparts or participating in clinic activities."
Though the language barrier was frustrating, Sun gained a new goal from it. "I realized if I was going to be more effective on the global health scene I would need to be more proficient in at least another language," explains Sun, who is studying French and already is fluent in Cantonese and Mandarin Chinese.
Sun also considers his stay in Senegal his first real exposure to Islam, the country's predominant religion. He found the experience culturally enriching and was particularly struck by the role local religious leaders, known as sheikhs, played in promoting healthcare initiatives.
"They were the ones who spoke on the radio to get people to have their children vaccinated," he says.
Sun traveled to Senegal with the goal of expanding his knowledge of global health issues and succeeded; a similar resolve to broaden his horizons steered him toward the College two years earlier.
"Columbia drew me because it's in New York City and that comes with many cosmopolitan and international opportunities," says Sun, who completed the elite International Baccalaureate Degree Program, a rigorous two-year curriculum for high school students that yields a diploma recognized by universities worldwide. "I also was drawn by the well-roundedness of the Core, which is something the IB program also stresses and I found I enjoy."
Sun is majoring in philosophy and completing a pre-medical curriculum. He became interested in public health issues as a first-year at the College when he joined the Columbia chapter of Project HEALTH, a volunteer organization that recruits college students to provide public health interventions at local medical institutions.
"Part of why I am interested in health inequalities is because I was an immigrant, and I did not understand English when I moved to Vancouver. I felt a lot of the time I was neglected or ignored because of the language barrier," he says. "I find that I can identify with underprivileged patients who feel that they are ignored in some sense as well."
Through Project HEALTH, Sun has mentored children with sickle cell disease and staffed help desks at the Harlem Hospital Center and NewYork-Presbyterian Hospital emergency rooms that connect underprivileged families with resources relating to food, education, employment and housing.
"We [the students] are the ones who are directly servicing them," says Sun, who assumed a more administrative role as a campus coordinator for Project HEALTH in April. "With the recent economic crisis we have seen an increase in the number of cases."
In 2009, Sun was awarded the Goldman Sachs Global Leaders scholarship, which recognized 16 students nationwide who excelled academically and demonstrated leadership potential. He envisions himself pursuing an M.D./M.P.H., and though he is pondering different career paths, the value of his experiences thus far is not lost on him.
"I will be more aware of the socioeconomic factors that impact health," says Sun. "A doctor can only treat part of the health problem."
Nathalie Alonso '08,
from Queens, is a freelance journalist and an editorial producer of LasMayores.com, Major League Baseball's official Spanish language website.