Bookshelf
Turning Geeks into Superheroes
Apostolos Doxiadis '72 merges math and comic books
images: Alecos PapadatosFaster than a graphing calculator. Tougher than a complex proof. Able to turn a nerdy subject into a compelling story in fewer than 350 pages. It's Mathman!
Actually, it's Apostolos Doxiadis '72, who may be the first alumnus to fall into the same category as Batman and Superman. Doxiadis is the co-author and on-page guide of the best-selling graphic novel Logicomix: An Epic Search for Truth (Bloomsbury, $22.95), the story of Bertrand Russell and the search to establish a logical foundation for all of mathematics.
While the graphic novel may not seem the ideal genre to attack the greatest paradoxes of the 20th century, Russell as narrator adds enough POWs, ZAPs and KA-BLAMs to deserve a space alongside the best of superheroes.
"Russell had advantages that made him a dream narrator. He was known for his fluency and his dry, ironic sense of humor as well as his unconventional ideas and behavior," Doxiadis says. "He was more of a Huck Finn, i.e., star and teller of his own adventure, than an Ishmael in Moby Dick. Russell is undeniably one of the great heroes of the quest."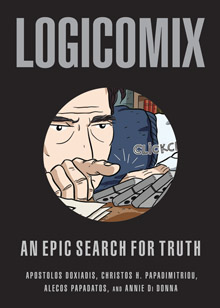 After a brief introduction by Doxiadis, his co-author, UC Berk­e­ley theoretical computer scientist Christos H. Papadimitriou, and artists Alecos Papadatos and Annie Di Donna, the reader meets Russell pushing his way through a crowd of anti-war protestors at the beginning of WWII.
The protestors appeal to his pacifism and ask him to join them instead of going into an American university to give a speech. Instead, Russell invites them in and proceeds on a tale that begins with his childhood and takes readers through an enthralling narrative of his tumultuous relationships, his fear of madness and his consuming journey into "The Crisis of Foundation," the search for unifying truths.
"Russell had a tragic childhood, and his falling in love with the 'cold beauty' (his words) of mathematics was partly an escape from horrible internal insecurities and dilemmas," Doxiadis says. "This personal stance seemed to us to be a perfect metaphor for the role that the quest for Foundations played in the troubled times in which it took place: an almost maniacal search for complete certainty in an increasingly uncertain and dangerous world."
The reader also is introduced to mathematicians A.N. White­head, Georg Cantor and Kurt Gödel, as well as their contributions to the quest.
Even without the gene-mutating exposure to a nuclear reactor, Russell is able to tackle the problems of his times in a compelling story that Doxiadis made seem effortless.
He has had practice, though. Doxiadis has made his living in the arts for three decades as a film and theater director, playwright and novelist. Uncle Petros and Goldbach's Conjecture: A Novel of Mathematical Obsession (1992) was an unexpected bestseller and was translated into more than 30 languages. The book merges math and narrative, focusing on a young man and his uncle, who is obsessed with trying to solve a famous mathematical problem.
"When I wrote Uncle Petros, which really marked my entry into this overlap, I wasn't thinking I was doing anything out of the way," he says. "Like all writers, I like to write about things I know and care about."
Doxiadis came to Columbia at 15, a self-described math nerd who "tended to view all required, non-mathematical courses as a nuisance." Moving into John Jay just after the protests of Spring 1968 and witnessing the toll of the Vietnam War and a junta in his native Greece, he got swept up in the political upheaval of the moment — he can even be spotted in protest footage that was used in Forrest Gump.
Through Contemporary Civilization and Introduction to World Literature, he also discovered Plato and Kant and the joy of analyzing Crime and Punishment.
Doxiadis did graduate work in applied mathematics at the École Pratique des Hautes Études in Paris before returning to Greece to work in theater and film, winning the prize of the International Center for Artistic Cinema at the 1988 Berlin International Film Festival for his second film, Terirem.
Since the mid-1980s, he has largely devoted himself to fiction, which he says has many similarities to math, especially when he is "in problem-solving mode" during the planning and editing phases.
The departure to the graphic novel came about by luck when two artist friends were looking for an idea for a book, and Doxiadis proposed his math story. He found the process frustrating, the writing being much more technical and exacting that what he was used to as a novelist. Still, he says he would like to try again.
For now, Doxiadis is completing three scholarly papers based on a cognitive study he recently finished on "how logical and mathematical thinking were born in the agonistic context of classical Athenian democracy, through influences both from judicial practice but also storytelling and poetry."
After that, he plans to leave math alone for a while.
"With these projects, I feel I'm pretty much done with it for a while and would like to go back to the usual subjects for a writer," he says. What might those be? "Oh, you know, sex and violence and passions and ideas and their interrelations — and suchlike!"
Ethan Rouen '04J
See how Apostolos Doxiadis '72 made his graphic novel, Logicomix.