Obituaries
1937
Robert M. Paul, retired teacher, Portland, Ore., on January 3, 2010. Paul was born in 1915 in New York City. He was active in Boy Scouts, especially the Sea Scouts, and attained Eagle Scout rank. Later, he worked in commerce for an importing firm and for R.H. Macy. Paul's first teaching assignment was at Wasatch Academy in Mount Pleasant, Utah. In 1942, he volunteered for the Navy and was a commanding officer of an LCI participating in the invasions of North Africa, Italy and Normandy. He remained active in the Naval Reserve and retired as lieutenant commander. Following WWII, Paul earned a master's in teaching of mathematics from Columbia. He taught on Long Island before moving to McMinnville, Ore., where he taught math and became dean of boys at McMinnville H.S., retiring in 1977 after 32 years. Paul began his 53-year seasonal career with the National Park Service in 1947; he earned a Superior Service Award. Survivors include his wife of 66 years, Mary (née Benbow); daughters, Janet Bones and her husband, Stan, and Nancy Trembath and her husband, Rick; and four grandchildren. Memorial contributions may be made to The Salvation Army or a charity of the donor's choice.
1941
Stanley H. Gotliffe, pediatric psychiatrist, Pawleys Island, S.C., on January 30, 2010. Gotliffe was born in New York City and was a Navy veteran of WWII and Korea. He earned a degree in 1944 from P&S and was a pediatric psychiatrist for 30 years at the Bureau of Child Guidance in the New York City School System and for 10 years at Bergen Pines Regional Medical Center Children's Unit. Gotliffe was his class' CCT Class Notes correspondent from 1994–2008. Survivors include his wife, Ruth; sons, Edward and his wife, Ginger, and Alan and his wife, Cathy; daughter, Nancy Von Eilbergh and her husband, Otto; and seven grandchildren. Memorial contributions may be made to Columbia University Gift Systems, Columbia Alumni Center, 622 W. 113th St., MC 4520, New York, NY 10025.
John M. Mullins, education executive, Holyoke, Mass., on July 11, 2009. Born on May 2, 1919, in New York City, Mullins served in the Navy during WWII, obtaining the rank of lieutenant commander. He and his family relocated to New York City after the war, and Mullins began his career at Columbia. Mullins and his family then moved to Demarest, N.J., where he held, among other positions, a nine-year term on the Northern Valley Regional School Board of Education. In 1961, Mullins took a position with the College Entrance Examination Board, where he worked for the remainder of his career. Mullins was a trustee of the American University in Paris for 35 years and remained interested in the educational issues of the day. He enjoyed following professional tennis on TV and attending the theater. Mullins is survived by his wife of 67 years, Alice Newton Drury; sons, John and his wife, Donna, Ross and his wife, Maria, and David and his wife, Betsy; seven grandchildren; and four great-grandchildren. Memorial contributions may be made to the Loomis Village Fellowship Fund, 20 Bayon Dr., South Hadley, MA 01075.
1948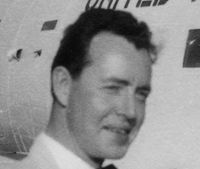 Carter H. Hills '48 Carter H. Hills, retired diplomat, Arabist, Washington, D.C., on December 8, 2009. Hills graduated from the College with honors and earned an M.A. from Princeton in 1950. He received an Aramco fellowship to study Arabic and Middle East Studies at the American University of Cairo and was a fellow at the Johns Hopkins School for Advanced International Studies. Hills, a Navy WWII veteran, was appointed under the Eisenhower Commission to the United Nations Reliefs and Works Agency, where he worked in Lebanon, Jordan and Egypt in the 1950s. He subsequently worked in the Department of State's Bureau of International Organizational Affairs. During his tenure at the Department of State, Hills worked in Washington, D.C., Paris (with the Organization of Economic Cooperation and Development) and Rome. In Rome, he was deputy and acting U.S. permanent representative to the UN Food and Agriculture Organization before permanently joining FAO. For the remainder of his career, Hills was responsible for negotiating agreements and overseeing FAO's programs in the Middle and Near East, including Afghanistan, Iran, Iraq, Jordan, Yemen, Saudi Arabia, Kuwait and other Gulf states. Hills spoke six languages. He is survived by his wife, Joan; daughters, Sarah, Jennifer and Alison '96; and four grandchildren.
Other Deaths Reported
Columbia College Today also has learned of the deaths of the following alumni. Complete obituaries will be published in an upcoming issue, pending receipt of information and space considerations.
1940
Theodore S. Hecht, magazine correspondent, Forest Hills, N.Y., on January 1, 2010.
1942
Waldemar R. Hertwig, retired chemical engineer, San Diego, on April 1, 2010. Hertwig entered with the Class of 1942 but instead earned a B.S. in 1942 and a Ph.D. in 1943 from the Engineering School.
1943
Philip J. Bliss, advertising v.p. and personnel director, Portsmouth, N.H., on April 22, 2010.
Warren W. Eason, professor and musician, Columbus, Ohio, on March 22, 2010. Eason earned an economics certificate and Ph.D. in 1951 and 1959 from SIPA and GSAS, respectively.
William R. Loweth, Tequesta, Fla., on May 5, 2010.
William M. Webb, retired engineer, Louisville, Ky., on April 16, 2010. Webb earned a B.S. and an M.S. in mechanical engineering in 1943 and 1949, respectively, from the Engineering School.
1944
William V. Beshlian, physician, Glen Rock, N.J., on April 24, 2010.
Kenneth G. Englar, retired engineer, Newport Beach, Calif., on March 2, 2010. Englar entered with the Class of 1944 but instead earned a B.S. in 1943 from the Engineering School.
Harold W. Polton, paper recycling firm partner, real estate development and management executive, Pompton Plains, N.J., on April 2, 2010.
1945
Howard H. Bess Jr., surgeon, Denver, on May 2, 2010. Bess earned a degree in 1948 from P&S.
Donald W. Johnson, radiologist, Bloomfield, Conn., on May 7, 2010. Johnson earned a degree in 1948 from P&S.
1946
Raleigh Estrada, salesman, Chicago Heights, Ill., on May 12, 2010.
1948
Henry H. McDonald, retired ophthalmologist, Pasadena, Calif., on April 9, 2010.
Salvatore S. Stivala, chemist and retired professor, Englewood Cliffs, N.J., on March 26, 2010.
1949
Kenneth F. Hadermann, retired teacher and school administrator, Lake Wylie, S.C., on April 25, 2010.
Theodore O. Prounis, attorney and management consultant, New York City, on May 22, 2010. Prounis entered with the Class of 1949 but instead earned a degree in 1950 from the Business School.
1950
Desmond J. Nunan Sr., retired educational system administrator, Ocean City, N.J., on May 5, 2010.
1951
Ernest J. Petrulio, pediatrician, Trabuco Cyn, Calif., on October 20, 2008.
1952
Marvin L. Yates, chemist, Port Angeles, Wash., on March 4, 2010.
1954
Murray Hilibrand, Dallas, on May, 9 2010. Hilibrand earned a B.S. in electrical engineering in 1955 from the Engineering School.
George C. Muscillo Jr., physician, Scarsdale, N.Y., on May 10, 2010.
Max R. Pirner Sr., retired engineer, Humble, Texas, on May 9, 2010. Pirner earned a B.S. in industrial engineering in 1955 from the Engineering School.
1956
Paul I. "Ivy" Bartholet, controller, Westerly, R.I., on May 20, 2010.
1958
James R. Meyers, retired librarian, Ithaca, N.Y., on April 15, 2010.
Robert R. Ott, Mt. Lebanon, Wash., on March 27, 2010.
1960
T. Irving Chang, Honolulu, on April 1, 2010.
Norman H. Nordlund, pilot, Brookfield, Conn., on April 28, 2010.
1965
George W. "Bud" Goth, Berkeley, Calif., on November 28, 2009.
1975
Joseph F. Slade III, physician, professor of orthopedics and rehabilitation, Guilford, Conn., on May 21, 2010.
1980
Joseph V. DiGiuseppe, deputy city solicitor, Philadelphia, on May 24, 2010.
1994
Mildred E. Niss, poet and web artist, North Tonawanda, N.Y., on November 29, 2009.
1949
Louis H. Schmid, microminiature electronics expert, Oceanside, Calif., on November 29, 2009. Born on October 1, 1927, in Brooklyn, N.Y., Schmid graduated from Brooklyn Tech H.S., and after serving in the Army at the end of WWII, finished his studies at Columbia, graduating with a double major in physics and chemistry. Schmid was a pioneer in the military microminiature electronics industry with a career spanning more than 45 years. His first job was at Sperry Gyroscope, and he subsequently helped establish the microminiature connector divisions at ITT Cannon, Microdot and Cinch before founding Min-E-Con and UltiMate, both of which continue to thrive. Schmid married Verda Lee Schmid in 1975; she survives him, as do his children, Marilyn, Linda, Jon and Rob; stepchildren, Ron, Judy, Victor and Ken; six grandchildren; and six step-grandchildren.
1952
Warren R. "Pete" Sanchez, retired computer analyst, systems designer, banker and entrepreneur, Beaufort, N.C., on December 2, 2009. Sanchez was born January 11, 1932, in New York City and grew up in Mineola, N.Y. He served in the Army and while stationed in Frankfurt in 1955 met his first wife, Sonja Trautner. Sanchez earned a degree from the Business School in 1957 and the same year received his CPA certification and began his business career at Ernst & Ernst in Manhattan. He continued his software and technology career with a number of companies, including several he founded. In 1997, Sanchez retired. Several years later, he started volunteering full time at the Museum Boat Shop. He chaired the Board of Sister Cities of Beaufort, volunteered with the Friends of NC Maritime Museum and belonged to the Morehead City-Beaufort Boating Club. Sailing dominated his life, but he also loved model trains, riding funiculars and travel. Sanchez is survived by his second wife, Gerda; mother, Pearl; sons, Francis and his wife, Colleen, and Michael and his wife, Nancy; stepson, Paul Hohensee; stepdaughters, Joanne Luce and Louise Valdov; five grandchildren; nine step-grandchildren; and five nieces and nephews.
1954
Ralph S. Mattson, mining engineer, Green Valley, Ariz., on October 17, 2009. Mattson was a Henry Krumb Scholar at Columbia. He earned a B.S. in mining engineering in 1955 from the Engineering School and became a mining engineer, running gold and copper operations in the Orient, South America and elsewhere. Mattson is survived by his wife of 27 years, Prabha (Anneke); two brothers; several nephews, nieces and cousins; and extended family members in Finland, Thailand and the Netherlands.
Lisa Palladino