Obituaries
Arthur S. Weinstock '41, Loyal and Generous Alumnus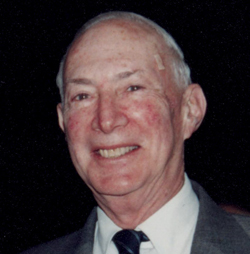 Arthur S. Weinstock '41 of White Plains, N.Y., a devoted and generous Columbian, died on April 17, 2010, after a brief illness. Weinstock worked for Exquisite Form and was the general manager of manufacturing in Puerto Rico prior to retirement.
A longtime contributor to the College as well as an involved alumnus, Weinstock, along with his late wife, Marian E. (Betty), to whom he was married for 52 years, endowed the Arthur S. and Marian E. Weinstock Scholarship for College students in financial need as well as the Arthur S. Weinstock Recognition Award for participation in intercollegiate athletics. He served as president of the Society of Columbia Graduates, treasurer of the Columbia Club of Westchester, was on the Board of Columbia/Barnard Hillel and was a 1991 Alumni Medalist.
Weinstock was the "one most responsible" for class reunions at Arden House for about 45 years, noted CCT class correspondent Robert Zucker '41 in this issue's Class Notes. Weinstock himself at times wrote the '41 column, stepping in occasionally for Stanley H. Gotliffe '41. Weinstock also contributed regularly to Class Notes with classmate news.
A member of Zeta Beta Tau, Weinstock served on its Supreme Council in addition to being an honorary director on the Foundation Board of Directors. Active in the congregation at Temple Israel Center in White Plains, he dedicated a classroom in its Hebrew School. Weinstock also was a donor to the Holocaust and Human Rights Education Center, the New York ALS Association and the Grace Church Community Center in White Plains.
Weinstock played baseball and basketball while at the College, managing the latter team.
"Arthur and I met in 1937, our freshman year, at Zeta Beta Tau," said Ray Robinson '41, "and we remained friendly the rest of our lives. He loved Columbia, the New York Yankees and Temple Israel in equal proportions. Rain or shine, Arthur attended Columbia football and baseball games and never lost hope for our teams.
"To me, he was indisputably the sweetest person I've ever met."
Dr. Melvin Hershkowitz '42, also a longtime friend of Weinstock's, noted, "Arthur was one of the kindest, most generous and most considerate friends I had at Columbia. These traits were part of his intrinsic character, and they persisted throughout his life. I mourn his loss and will never forget his extraordinary qualities and his loyalty and devotion to our beloved alma mater."
Weinstock is survived by his nieces, Margaret (Peggy) Kerner and her husband, Jonathan, and Carol Landsman Hannett and her husband, Steve.
Memorial contributions may be sent to the Arthur S. and Marian E. Weinstock Scholarship c/o the Columbia College Fund, Columbia Alumni Center, 622 W. 113th St., MC 4530, 3rd Fl., New York, NY 10025 or Temple Israel Center, 280 Old Mamaroneck Rd., White Plains, NY 10605.
Lisa Palladino and Jesse Thiessen '11 Arts