Alumni Corner
Business Matchmaker Does Well by Doing Good
By Sarah Leah Gootnick '01
At some point in my mid-20s, my tolerance for the 9-to-5 corporate lifestyle expired, so I packed my bags and moved to Israel. I wanted to learn more about my Jewish heritage and develop a deeper understanding of Jewish spirituality. From the moment I arrived, however, I quickly developed a competing priority.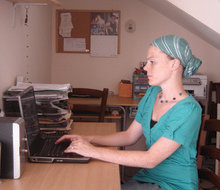 Tal Erin Shamberg, one of Secretary in Israel's assistants, in her home office in Chashmonaim, Israel. Shamberg is from Richmond, Va.PHOTO: BENZION SHAMBERGAll around me, I encountered smart, talented, highly motivated people who were unable to find reliable employment. Even among those who had jobs, as is the case with my friend Anat, a college-educated American, the positions commanded a startlingly low wage. Anat was making $6/hour — and that's because she is fluent in Hebrew and English. Anat told me recently how happy she was that after a year of working diligently for her firm, she is now making $7/hour! Spurred by frustration, I decided that I had to make a difference, and used entrepreneurship as a force to achieve change.
One night when I was in Jerusalem, a tech-savvy friend who works in the San Francisco Bay Area called me and said, "I can't take my work load anymore. I'mseeing clients from 8 a.m.–5 p.m.every day, and then I do paperwork until 10 at night. I'm totally over­whelmed." Instinctively I blurted out, "You need a secretary." It was the obvious solution to his problem. It was also, as it turns out, the solution for some of these unemployed women in Israel.
I realized that I had precisely the right person with whom to pair my San Francisco friend, Kirk — my friend Margelit, an American college graduate who recently had moved to Israel, where she lives with her husband and children. Margelit and Kirk had matching temperaments and the right skill sets to complement each other, and their business relationship soon proved to be a success.
Courtesy of powerful tools available online (such as Google Docs, LogMeIn.com and others), Margelit and Kirk have been able to work together successfully for the past year-and-a-half. Inspired by their success, in January 2008 I created Secretary in Israel LLC, a business that promotes and facilitates efficient working relationships between entrepreneurs in the States and highly competent American assistants working in Israel.
Secretary in Israel has now connected dozens of American business owners with virtual American assistants in Israel. Every client's needs and expectations differ, but services offered include appointment scheduling, blog and Web site updating, travel booking, mailing letters and cards, invoicing clients, entering data, sending e-newsletters, updating shopping carts, phone work and other miscellaneous tasks as requested by the client.
I live and work in Passaic, N.J., and run the business with the help of Shoshi Osofsky Ross '06 Barnard, who lives in Ramat Beit Shemesh, Israel. Ross is the COO, in charge of locating new assistants and coaching our clients on how to maximize their relationships with our secretaries. My focus is sales and marketing.
The two-fold mission of Secretary in Israel is to provide our clients with outstanding part-time assistants, which they could not find or afford locally, and provide our assistants with a livable wage, with hourly rates double or triple what they'd find in Israel, a country with a high poverty rate. The majority of our assistants are working mothers — in many cases, the sole breadwinners in their families. By enabling our assistants to work from home, they don't waste time or money commuting to and from an office. In addition, they are able to spend more time with their children.
We locate our assistants by posting on job search Web sites in Israel and through word-of-mouth. In 2008, we reviewed more than 500 résumés and interviewed more than 175 assistants, and we're only placing 45 assistants. Since each of our assistants works part-time for each of our clients, most of them work with two or three clients at a time.
Although I was intrigued by the concept of using business as a positive force to change problems in the world prior to attending Columbia, I refined my thinking during my four years in Morningside Heights. In Ritu Birla '87's "Contemporary Civilization" course and in "Introduction to Buddhism," taught by the Jey Tsong Khapa Professor of Indo-Tibetan Buddhist Studies Robert Thurman, I explored the meaning of "compassionate self-interest"; namely, doing well by doing good. The popularity of these ideas has mushroomed during the nearly 10 years since I graduated from Columbia, but while they are now part of the cultural zeitgeist, there are still very few companies that actually run their businesses on these principles. At Secretary in Israel, we are trying to impact our clients and our assistants in a positive way as we run our business.
Shortly prior to my Columbia graduation, I was sitting in The West End with a friend who asked me what my major was. "Philosophy," I told him. Skeptically, he prodded, "So what are you going to do with that? Philosophize about unemployment?" Little did he know that my career would be devoted to creating employment opportunities for American women living in Israel — including, incidentally, a position for me with my degree in philosophy.
Sarah Leah Gootnick '01
founded Secretary in Israel. She is from Marin County, Calif., and graduated from The Branson H.S. Gootnick lives in Passaic, N.J.