Around the Quads
Five Minutes with... Steven Mintz
Steven Mintz is a professor of history and the director of the GSAS Teaching Center. Formerly a fellow at the Center for Advanced Study in the Behavioral Sciences at Stanford, he received his Ph.D. from Yale and was, for many years, the Moores Professor of History at the University of Houston. He is the author and editor of 13 books, including Huck's Raft: A History of American Childhood. The creator of the Digital History Web site, a free online resource for history teachers and students, Mintz is national co-chair of the Council on Contemporary Families and president-elect of the Society for the History of Children and Youth.
Where did you grow up?
I'm from Detroit, the motor city, the murder city.
If you weren't a history professor, what would you want to be?
I think I would be doing something with education defined broadly. It might be teaching school. It might be working with museums. It might be working with new media. But anything I would be doing would involve education of some sort.
How did you get interested in history?
When I was an undergraduate, I had a chance to actually be a historian for a moment. I was researching an African-American writer who later passed for white, and because of that, very few people had worked on him. His name was Jean Toomer, and he is now quite well known. He had a lot of friends, among them Georgia O'Keeffe. I was able to visit her because no one had asked her about her friend in 60 years. I was so young I had to hitchhike because I couldn't rent a car. When I knocked on her door in New Mexico, she said, "A lot of strange things wander in. I see they still do." It was a life-changing experience.
How did you end up at Col­umbia?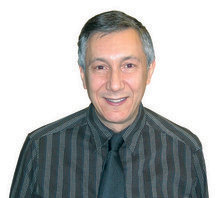 I do a lot with professional development of educators. I was absolutely delighted when GSAS was interested and shared my vision. The vision was that a teaching center should not be a remedial project. It should be a catalyst for innovation. It should be an innovation incubator. It should prepare graduate students to teach here at Columbia, but it also should prepare them to teach elsewhere. More than that, it should also develop community and school partnerships. It should be a leader in promoting educational innovation, and that's been what's made this tremendously exciting.
Can you talk about the Digital History project you created?
For anyone who came of age in the 1960s, there's a sense that we owe a debt, that we grew up in a Utopian period, and that we therefore have some responsibility to keep those Utopian dreams alive, however society has changed. My effort to do that was to create a Web site [www.digitalhistory.uh.edu] that would provide teachers and students with high-quality resources at no cost and would really transform K–12 history teaching by allowing students to turn the study of history into active hands-on learning emphasizing inquiry and investigation.
Is it achieving that goal?
The site is used by roughly 30,000 students and teachers every day, which is way more than any of the books I've written have sold. Therefore, it seems to have found an audience.
What are you teaching this semester?
I teach a class called "America Through Sight and Sound." The first half was to 1877, and the second half, which is this semester, is since 1877. It's a class that looks at film, photography, art and music as windows into American culture.
What are you working on right now?
The next big project is the history of adulthood. Adulthood is the black hole in historical scholarship. We have a lot of books on other aspects of life, and we have a huge selection of self-help literature about adulthood, but what we don't have is a history of adulthood. It's a foolhardy project, too broad. On the other hand, those are the best projects to work on, I've always discovered, because you're trying to grapple issues that all of us are wrestling with: Is the midlife crisis a new invention, or has it always existed? How have adults dealt with the inevitable pains, sufferings, disruptions, illnesses, losses that accompany adulthood?
Interview and photo:
Ethan Rouen '04J