Around the Quads
Campus News
HISTORIC PUPIN: On January 29, the American Physical Society (APS) designated Pupin Hall and the Department of Physics as a Physics Historic Site, complete with a plaque indicating as such, in recognition of Isador Isaac (I.I.) Rabi '27 GSAS' discovery of magnetic resonance. Rabi joined the Columbia faculty in 1930 and received the 1944 Nobel Prize in Physics. In 1964, he was one of the first faculty members to receive the title of University Professor.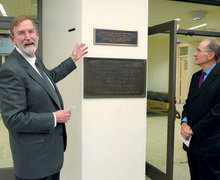 American Physical Society Editor-in-Chief Gene Sprouse (left) presents Pupin Hall's Physics Historic Site plaque to E.V.P. for Research David Hirsh. Photo: David WentworthProfessor A.J. Millis, chair of the Department of Physics, delivered introductory remarks at the event. "The discovery we are honoring today concerns magnetic resonance, the use of an alternating electric field (in Rabi's day, a radio wave) to tickle a quantum mechanical system, causing it to jump from one energy state to another," he said. Rabi's discovery has made possible research tools used in nearly all scientific fields and a significant advancement in modern medicine — MRI scans.
The plaque was presented by Gene Sprouse, APS editor-in-chief, and accepted by David Hirsh, e.v.p. for research. Hirsh commented, "Pupin Hall, where we stand today, is indeed a site of great significance for science. Great science has happened and is happening within these walls. Eight Nobel Prizes have been awarded so far for work done here … On behalf of the University, I thank the American Physical Society for recognizing Professor Rabi and the spirit of scientific discovery that characterizes Columbia then and now."
Gordon Chenowith Sauer '11 Arts
OH, BROTHER!: The Burgers and Basketball event on January 30 began as an evening of brotherly love when more than 100 Class Agents, student leaders and members of the Classes of '64, '69 and '84 gathered for dinner at Havana Central at The West End. But once the Columbians got to Levien Gym, that love was dwarfed by an intense sibling rivalry played out on the court.
The Columbia Lions men's basketball team, coached by Joe Jones, whipped the Yale Bulldogs, coached by Jones' brother, James, 53-42 in the Lions' first Ivy League victory of the season.
The Columbia College Office of Alumni Affairs and Development-sponsored event started with stu­­dents, alumni and their families enjoying burgers at Havana Central. Once they were full, they marched across Broadway, cheering and wav­ing blue and white pompons to join the raucous crowd at the gym. The game saw several lead changes, which pumped up the crowd even more. With less than eight minutes left in the game, Columbia took the lead and didn't look back.
Ethan Rouen '04J
DIVERSITY: Of all Ivy schools, Columbia has the highest per­centage of black students in the Class of 2012 — 12.1 percent — according to The Journal of Blacks in Higher Education. The University bested Yale, 10 percent; Harvard, 8.4 percent; and Princeton, 7.7 percent.