Features
Moody-Adams Named Dean of the College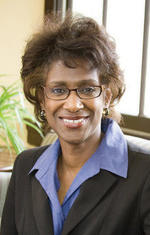 Michele M. Moody-Adams Photo: Gary Hodges / www.jonreis.comMichele M. Moody-Adams, vice provost for undergraduate education, professor of philosophy and Director/Hutchinson Professor of Ethics and Public Life at Cornell, has been named to succeed Austin Quigley as the 15th Dean of the College, effective July 1.
"The Columbia undergraduate experience combines the best ideals of a liberal arts education with the highest respect for cutting-edge scholarship and research," said Moody-Adams, who also will serve as the University's vice president for undergraduate education. "I look forward to joining the Columbia community and to taking a leading role in the continuing development of its outstanding undergraduate programs."
"I am so pleased that Michele Moody-Adams is the person who will succeed me as Dean of the College," said Quigley, who is stepping down after 14 years in that position, the second-longest tenure in the College's 255-year history. "She has a splendid record of academic and administrative achievement and has all the abilities needed to sustain the momentum of the College's progress."
Moody-Adams is an accomplished scholar and academic administrator who previously taught at Wellesley, Rochester and Indiana. She came to Cornell from Indiana in 2000 when she was named the Hutchinson Professor and Director of the Program on Ethics and Public Life. She has served for the past four years as Cornell's vice provost for undergraduate education.
She has produced an extensive body of work in moral philosophy, including her 1997 book, Fieldwork in Familiar Places: Morality, Culture, and Philosophy. As an administrator, she has been responsible for ensuring the integrity and coherence of undergraduate curriculum and instruction at Cornell and overseeing a number of academic and residential initiatives. Before that, she was a professor and associate dean for undergraduate education in the College of Arts and Sciences at Indiana.
Moody-Adams received B.A. degrees from both Wellesley and Oxford and her M.A. and Ph.D. in philosophy from Harvard. She has won numerous academic honors, including a National Endowment for the Humanities Fellowship and a Marshall Scholarship.
"Professor Moody-Adams' extraordinary commitment to teaching, scholarship and public service, as well as her hands-on
experience as an academic administrator for undergraduate education, make her uniquely well suited to this new challenge," said President Lee C. Bollinger, who announced the appointment on February 26. "Hers is the kind of approach to undergraduate education imagined by Columbians who created and nurtured a Core Curriculum that has called on generations of students to reflect deeply on our shared intellectual traditions, challenge their own preconceptions about the world, remain open to the perspectives of others and grapple with the questions essential to active citizenship in a democracy."
"Michele Moody-Adams comes to Col­umbia with an extraordinary background in the administration of undergraduate education," said Vice President for Arts and Sciences Nicholas Dirks. "Even as her own scholarship has bridged old debates between timeless universalism and age-specific relativism, she is deeply committed to the traditional mission of general education and the liberal arts in the larger setting of our vibrant and global research University. I am thrilled to know I will be able to work with her in the years ahead."
Moody-Adams was recommended by a search committee headed by Dirks that included faculty, alumni and students.
"The alumni of Columbia College have every reason to be proud and excited by the appointment of Michele Moody-Adams as the next dean," said Geoffrey J. Colvin '74, president of the College Alumni Association. "The search process was thorough, and there was consensus on the part of the alumni participants — Jonathan Lavine '88, Lisa Landau Carnoy '89 and me — as well as other members of the committee, that Michele was an outstanding first choice. For so many of us, the intellectual challenges and personal experiences we had at the College helped shape who we are as people, what we do as professionals and why we are active citizens. It's clear that Professor Moody-Adams has a deep appreciation for the central significance of Columbia College at the University, and we know that generations of future Columbia College students and alumni will benefit from her leadership and scholarship."
Adil Ahmed '09, who served with Sarah Weiss '10 as the students on the search committee, said, "Michele Moody-Adams' enthusiasm and intellectual prowess is contagious. Columbia College students are going to embrace her as one of their own. She showed us that she has a sharp ability to lead and craft a short-term and long-term vision for Columbia College. She was highly regarded for being open and accessible to students in her tenure at Cornell, and it is individuals like her that make me excited to be active as an alumnus in the coming years."
Moody-Adams' husband, James Eli Adams, will join her at Columbia as a visiting professor in English and comparative literature. He is a scholar of Victorian literature and culture and has been a faculty member in the English department at Cornell since 2000.
Alex Sachare '71