Features
Q&A: Dean Austin Quigley, Part II
By Alex Sachare '71
"We are now able to attract 21,300 applications for 1,000 places with one of the best admit rates in the country."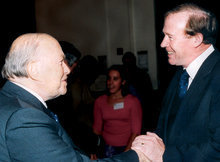 Dean Austin Quigley with John Kluge '37, the University's most generous benefactor, at a Kluge Scholars reception. Kluge's $400 million gift was "a watershed moment" for Columbia. PHOTO: EILEEN BARROSOLast May, Austin Quigley announced his plans to step down as dean of Columbia College at the completion of the 2008–09 academic year. His tenure of 14 years is the second-longest tenure in the College's 255-year history. CCT editor Alex Sachare '71 visited Quigley in his Hamilton Hall office for a wide-ranging interview, the first part of which appeared in the November/December issue. In Part II, Quigley picks up the story beginning with the tumultuous week in 1997 when he was fired and then promptly rehired, and speaks personally about what he describes as a mission rather than a job.
---
Early in your tenure as dean, you went through a hectic week in which you were fired by the central administration and then, following an outpouring of support from a number of groups, including College alumni leaders, you were rehired. How did that shape the years that followed and the way you did your job?
Long before I became dean, the structural relationship between the College and Arts and Sciences had been problematic. Different people moved in and out of the leadership positions and had difficulty working with each other because of the structural misalignment, which was more influential than the personalities involved. The underlying issue was how Arts and Sciences built its governance structure and where the College fits in that structure.
Columbia had been experimenting with various alignments for Arts and Sciences governance since its inception. At one point, the dean of the graduate school ran Arts and Sciences; at another, the dean of the College also was the vice president of Arts and Sciences and dean of the faculty. In the mid-1990s, there was an attempt to make the deans of all the schools equal partners in the collective governance of Arts and Sciences, with the dean of faculty as vice president of Arts and Sciences in a leadership role. It was a governing structure of one school, one voice, in the democratic tradition. But what that was masking was the very different relationship between each of the schools and the central Arts and Sciences. Not the least of this is budgetary, where the College provides roughly 60 percent of Arts and Sciences net tuition funds and most of its fundraising potential. None of the other schools brings to the table even one-third of what the College brings.
What has happened since is a steady evolution of the Arts and Sciences governance structure to much more of a one-on-one relationship between each of the school deans and the vice president of Arts and Sciences, Nick Dirks. He has lots of one-on-ones with the deans and fewer collective meetings, because we are very different schools with differing relationships to the center, and differing relationships to the faculty, and differing relationships to each other. What the governance structure is trying to accommodate right now is the importance of those differences, rather than trying to reduce them all to a false commonality.
The transformation of the College in the last several years has gathered pace since Nick became vice president and established a much closer working relationship. Recognizing the instability of what he inherited and that collective governance masked key differences, Nick was looking for a new structure. Each of the school deans has worked very closely with Nick. So we in the College have come to define a different working relationship with Arts and Sciences that has enabled us to align our interests and develop shared goals. This has addressed the structural issues that provoked the crisis of 1997.
Could you elaborate on the relationship between the College and Arts and Sciences?
The centrality of the College to the University, which was part of our earlier conversation, must inevitably lead to the centrality of the College in Arts and Sciences, because you can't have one without the other. This should not, of course, be at the cost of the appropriate commitment of Arts and Sciences to all the other schools. But the fact is that the public image of the University, and hence of Arts and Sciences, sits significantly on the shoulders of Columbia College. For better or for worse, what gets publicity these days is what's happening at your undergraduate college, what are you doing to attract and educate the citizen leaders of the next generation, how broadly based, selective and inclusive is your class? That's not just true of Columbia, it's what's happening around the country. It matters enormously that the President of the United States, his Attorney General, the Chair of the FCC and the Governor of New York are all Columbia College graduates. It also matters that we are now able to attract 21,300 applications for 1,000 places with one of the best admit rates in the country, and that at the same time, we have one of the most inclusive classes in the nation. No one should underestimate what all this means for the influence of Columbia on the nation's future and for our stature at home and abroad. So it's very important that Arts and Sciences be closely aware of the needs and priorities of the College and work very hard to relate those advantageously to the needs and priorities of the other schools.
"University politics has been a spectator sport for many generations. C.P. Snow wrote about it in a celebrated novel called The Masters."
The second thing, as I mentioned, is the practical matter of the budgetary dependence of Arts and Sciences on the College. A disproportionate part of the Arts and Sciences budget derives from the College. You don't want the budgetary realities to be the tail that wags the dog, but it's also foolish to try to evade its implications, not least because of the need to maximize the College's capacity to strengthen the faculty that serves all the schools.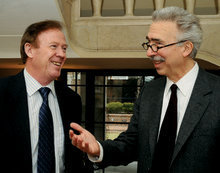 Quigley and V.P. of Arts and Sciences Nicholas Dirks work closely on many College and Arts and Sciences projects. PHOTO: EILEEN BARROSOThe growth potential of fundraising in a college of our stature far outweighs that of all the other Arts and Sciences schools combined. That's just a fact. Thus, budgetary investments in the College are not just investments in the quality of the College, but in the school that provides the largest development potential for the whole of Arts and Sciences. The more Arts and Sciences invests in the College, the larger the development potential for all of the others schools as well as for the College. It's not, shall we fund the College versus the other schools, but which shall we fund first, given that there is likely to be a much greater return from the College in terms of resources for the whole. That's an important factor that used to be off the table almost entirely to the disadvantage of all concerned. The recognition that when you invest in the College you also invest in the Arts and Sciences and the University as a whole has come much more steadily to the fore in recent years, and it's working wonderfully well, as it should. The old Arts and Sciences structure obscured that and promoted a situation where all schools struggled together instead of all progressing together. Changing this has been at the heart of the recurring political tensions during my term as dean.
The single most visible of many visible implications of the new approach, aside from the really rapid increase in the number of Arts and Sciences faculty chairs now being endowed by College affiliates, is the recent Kluge gift. When John Kluge '37, always our most generous benefactor, provided a $400 million gift to the University last year, $200 million of it was for the College and $200 million of it was tagged for the other Arts and Sciences schools. Internally, people have not yet grasped what a wastershed moment this was for the University and for the role of College and its alumni in it. This gift and the many gifts for Arts and Sciences chairs in the current record-breaking campaign are clear indications of the returns for the University if it invests sufficiently in the College. The old governance structure of six apparently equal schools was not only out of touch with all sorts of realities that needed to be accommodated in the way things run, but it also worked to the disadvantage of the other schools. The new structure still is evolving, but the one-on-one relationship that I now have with Nick Dirks does accommodate our needs and aspirations and our relationship to the collectivity much better than used to be the case. My successor as dean will hold an Arts and Sciences title that reflects this change and a much more influential role for the College dean in Arts and Sciences and University governance.
That explains, structurally, what has taken place during the past 10–15 years. But on a more personal level, what about that experience in 1997 shaped the way you approached your job?
University politics has been a spectator sport around the world for many generations. This is not a new issue; C.P. Snow wrote about it 50 years ago in a celebrated novel called The Masters. But what you see in the context of an academic political debate depends upon where you sit. I have enormous respect for all of the participants in the disagreements back then, and I would never want to begin to intimate that they weren't acting with the highest motives and with the best of intentions in doing their jobs the way they felt they should be done. It's important that that be said. Beyond that, we all know how indispensable great universities are, but also how fragile they are, so custodial responsibilities have to be discharged with great care. Sometimes, however, people of goodwill can disagree on fundamentals, and then people's personalities do have some influence on the way events unfold. To some extent the events of 1997 have had a lasting impact on how I have pictured what I needed to do for Columbia and how I would go about it.
Quigley Endowment
Inspired by a group of College alumni, the Dean Austin Quigley Endowment for Student Success has been announced to pay tribute to Quigley's 14 years of service as Dean of the College. The endowment's goal is to raise $50 million to support, initially, undergraduate advising and career education programs. To date, commitments for approximately $25 million have been received.
From a personal point of view, well, I don't take on responsibilities lightly and I take the duties of leadership very seriously. I'm a good listener when I hear other opinions, and I try not to make decisions that are under-informed. By character I am someone whose determination increases, rather than decreases, in the face of complexity and challenge. That's part of the legacy, I know, of being a serious athlete in my youth. I feel very comfortable with responsibility and with dealing with crises and contexts where there is a fair amount of disagreement and debate. Though the first responsibility is always to listen carefully to opposing viewpoints before making decisions, there are often values at stake whose defense is part of the responsibility of the job. There is an old Groucho Marx joke that runs something like, "I have principles, you know, but if you don't like those, I have others." That will not serve in this kind of role, and on more than one occasion I have described the role of College dean as a mission and not just a job, because of the responsibility that is entailed to provide the next generation of leaders with an excellent education.
You should never take on a role like this one because you like to have a title or because you think it's going to further your career or make you feel more important. A good, old fashioned, public service impulse has to govern the career of a successful college dean. You have to want to do something for the good of the institution and understand it is much more important than you are. So, to answer your question, from a personal point of view, the challenges of political clashes have not been a deterrent, indeed the reverse. They tend to clarify the values at stake and the importance of devoting your time to them, particularly if other people demonstrate that these values are their values, too. I signed up for four years but served for 14 because of that sense of shared mission. If other leaders line up alongside your leadership, important things can be achieved together, and that clarification of shared values and shared commitments was one of the consequences of the events of summer 1997. I believed then as I believe now that what was going to be good for the College would also be good for the University, and that has certainly proved to be the case.
"Many families I knew, including my own, had missing members buried in distant graves somewhere at home or abroad."
You've often used the phrase "intergenerational community" to describe the College and its family. Could you explain where that comes from?
Everybody is influenced to some extent by the circumstances in which they grew up. I grew up in England after the Second World War, after a period of destruction on a global scale. It's hard for people in the United States to grasp how long the effects of that war lingered in England. The bombed and derelict buildings stayed that way for many, many years. Rationing of food was still typical into the early and mid-1950s. Normal life certainly didn't resume when peace came in 1945. I vividly recall to this day the first time I went to a candy store (sometime in the 1950s) when I could finally buy anything I wanted without producing the dreaded coupons that rationed out some tiny portion for so many years.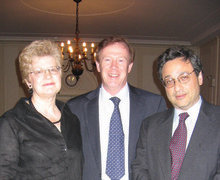 Quigley with 2006 winners of the Mark Van Doren and Lionel Trilling Awards: Professor of History Elizabeth Blackmar and the Julian Clarence Levi Professor in the Humanities Andrew Delbanco. Photo: Masha Volynsky '06Growing up in that post-war environment in one of the many devastated European countries leaves a lasting mark on you. And in England, it wasn't just that our industrial base was bombed or obsolete but that what was lost with it was an international role and standing that would never be recovered. After two world wars involving incalculable sacrifice, the post-war world was one of shortage and struggle, and the future looked dim.
Many families I knew, including my own, had missing members buried in distant graves somewhere at home or abroad. Lots of survivors had broken bodies and no jobs. Two generations of women who might have chosen to marry found themselves single after the slaughter of the two world wars, with no opportunity to have partners and families of their own. The physical damage, the bomb sites and the derelict factories also signaled the end of an earlier way of life, and large pockets of past grandeur remained to remind us of what had been, along with the glorious English countryside. Magnificent public buildings and parks, and marvelous museums, theaters and galleries preserved the great residue of English culture, for better or worse. This strange mixture of decaying grandeur and beauty on one hand and derelict bomb sites and rubble on the other exemplified a world in which past, present and future were unclearly aligned and loss was intricately interwoven with gain. The long lingering wartime rhetoric registered the continuing clash between historical aspiration and current reality. For many a family, the grim recognition was that your country could ask of you the last full measure of your devotion, and deliver, in return, nothing very substantial.
What you come out of such a childhood with is a very real sense of the fragility of things, of how even the most advanced of societies can suddenly be at risk and at any moment, and that what has taken generations to build can be destroyed in a relatively short time. If centuries of investment of effort, lives, talents and wealth can be wiped away so suddenly, if so much that seems reliable is always at risk, your understanding of intergenerational responsibilities and of the life of institutions is inevitably informed by that.
Leaving to one side, for example, the arguments about what should and should not have happened in the demanding Columbia circumstances of 1968, you look at events like those of that time and realize how vulnerable universities are, how important it is both to preserve and to renew the great cultural institutions in which lots of the values and many of the resources of our community are embedded. There's a deep sense of responsibility that comes with recognizing the twin imperatives of sustaining these institutions for what they have been at their best while also recognizing at the same time that they have to be carefully changed, steadily moved forward, if they are to survive and thrive. It's a delicate balance and a theme I keep coming back to: You have to renew traditions and institutions to keep them alive, you can't just lock them in place for posterity. You've got to renew, but it's got to be informed, careful renewal, because so much of what has been passed down to us can so easily be destroyed, not only by external intervention but also by our own failure to see clearly what matters now and what will matter most to the generations that follow ours.
It is in that context that I feel acutely this sense of generational responsibility and the imperative of reiterating its importance. We have to help students here now to recognize their responsibility to each other and to the students who will come after them. Our Core Curriculum, ranging widely over historical time and cultural space, helps teach them this sense of responsibility, helps them recognize that much of what they are lucky enough to take for granted has been earned by their predecessors' efforts, that many things that are valuable are constantly at risk and can easily disappear, and that they've got to work hard to pass along the best of what we have to their successors. Likewise, our alumni have to shoulder responsibility for the generations coming along behind them and for this great university that binds everyone together from 1754 to the unchartered future. It's a collective responsibility. Everybody who is at Columbia today, whether staff, parents, alumni, students, faculty or trustees, has this collective responsibility for the whole, for making sure that we preserve the best of what is inherited while also renewing it so it can be better again tomorrow, and we all must be very alert to things that can damage it irreparably, or destroy it entirely. Losses on such a scale have happened before and can happen again.
Such vigilance also is part of our responsibility to the nation and its future. Even though we're a private institution and a New York institution, we recognize we have a national responsibility to maintain our highest standards and to keep our doors open around the country and increasingly around the world. If you have significant responsibility for one of the most prestigious academic institutions in the world, you have to keep constantly in mind that it has had a key role in history, particularly in national history, that we must maintain our tradition of having a great teaching faculty, that we must make sure student access is equitably organized, with fair processes of admission and sufficient financial aid so that we keep the doors open to as wide a range of people as possible. Our alumni share that sense of intergenerational responsibility. So do our students, so do our faculty and so do our staff. As I have said many times, I am enormously proud of the fact that during my time as dean, the percentage of our graduating class contributing to the senior class gift to the College has risen from less than 20 percent to more than 85 percent. And I have regularly been deeply grateful for the commitment of our faculty and the generosity of our alumni and parents. We are all links in a chain that goes back to 1754 and we, in our time, must strive to be among the strongest links and deal well with the challenges of our era as others have dealt with the challenges of theirs.
"Who do we decide to admit? It is surely incontestable that the educational playing field is not even."
How do you keep the doors open to everybody? With more than 21,000 applicants for roughly 1,000 places in the most recent class, and a sticker price of $50,000 a year that covers only a portion of a student's education, how do you preserve the diversity that has been a hallmark of the College for generations?
We are very proud of our tradition of inclusiveness and of the fact that the College is a national leader in this key domain. Two vital policies apply here that are closely interrelated: need-blind admissions and full-need financial aid, but there also is essential recruitment activity that helps supply the applicant pool. Without full-need financial aid, need-blind admissions is, of course, ineffective because you'd be admitting people who can't afford to come. So it's very important that full-need financial aid actually be full-need, that it makes the College affordable for everyone we admit. We've just raised significantly the quality of our financial aid packages because, while we technically were providing full-need financial aid for our students, we weren't actually. Requiring students to be responsible for $20,000 worth of loans when they graduated was not truly providing a full-need financial aid package. By replacing loans with grants and reducing many parental contributions we feel that we have reestablished that for now, but financial aid costs always rise faster than the revenues that fund them, so, going forward, we rely heavily on fundraising to help us keep up with student needs.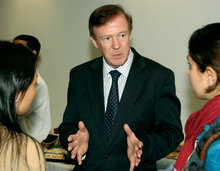 Quigley, here at a student gathering, says, "Respect for students and their views is essential." PHOTO: CHAR SMULLYANRecruitment activity also matters a lot. Given the disparities of wealth and educational experience and opportunity of young people around the nation and around the world today, it isn't enough just to hang up a shingle that says we have need-blind admissions here at Columbia, so apply. Too many will read that and fail to fully grasp what it implies. Not enough will fully understand the opportunity that an education at Columbia represents. A tremendous amount of work needs to be done in terms of admissions outreach if we are really to make the opportunities of a Columbia education available to all. That is why we build information and recruitment pipelines. We send our admissions staff to high schools around the world and try to build relationships that will channel a broad spectrum of students toward us. We try to educate people not just in the schools but also in the local communities, in not-for-profit upward-bound organizations, about all that a Columbia College education provides, and about our history of inclusiveness, so that people will reach out on our behalf to students who might not think of applying to Columbia. We also use our students, faculty and alumni to recruit for us across the country and around the world. The inclusiveness of which we are so proud requires a tremendous amount of outreach, of marketing the institution to people who are not always easy to reach. Only if we have an inclusive applicant pool can we have an inclusive class.
Who do we decide to admit? It is surely incontestable that the educational playing field is not even, that people with equal talents born into different environments will come out of high school with different academic records. Admissions has to factor that in, to scrutinize the evidence of promise of future achievement, to know when that promise is or is not sufficiently predicted by the simplest common measures of grade point averages and SAT scores. Those scores are important, but they are not the only means of demonstrating promise for any student. We also have to take note of evidence of talents in a variety of other ways. Overall we look at every student and the promise he or she has for future development in light of the advantages they've enjoyed, the challenges they've confronted, the quantitative record they've established, the essays they write, the activities they've been involved in, the references they provide and so on. In the context of all that, we ultimately try to make a measured judgment about the students promise for future achievement, for what they will make of what Columbia has to offer and for what they will bring to Columbia.
Everyone understands the value of diversity to a student body; everyone gains from being educated in an inclusive environment; but the process has to be fair and inclusiveness has to be achieved not imposed. Columbia has long recognized that its distinctive excellence derives in part from inclusiveness achieved in this way, from the range of strong voices brought to bear on academic inquiry and social exchange. In that sense, everyone benefits from our investment in financial aid, whether they are aid recipients or not. We have long had one of the most inclusive student bodies among our peers, but we have to keep investing if we are to keep it working well. It is vital that we help expand the national pool of underrepresented constituencies and not just compete with our peers for those already in those pools.
"You shouldn't be in a job like this unless you find young people really interesting… in fact, unless you find people in general really interesting."
Columbia College students are known as active, involved students who think for themselves and readily voice their opinions. You seem to enjoy interacting with students, and judging from the reception you get at events such as the Senior Dinner or Class Day, the students enjoy this interaction as well. Please talk about this aspect of the job.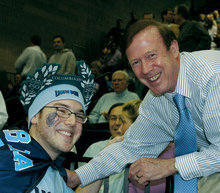 Sports fan Quigley enjoys a basketball game with the student band. PHOTO: CHAR SMULLYANThough you're dean of a college of 4,000 students, your work with students is always one at a time. You shouldn't be in a job like this unless you find young people really interesting … in fact, unless you find people in general really interesting. Interacting with college students is a privilege, a challenge and a joy not least because Columbia students traditionally tend to have independent views and very strong opinions. It's not going to get you very far if you enter conversations with your mind already made up. A conversation really does need to be a genuine exchange. That doesn't mean that every time you talk to a student you are going to change your mind on something, but it does mean that you have to be open to changing your mind, that you are ready to be influenced by a better argument than the one you began with. That respect for students and their views is essential in dealing with young people, and it isn't something you can readily manufacture or adopt as a pose or deploy as a strategy for conversing with students. They'll see right through it. You really do have to be genuinely interested in what they have to say, to have the readiness to disagree when you feel there is something they need to hear, but also to have the willingness to listen attentively when they disagree with you, to understand that, besides being deeply engaged with the world you share with them, they are preparing themselves for a world in the future that they will shape together long after you are gone.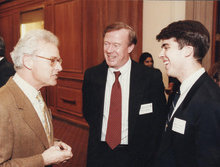 Robert Berne '60 (left) and Quigley chat in Low Library with class president Charles Leykum '99. I've talked about the intergenerational community. As part of the exchange across generations, faculty all understand that a mutual respect has to be established. If you're a member of one of the older groups, for example, you have a duty to think long and hard about how best to help young people respond to issues that you have encountered before, but they may be encountering for the first time, recognizing that students' less tutored responses have their own viability and vitality. We all have values and beliefs and convictions, and we don't hold them lightly. But the world keeps changing and moving along, and the world that young people are growing up into is going to be their world, and they have a right to define it eventually on their terms. We must, of course, make sure that, as students are exercising their right to take increasing responsibility for their own future, they are very well informed about what people have learned before them. But in the last analysis, it's going to be their world, and you need to be listening very carefully and making sure that you try to move with them to wherever that future is going to be. For all of us, being ignorant of the past is a serious disadvantage. But being governed solely by it is a serious misjudgment. Making sure we are in a position to be guided but not governed by the past is essential if we are to bring about a better future, and that is what grounds our intellectual relationship with our students, along with the respect and admiration they so regularly earn.
Can you go back to the tragedy of 9-11 for a moment, and describe the way the College and its students responded?
It was a day none of us will ever forget. For young people aged 18–22, it was, for most of them, the first shock on such a scale that they had ever encountered. Some had certainly had some tough experiences, but this was an unprecedented occurrence. As events unfolded, it was difficult for all of us on campus to understand precisely what the parameters were of what was happening. I recall early morning discussions about how many planes were still in the air that might be threats of the kind that had already materialized. The estimates ran quite high as the FAA directed all planes to land and alarmingly not all responded immediately; we had no clear idea of the scope of the remaining threats and some of the information was very worrying. All of us were struggling to get some sense of how big the challenge was that we were facing, even as the first parts of it tragically became very, very clear.
"It was impressive how rapidly the students who had come to terms with the shock ... turned to help the others who hadn't gotten there yet."
Your mind travels to unexpected places at times of crisis, and a phrase that kept coming to my mind was one T.S. Eliot used during the Second World War. In Four Quartets he describes sitting in a small chapel just outside of London while German bombers are flying overhead, and he realizes he and his generation are on the front line of historical events of great magnitude. "History is now and England" he wrote, and he was right. On 9-11 it was quickly clear to all of us that history was now and New York, that we were right there on the cutting edge, and that it was a sad and scary place to be. Major tragedies were unfolding around us, fighter planes were screaming overhead, smoke was streaming into the blue sky at the far end of the island and emergency vehicles were racing down the West Side Highway with sirens going full blast.
The most impressive thing among the students was watching how quickly the shock that initially brought them to tears and made them seek comfort in and offer comfort to each other was replaced by an urgent desire to be part of the solution. It was really quite remarkable how fast so many moved from one to the other, to trying to be part of some kind of solution, to get involved, to travel down to the tip of Manhattan, to give blood, take supplies. It was also impressive how rapidly the students who had come to terms with the shock, the surprise, the fear and the insecurity turned to help the others who hadn't gotten there yet. Faculty and staff quickly arranged student meetings of many kinds to share information and reassurance.
We wanted very much to make sure that connections were made with anxious families as rapidly as possible. The University reversed the switchboard so calls could only go out, but in much greater volume, and we made sure that students who hadn't called their parents yet made those calls and got in touch with their families as rapidly as possible. We also sent out information announcements to parents as quickly as we could in a situation rapidly unfolding around us.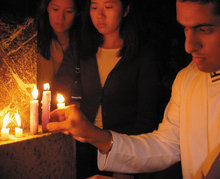 A candlelight vigil took place on campus soon after the events of 9-11. Photo: eliza bang '03 barnardI spent a fair amount of my time out on South Field. It just seemed important to be available, so I had lots of informal conversations with students that day. We also had a lot of meetings with staff and made sure that every residence hall had a staff/student meeting and that counseling was available where needed. The then-dean of the Engineering School, Zvi Galil, and I consulted about where we should best be, who would be here and who would be there, so that we could be widely available to talk about anything. We both participated in University-wide meetings with the president to share information, make contingency plans and weigh some big decisions about how the institution would deal with the situation.
By the end of the day, it was becoming clear that the students' desire to engage in volunteer work would have to come to terms with the growing recognition that there weren't going to be many injured survivors they could help. It was a kind of aftershock at the end of the day, and again into the second and third days, when we realized that, despite all the effort and desire, there was little any rescue operation could do. That was very, very difficult to deal with. It took away vital degrees of hope and a lot of the capacity to fight back. The students, increasingly unable to turn outward and be useful, turned inward and talked to each other. That was a heartbreaking period.
The University had some very tough discussions to make internally, one of which was whether we would resume classes. Respect for the dead and dying said no, but the television networks could never get enough of rerunning the collapse of the World Trade Center buildings. So we made a decision very early on to resume classes, and that generated some controversy. But once it became clear that there was nothing that could be done on a volunteer basis, we felt it was very important that students not just sit and be transfixed by those endless reruns of collapsing crowded buildings. We tried to have a transition period that involved resuming classes with some degree of informality, continuing with faculty/staff/student conversations in the dorms, encouraging students to attend meetings to talk with each other, and for those students who were most upset, to make sure that they knew where counseling was available. And we continued the outreach to parents as well, to keep them informed of what we were doing.
You could not but be proud of those devastated students, whose courage still brings tears to my eyes. You have to remember they all knew that New York was in the front line. They were still struggling to come to terms with what had happened, but deep inside they were braced for the next attack. As I said earlier, you shouldn't be in this kind of job if you don't have enormous respect for the next generation coming through and an enormous amount of interest in what they will bring to the world as they grow up. Young people at their best are problem-solvers, optimists and idealists — that's why they are so important to us. They renew our hope in the world through their conviction that there's no problem that can't be solved when you're 18–22 and all your life stretches out ahead of you. You couldn't but see how painful it was for them to adjust to the recognition that something irrevocable had happened that no one could ever fix, that for the hundreds of bereaved families there were no solutions, and that there was nothing they or anyone else could do.
During those days and thereafter, as The New York Times ran its endless obituaries, the students learned how to share shock and sadness, where to find the strength to deal with irremediable loss, what bravery and heroism ordinary people, particularly the firemen and policemen, are capable of, how to grieve for people whom you don't actually know, what it really means to be part of a New York City community and a national community, that somehow the dead you didn't know were one of us and that we were one with them. And saddest of all, there were the dead we did know, including many members of the extended Columbia family.
It's a moment that I'm sure none of us will forget, but I came out of it not only filled with sadness but also marveling at the resilience of young people growing up so rapidly in a world so suddenly transformed.
As dean I was also proud of the fact that nobody left. It isn't hard to understand why some parents and some students would contemplate transferring to some other school because New York City was clearly a major target — not the only target, but clearly a prime target. There was much in the media about terrorists targeting symbolic buildings, and some feared that might even include Columbia itself. I was enormously proud of the fact that collectively students and parents alike resolved to stay put, that they decided it was right to accept an unquantifiable risk, that standing firm was one way of fighting back.
Moving forward, while we had had a record number of applications every year that I had been dean, none of us knew what would happen the following year. Would a generation of young people, or their parents, decide that an education in New York was too risky? It was very interesting, and encouraging, to see that applications set another record that year, and every year since.
If you were given a couple of moments to brief your successor on this job, Dean of the College, what would you say?
As I mentioned earlier, no one should think of this as just a job. Being Dean of the College really is a mission. It means that you have responsibility for the future of an institution that goes back to 1754. A tremendous number of people through the centuries and the generations have put their energies and their efforts into creating and sustaining an educational institution for young people with its own unique and irreplaceable character. You have to accept the role knowing how serious and how extensive the responsibilities are. But you can't approach it with the attitude that you will simply be a custodian and mind the store; the College has to get better all the time. That's the responsibility you have to all those people who came before you and to all those people who are here right now and to all those people who will come after you. The College must be in better shape when you leave than when you began.
"As our peer schools have financial resources that far exceed ours, you have to figure out on a daily basis how to do more with less."
As I said before, there is no sense in which you can become dean thinking, "This is going to be good for my career" or "I will look so good being dean of such a prestigious college." That's a clear route to failure. You've really got to feel the pulse of history here and see yourself as part of that history to do this work well. That will connect you appropriately to the future as well. The young people who come here are creating the social and professional fabric of the future, and the College has to do all it can to make sure that they define it well and shape it well, and that they leave here with their idealism intact, their energies in place and their talents honed so their personal, social and professional lives are the best that they can possibly be. You are dealing with the education of the most inclusive student body among our peers and one of the most talented, and you have to make sure that the curriculum, the teaching, the residential life resources and the neighborhood, city and study abroad programs are all functioning as well as they can for every student.
You've really got to want to do this for other people, not for yourself, for the students whose lives you will touch and for all those whose lives these students will touch. The hours are going to be inordinately long. The stakes are very high in just about every conversation you have every day. When you are in a leadership position, it matters enormously how you speak and how you listen to everyone, how you offer respect and encouragement, how you articulate and exemplify values. You have to be an advocate for the College, the Arts and Sciences and the University, and you have to live with a constantly high level of risk of many kinds. As our peer schools have financial resources that far exceed ours, you have to figure out on a daily basis how to do more with less, and how to strengthen constantly the alumni relations and development operations. Given that the responsibilities and challenges are so great, you must be able to surround yourself with a staff that is just as committed and fully accepts that this is a mission and not just a job. Opportunities have to be created and seized, but for you to succeed, the staff must succeed, and for that to happen, you have to establish relationships in which they feel welcome to tell you what you least want to hear. It is your responsibility to make sure they all recognize not only how high the stakes are but also the acute sense of privilege that comes with working together in this very special undergraduate college within a path-breaking research institution that is widely recognized as one of the finest universities in the world. I wouldn't want to say I have always been as successful at doing all these things as I would wish, but this is what I was always trying to do. And I am delighted that, in Michele Moody-Adams, my just announced successor as dean, we have found someone whose highly successful career with undergraduates at Cornell has been informed by many of these principles.
Here's another way of approaching that question: What single quality or attribute is most important to succeeding in this role?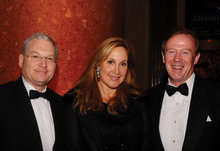 Vice-chair of the University Board of Trustees Philip Milstein '71 and his wife, Cheryl Milstein '81 Barnard, congratulate Quigley at the 2008 Alexander Hamilton Award Dinner. PHOTO: EILEEN BARROSOI come at Columbia leadership from two different angles. One is to remind you of something I said earlier about the difference between power and authority. Leadership has to do with earning authority, so that other people will lead with you. You can't do this job by yourself, so you have to earn the authority to lead. More specifically, you have to learn how to lead successfully at Columbia, and that is a story unto itself, with more routes toward failure than many people realize. This is very much a New York institution, and it finds people out very quickly. I have been at Columbia for 20 years and have had ample opportunity to see who succeeds and who fails. Columbia is not a place for administrators with pretensions, for people who take themselves more seriously than the institution, who think that rank establishes authority, who imagine themselves to be the smartest person in the room, who lack the humility to learn from other people's special expertise. This is a very tough place if you can't earn the respect of other Columbia professionals, whether it be faculty, staff or alumni. Administrators with these weaknesses tend to do more harm than they realize and, sadly enough for all concerned, they tend to linger too long in office without being really in charge. The remedy for this is constant consultation with a wide spectrum of opinion. This is an institution characterized by diversity of opinion, so it works best with clearly defined consultative processes. Despite their good intentions, those whose sense of governance is more narrowly defined steadily lose touch as leaders with those they are supposed to be leading, often with considerable cost to the morale of their constituencies and colleagues.
The other angle is a related one and is captured in another phrase that I use when I talk about our Core Curriculum, and that is, if we teach it right, tradition is an instrument of continuity and an engine of change. That sets the scene both for successful Columbia administrators and for the success of the curriculum.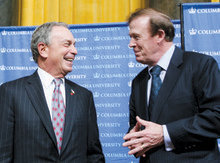 New York City Mayor Michael Bloomberg joined Quigley and other Col­umbia officials on stage in Low Library to thank John Kluge '37 for his historic $400 million gift to Columbia. PHOTO: EILEEN BARROSOThose seem to me to be two related pieces: the kind of historically informed consultative leadership that will succeed at Columbia and the kind of dialogical education that launches students into the future with (as Goethe phrased it) both roots and wings. Goethe's phrase is reflected in a composite image of Columbia that bears directly on the Columbia community and the kind of leadership I believe it requires. For many who see Columbia from afar, there are two apparently competing pictures. One is exemplified most clearly by images of the conflicts of 1968; if you come to an Ivy League college in New York City, you should expect to be on the cutting edge of social debate and progressive thinking about what society ought to be doing better, and how we can make the future better than the past. If the first picture is contemporary, the second is historical and exemplified in the syllabi of our signature Core Curriculum, which insists that all students study a tremendous amount of material that goes back hundreds and thousands of years. Either one of those two images would give you a very different sense of what Columbia is basically about. Is this an institution at the very cutting edge of intellectual inquiry and social progress, or is it a historically focused institution intent on preserving the past, its great books and influential ideas? In fact, the College combines those two things, these imperatives from the past and these demands of engagement with the present and future, producing our own brand of independent thinkers.
We tend to attract instinctively independent thinkers, but we graduate informed independent thinkers whose views about the present and future have been tempered by wide-ranging reading and intensive debate, both inside the classroom and outside. The voices of our graduates are typically hybrid voices, strong individual voices deeply inflected by the voices of the other strong voices with which they have engaged in the library, in the residence halls, in the laboratories, classrooms and studios, and in the city. It is Columbia's ability insistently to relate past and present by having the present engage with the past and the past inhabit the present that makes the collaborative inquiry of a Columbia education so challenging on the one hand and so rewarding on the other. And it is this collaborative interweaving of strong independent voices that defines the character of successful institutional renewal and successful institutional leadership.
"I don't want to overstate my talents, but I was a successful striker, and they are a special breed, as everyone connected to the sport will tell you."
What is one thing about yourself that our readers don't know? What might surprise them?
(Laughs) I wonder how much people know about my athletic past. It's difficult for me in retrospect to come to terms with how much of my early life I committed to playing soccer. I think I devoted almost my entire youth to acquiring skills on the soccer field, and I really mean almost my entire youth. Certainly until my early 20s it was the single most important thing I did every day. This was in part because I loved the sport but also because there weren't many opportunities of any kind for young people in the north of England at that time, and you had to make your way as best you could. I played at lots of levels but the best was in my late teens, when I was picked up by now Premier League club Newcastle United, which runs a junior team for teenagers who might be able to move up through the ranks to the professional team. It was such a big moment when my father first dropped me off at the famous stadium; it seemed as if the Earth moved, and I could hardly believe what was happening as I mingled with players I had admired from afar. Several of my teammates went on to successful soccer careers and a couple went on to become marquee names, but when my father died suddenly and my family life took a painful turn for the worse, I felt I had to redirect my energies quite radically. I decided, in not entirely propitious circumstances, that I would seek a college education, which was not widely available in that part of the world at that time, so getting there was quite a challenge in itself. However, I continued to play for my university and also for the county where it was located (Nottingham). I don't want to overstate my talents, but I was a successful striker, and they are a special breed, as everyone connected to the sport will tell you.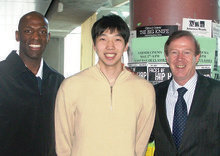 Men's basketball coach Joe Jones (left) and player K.J. Matsui '09 with Quigley in Lerner Hall. PHOTO: CHAR SMULLYANFortunately, there are things about being a really serious athlete that inform much of whatever else you do for the rest of your life. And this is, of course, why athletic programs play their own distinctive role in college life. There is the sheer intensity of focus on what you're doing at any one moment that serious athletes acquire, just being 100 percent in the moment, in the zone, to the exclusion of anything else. It's almost a religious intensity that you train yourself to develop, a level of intense concentration, so that your reaction time is the best it can be. What goes along with that relates to how you respond to challenges. When the challenge increases, so instinctively does your determination. But not just in direct proportion; if the challenge goes up say10 percent, the determination goes up 20; if the challenge goes up 20 percent, the determination goes up 40, and so on to a level I sometime wince to recall in retrospect.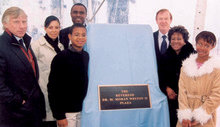 President Lee C. Bollinger and Quigley joined the family of the late Rev. Dr. M. Moran Weston II '30, the University's first African-American trustee, in 2003 for the dedication of Weston Plaza. PHOTO: EILEEN BARROSOSo first there's an intensity of focus and a level of determination that become instinctive and transfer to lots of situations thereafter. And then, of course, soccer is a team sport, and the more successful you are in a team operation, the more you understand that a team, like a chain, is only as strong as its weakest link. Everybody works to build up the strengths of the weakest player as well as those of everyone else. It's not about showing yourself off or seeking star status, it's about the maximum you can get out of the 11 people who happen to have assembled. Teamwork and collaboration, along with shared determination and intensity, make a quite heady mix. When a good team clicks, it is like being part of a force of nature where design and chance blur together to generate quite magically something that far exceeds the sum of its parts.
So, in response to your question, there are two things: how much time I put into soccer in my youth, but also the impact of that experience on the rest of my life, how much it has influenced me for the rest of my days in ways I never would have anticipated.
Something that's not so visible is how much of my time I still devote to this sport that I know wonderfully well, the way some Americans know every move in baseball. One advantage of being a baseball spectator, it seems to me, is that people have managed to supplement the game with informative and illuminating statistics. Soccer is much too fluid to be so readily a statistics sport, so you rely even more on internalized pictures of exemplary moves, tactics, formations you have seen deployed. If you watch the game with those in your mind, you see the game very differently from people who watch it from afar. It still is a very involving activity for me — give me 20 seconds of a soccer game and I'm off to another world. It is a wonderfully therapeutic involvement for me, and it provides an immediate release from each day's pressures, problems, challenges and crises. A love of sports in general, and of soccer in particular, is also something I share with my wife and children. Few things give me more pleasure than watching my daughters play on local soccer teams.
"We all feel very proud that 2009 has seen America's first African-American President and Attorney General, and that they are both graduates of the College."
So, what's next for Austin Quigley, for the rest of this academic year, and especially after July 1?
Well, what matters most will be spending more time with my family. This is a very demanding public role involving evening and weekend events and a lot of travel, so I welcome the opportunity to catch up on family time. When I began as dean, my now-teenage daughters, Caroline and Catherine, were aged 3 and 1, so their childhood years have been interwoven with the life of Columbia. I was so pleased at the Hamilton Dinner when people thanked my family as well as me for what we have contributed together. My wife, Pat, and I also are professional partners, and she and I have taken an active role together in the institutional life of Barnard and Columbia. Going forward, I know we will continue to enjoy the many friendships that we have developed during my time as dean, with alumni, students, parents, faculty, staff and trustees.
Quigley looks forward to spending more time with his family — wife Patricia Denison and daughters Catherine (left) and Caroline — when he steps down as dean. PHOTO: CHAR SMULLYANThere are a couple of projects that I still want to see completed in the College, and these have to do with the upgrading of advising and career services. We have well-advanced plans that we've been developing for the last couple of years, thinking through what we could do differently and better, and we intend this to be the implementation year. I am continuing to work very hard on that. It means raising a fair amount of money, and it involves some use of a central space in Lerner Hall. I was deeply honored at the recent Alexander Hamilton Award Dinner when some of our key alumni launched a $50 million endowment goal in my name to bring this project to fruition. That's the single biggest initiative for this year.
We must also monitor the impact of the major new investments that we made last fall in financial aid. It's very, very important that we stay on top of how that plays out and that we fine tune the initiative where needed. The current widespread financial crisis makes this even more imperative. In the face of major competition from our peers in upgrading financial aid, I was delighted that our applications went up another 11 percent this year — a remarkable increase after so many preceding years of increases.
After this year, I'm not so sure. I don't think many people set off with a career goal of becoming dean of an Ivy League college. An opportunity presents itself, and you decide whether or not you're going to take it. It is a swerve away from the faculty career track that you are on, but it's very important that deans be academic administrators and not just professional administrators. The University depends heavily upon academic leaders who are willing to spend a period of time in administration. For the College in particular it is vital that it be guided by widely informed educational convictions, that it has a strong educational advocate at the helm.
College student body president George Krebs '09 congratulates President-elect Barack Obama '83 on Election Night in Chicago. PHOTO: DAVID KATZInitially I will combine teaching with working as special adviser to the president on undergraduate education, but I'll gradually be going back to what I was doing before as a faculty member, which is research and teaching related to that research. I will continue my research in drama and theater, renew my involvement in programs around the College, including the Core, and participate even more broadly in University programs in the arts. Education in a research university is a very heady mix. You are surrounded by faculty who are simultaneously teachers and researchers, who are on the cutting edge of their fields. And you are also working with an extraordinarily gifted, accomplished and inclusive student population and investing a lot of yourself in the future world they will create. What great universities do at their very, very best is to bring education and research fruitfully together, and Columbia brings its own special character to that project, and I intend to stay closely involved with that.
We all feel very proud that 2009 has seen America's first African-American President and Attorney General, and that they are both graduates of Columbia College. No one who knows the history of this college thinks this is just a matter of chance. There are special periods in the lives of institutions as there are of cities and countries, and this is a special Columbia moment. With a long tradition of inclusiveness and recent renewal of our distinctive forms of excellence, Columbia College is set to play an even greater role on the national and global stage. It has been an honor and a privilege for me to serve for 14 years as its dean. This has been a time when a lot of people recommitted themselves to Columbia, and I will never forget those who have shared with me this memorable period in the history of the College.