Features
Benjamin Jealous '94: A Force for Change
NAACP's youngest president leads volunteer army for social change into its second century
By Amy Perkel Madsen '89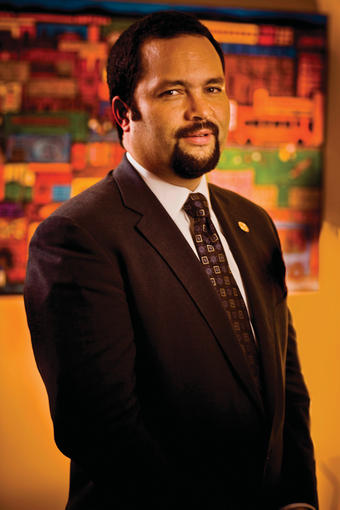 Photo: Jeffrey MacMillanBenjamin Jealous '94 is steeped in the history of the Civil and Human Rights movements. He grew up surrounded by black leaders, witnessed firsthand how racism could tear apart a family and put his Columbia education on the line to fight for his beliefs. Now, he is making history as the youngest president of the National Association for the Advancement of Colored People (he turned 36 on January 18), tasked with bringing the organization into a new era at the same time that the United States elected its first African-American president.
During the NAACP's 14-month search for a new executive, Jealous, an experienced civil and human rights activist, emerged as the favorite of Chairman Julian Bond. His resume contrasted sharply with outgoing president Bruce Gordon, a former telecom executive who wanted the organization to focus on social services. The board believed the organization should continue fighting discrimination through the justice system, a long-term focus of the NAACP, which marked its 100th anniversary on February 12. [Editor's note: Jealous was honored on March 10, along with four other College alumni, with a John Jay Award for distinguished professional achievement. See "Around the Quads."]
Jealous always has been known as a fighter who comes out on top — he was suspended from Columbia for his part in a political protest but returned to school to win a Rhodes Scholarship. In September 2008, he beat out 200 candidates, including finalists Rev. Frederick D. Haynes III, the senior pastor of a Dallas mega-church, and Alvin Brown, a former White House official and member of the Hillary Clinton Presidential campaign, to become the leader of the NAACP, which Jealous calls "a volunteer army for social change."
A fifth-generation member who was an intern with the NAACP's Legal Defense Fund while a college student, Jealous says the organization "has the most successful track record of transforming this country consistently throughout the 20th and now the 21st century." He plans to focus the NAACP's resources on legislative issues, including education disparities, criminal justice, the home mortgage crisis, racial profiling and healthcare. He also wants to aggressively expand its base of 275,000 dues-paying members and 375,000 e-associates, a new category for those who engage online.
Although his goals seem lofty, Jealous has spent much of his time making sweeping improvements to nonprofit organizations around the country. Prior to joining the NAACP, he worked at the Rosenberg Foundation, a 70-year-old grant-making institution focused on economic inclusion and human rights for Californians, where he redesigned the grants program, making space for new investments in criminal justice reform. Previously, in his role as director of the U.S. Human Rights Program for Amnesty International, Jealous focused on ending racial and religious profiling, sentencing juveniles to life without the possibility of parole, and prison rape. Before that, he was executive director of the National Newspaper Publishers Association, a federation of more than 200 black community newspapers, and managing editor of the Jackson (Miss.) Advocate.
Jealous says the NAACP will fight for healthcare for all, an end to predatory lending practices, rebuilding a mortgage system that people have faith in, and reviewing and revising the NAACP's systems for monitoring employers that are and remain exclusive.
While the NAACP is the most recognized and most popular civil rights group in the country, the organization recently has faced setbacks. In mid-2007, under the leadership of an interim president following Gordon's departure, the NAACP faced budget shortfalls. To save money, it announced plans to cut headquarters staff by nearly 50 people to 70 and temporarily close seven regional offices. It also was without a development officer.
Wade Henderson, president of the Leadership Conference on Civil Rights and a member of the NAACP presidential selection committee, says, "It seemed especially appropriate to look for someone who is capable of respecting the cherished traditions of the organization but who is prepared to put them in a new light to bring new energy and new vision to an organization very much in need of recasting itself for the challenges ahead."
Jealous' most immediate tasks are to rebuild the staff and funding base and build up the communications infrastructure, including online. He started accomplishing these goals before even taking office, spending last summer raising $4.5 million in grants and donations — 20 percent of the NAACP's annual budget.
"I wanted to make sure we came in with resources to really hit the ground running," he says.
In his first weeks in office, which coincided with the run-up to the 2008 Presidential campaign that saw the country elect Barack Obama '83 as its first African-American President, Jealous launched the NAACP's seminal online voter registration drive. The "Upload to Lift" program registered more than 25,000 voters in less than two weeks. The NAACP also gathered 20,000 cell phone numbers from the program with the intent of creating a group of advocates who can be quickly mobilized for future action.
A communications infrastructure will help Jealous build consensus around the most pressing problems facing the country and people of color, and allow him to reach more busy professionals and parents. He wants to encourage their contributions of time and ideas in ways that are quick and convenient. He also wants to introduce an online system for filing complaints so the NAACP can convert the tens of thousands of complaints received each year into action and hold local, state and federal government agencies and employers accountable.
Jealous has brought with him a team of experienced civil and human rights advocates, many of whom have worked for the NAACP and allied organizations. They include Monique Morris '94, former head of the Discrimination Research Center at UC Berkeley; Steve Hawkins, former litigator for the NAACP Legal Defense Fund, whom Jealous credits with rebuilding the anti-death penalty movement in this country; Roger Vann, a former head of the Connecticut ACLU who also has held leadership roles with the NAACP at the state and national levels; and Maxim Thorne, who has served as a nonprofit senior executive, fundraiser, attorney and activist.
With a new staff and funding base, Jealous expects to rebuild NAACP programs and get the organization back to a place where it is capable of winning what he calls big victories. "No one can deny that we are more responsible than any group in this country for the possibility, not for the candidate in the campaign, but for the possibility, that a black person can run a real race to be President of the United States," Jealous said last fall, when first interviewed for this article.
Jealous spent a significant amount of his free time as a community organizer and student activist, roles that eventually led to his suspension from Columbia for organizing a protest during his junior year.
Founded on February 12, 1909 (the 100th anniversary of Abraham Lincoln's birth) with the charter to outlaw lynching, the NAACP has focused since 1960 on desegregating civic and political life. Jealous noted the proximity of Obama's Presidential inauguration to the association's 100th anniversary and says, "We can't help but feel that timing is a bit providential and the culmination of a century of good work."
Jealous' principal focus, which he believes may take a few decades, is to ensure each child in this country goes to a good school and gets a good education. "Our biggest victory of the 20th century is also our biggest shortcoming," Jealous says. "Brown v. Board of Education succeeded in making it possible for every child to go to the same school, but it is still not possible for every child to be able to go to a good school." He calls this the difference between a civil right and human right.
Jealous makes a connection between inferior schools and extreme uses of discipline. He mentions the presence of police on San Francisco public school campuses. (Armed police officers on public middle and high school campuses are funded through federal grants offered to large metropolitan areas.) Infractions that used to be settled by the principal, Jealous says, now are settled at the precinct. He says acts of defiance, including violating the school dress code, are among the largest categories of infractions.
"School discipline is the most difficult manifestation of what is a fundamental difference in the quality of treatment in education that most black children receive in this country compared to most white children," Jealous says. He goes on to cite cases he worked on in his role as director of the U.S. Domestic Human Rights Program for Amnesty International. Five years ago in Florida, a 6-year-old schoolgirl received a shock from a TASER for "throwing a tantrum." In 2005 in Paris, Texas, a 13-year-old girl got a seven-year sentence for pushing a hall monitor.
"You look at the schools that have these extreme uses of school discipline, either in form or frequency, [and learn] they also tend to be schools in school districts with real quality problems," Jealous says. "That's a symptom of a much bigger crisis in our schools, and in how we even think about the task of training and educating children. At the core of this is my concern about children and families." As head of the NAACP, Jealous plans to document the problem, draw media attention to it and work toward rectifying it.
He also finds fault with the No Child Left Behind Act, citing an increase in the rate of black children not graduating from high school. He attributes this to the addition of more testing requirements across the country without the allocation of funds needed to ensure success.
In addition to striving for better schools, Jealous will fight for what he calls a fair and equitable criminal justice system, an area he has brought to the forefront in prior roles. He cites past successes involving NAACP support including passage of the anti-racial profiling act and ending the disparity in sentencing for crack cocaine versus powdered cocaine possession. (Sentencing rules equate one gram of crack cocaine to 100 grams of powdered cocaine; significantly more blacks are incarcerated for crack cocaine use than powdered cocaine, according to 2006 data from the U.S. Sentencing Commission.)
Jealous aims to build up the NAACP's capacity to further engage states and counties in reforming the criminal justice system. "This country has gone from a national crisis symbolized by desegregation of black people to a national crisis symbolized by the mass incarceration of black people," Jealous says. "In addition to ending the school-to-prison pipeline by improving schools and education in this country, we need to deal with the criminal justice system itself."
Part of Jealous' motivation for accepting the NAACP job was his concern for his daughter's educational experience, despite what he calls the privileged experiences afforded Jealous and his wife, Lia Epperson, associate professor at Santa Clara Law School and director of the education law and policy group of the NAACP Legal Defense Fund. "As a parent, it was impossible for me to say no to the job," Jealous says. "On the one hand, you know it's really going to reduce your time with your family and be very difficult. But on the other hand, I'm convinced that unless we fight as hard in this century as we did in the last, families and children in this country are headed in the wrong direction …
"The wrong direction has led us to where we are now, where 13,000 families have more wealth and make more money each year than the poorest 200 million people in our country of 300 million. Our country wasn't always like that, but it has become that way in only the past few decades. We need to start having a better, more equitable, more American direction. Our goal is to make the promise of this country real for all families."
To this end, the NAACP will fight for healthcare for all, an end to predatory lending practices, rebuilding a mortgage system that people have faith in, and reviewing and revising the NAACP's systems for monitoring employers that are and remain exclusive, he says.
College friend Maurice Dyson '95, an associate professor at Thomas Jefferson School of Law who focuses on civil rights and education policy, says Jealous "is not one for pomp and circumstance. He is there to get the job done and focus on issues that affect real people. That's the kind of bottom line, nitty-gritty commitment he'll bring to the organization. Anyone who knows Ben knows that's the way he was in college, and when you see the trajectory of his career in civil rights, you know that's his orientation."
Jealous' passion for civil rights comes from his family, which for generations has fought for equality, both in the public arena and at home. His parents met while working in the civil rights and women's rights movements. His father, a white man, was disowned by his extended family for marrying a black woman, Jealous' mother. Interracial marriage was illegal in many states until a 1967 Supreme Court ruling and also went against the social mores of the conservative, privileged New England family from which his father came, Jealous says. As a result, Jealous grew up not knowing most of his father's family, which has a history in this country dating to 1636.
His mother's large family, in contrast, gave him "a family to feel comfortable and nurtured in, and to appreciate the richness of family," Jealous says. Jealous' daughter, Morgan, was named after maternal ancestor Peter G. Morgan, who was born a slave in 1817 in Nottaway County, Mo., and became a free man in 1849, followed by his wife and children in 1850. He became a member of the first class of black statesmen in the Virginia House of Delegates and one of two dozen black co-signers of the Virginia Constitution following the Civil War.
Jealous' maternal grandmother, Mamie Todd, whom he describes as his greatest childhood influence, taught him an unusual approach to bigotry — sympathy. She believed bigots had not been well served by their parents and told Jealous not to hate them, but to feel sorry for them. "That gives you a lot of control as a black child growing up in this culture, because it gives you an option to feel a strong emotion that's not hatred," Jealous says. In addition to her stories and outlook, Jealous' grandmother gave him exposure to one of the men who would send him down the path to Columbia.
When asked if he had been hesitant about leaving Monterey, Calif., arguably one of the world's most beautiful locations, to go to college, Jealous replies, "Not at all." One of 42 black children in a town of 15,000, Jealous says he was eager to get to his new home: "I was transfixed by Manhattan, I was transfixed by Harlem, and I wanted to be part of both."
Two people influenced Jealous' decision to attend Columbia. One was Henry Littlefield '54, '67 GSAS, his headmaster at the York School, a college preparatory Episcopal day school in Monterey where Jealous says he learned to "read and process copious amounts of information, read critically and write persuasively." Little, who attended Columbia during the Depression on financial aid, made a strong pitch for the College.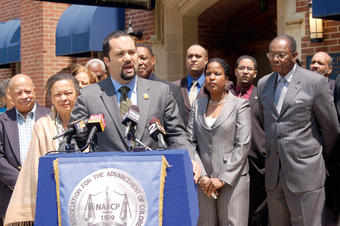 Jealous plans to grow the NAACP and focus its resources on legislative issues, including education disparities, criminal justice, the home mortgage crisis, racial pro ling and health care. The other influence was Judge Robert B. Watts, a family friend and civil rights lawyer. Watts, who in 1961 was the first African-American judge appointed to the municipal court in Baltimore, taught Jealous how to argue and debate and cultivated his earlier desire to become a civil rights lawyer. "He would walk into my grandparents' house when I was 4, my earliest memory, and say, 'What do you want to fight about, Jealous? Debate with me.' He was a big man and would always send tremors down my spine. Eventually, I just decided I wasn't going to be afraid of him, and I'd be ready for him. I'd be ready to debate."
When Watts learned Jealous was deciding among several colleges, he insisted he consider only Columbia. " 'You need to go find Jack Greenberg ['45, '48L], and you need to learn from him,' " Jealous recalls Watts saying of the noted civil rights lawyer. Dean of the College from 1989–93, Greenberg argued before the U.S. Supreme Court in 40 cases, including Brown v. Board of Education in 1954, which declared "separate but equal" unconstitutional in public schools. He also held roles with the NAACP as assistant counsel for the Legal Defense and Educational Fund and director-counsel for 35 years through 1984. "That's why I came to Columbia," Jealous says. "I literally came looking for Jack."
Once on the Columbia campus, a number of people inspired and mentored Jealous. A political science major, Jealous first talks of Professor Charles V. Hamilton, the WS Sayre Pro­fessor Emeritus of Government, and Carlton Long, his Con­temporary Civilization professor — his first black male teachers.
"They taught political science, even political theory, in a way that was very relevant to the everyday lives of working families in this country. It was really politics from the bottom up. It was theory applied to the problems of everyday life, and it inspired me," Jealous says. He also was impressed by Hamilton's role as one of the architects of David Dinkins' New York City mayoral campaign and his co-authorship of Black Power: The Pol­itics of Liberation, a "revolutionary work [that] exposed the depths of systemic racism in this country and provided a radical political frame­work for reform."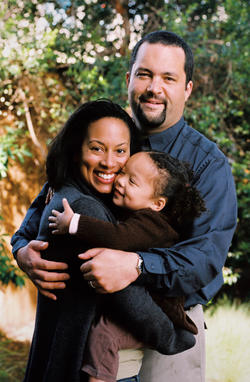 Jealous with his wife, Lia Epperson, and daughter, Morgan. Long, 26 at the time and just back from a Rhodes Scholarship, urged Jealous to apply for the scholarship. Along with Barnard adjunct associate professor of political science Judith Russell, Long served as a mentor to Jealous. Jealous calls Russell and Long examples of teachers both inside the classroom (Jealous took Russell's urban political sociology seminar) and outside who "really invested in you over years, and not just the duration of the course."
A third consistent campus presence was Father Bill Starr, the longtime Episcopal campus minister. "Bill's office offered a particular sub-culture on campus," Jealous says. "He provided a sense of spiritual guidance and encouragement to student activists."
Starr says he encouraged students to "take sides, or at least to try to figure out what was really important to them and how they wanted to live their lives." He describes Jealous not only as a "constructive, critical voice," but also someone who "really showed a lot of organizing and leadership skills… I was always on the lookout for students like Ben, because he added a lot of vitality to what we were trying to do as an issue-oriented campus ministry that tries to connect what people are doing in their studies and what they're planning to do with their lives."
These positive relationships were juxtaposed with what Jealous describes as a racially tense New York City in the early 1990s. "It was tough to come from a small town where everybody knew you to a big city where nobody did. I had racial graffiti on my dorm room in the first week on a poster on my wall." Another student reported racial slurs and feces on her dorm room door. A college Republican group organized a cookout next to hunger-striking students of color who were protesting the U.S. repatriation policy of Haitians. Students also protested the absence of authors of color in the Core Curriculum, and the lack of diverse faculty of color or an African-American studies program. Off campus, under the Dinkins mayoral administration, race riots erupted in the Crown Heights section of Brooklyn in 1991, spurred by the death of an African-American boy.
Jealous found comfort in the Black Student Organization, which he refers to as "always a place where people accepted you without even knowing your name." He later served as president of the group, which Dyson describes as "the umbrella organization for all student organizations in the African Diaspora, but also probably the most politically active organization on campus."
Jealous spent a significant amount of his free time as a community organizer and student activist, roles that eventually led to his suspension from Columbia for organizing a protest during his junior year. Three projects took center stage: work with the NAACP Legal Defense and Educational Fund (LDF), his founding and involvement with the Harlem Restoration Project Youth Corps and two student protests, one involving financial aid and need-blind admissions and the second concerning the preservation of the building where Malcolm X was assassinated.
At 18 and frustrated with his work-study job in the economics department, Jealous went looking for Greenberg. Jealous recalls his voice choking when they met. Greenberg was a well-known protégé of Supreme Court Justice Thurgood Marshall, who eventually took on Marshall's NAACP role. Fortuitously, a few months after they met, the NAACP LDF called Greenberg asking for student help. Greenberg arranged an internship for Jealous, one that later turned into an ongoing program for other students.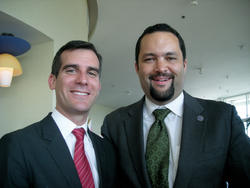 Los Angeles City Council President Eric Garcetti '92, who served with Jealous on the College Student Council, says Jealous was passionate about ensuring that Columbia acted responsibly toward the neighboring community. Jealous' longest and last assignment included outreach as a community organizer in Harlem. He helped put together a campaign to save ob/gyn and neonatal intensive care beds at St. Luke's Roosevelt Hospital at 114th Street — beds that were accessible to Central and West Harlem residents. The hospital had facilities at two sites: 114th Street and 59th Street. "The hospital administrators and planners expected 59th Street to gentrify, so it downsized the uptown site," says Marianne Lado, former LDF lawyer and now general counsel for New York Lawyers for the Public Interest. "It was planning to move all ob/gyn, pediatric and neonatal intensive care beds downtown."
Jealous helped organize and carry out an investigation, interviewing community members to help predict the impact on healthcare access and use. This included working with the leaders of neighborhood churches across denominations who were concerned about the loss of healthcare near Harlem neighborhoods. The LDF filed a civil rights complaint with the Office for Civil Rights at the U.S. Department of Health and Human Services and then filed suit in federal court. "Though neither action was particularly successful, the community pressure and the suits led to negotiations," Lado says. "This, and the fact that the beds were more needed uptown than downtown (the beds downtown were not economically viable), finally led the hospital to retain some of the beds uptown."
The LDF was interested in this case because, Lado says, "All across the country, not only in New York, we have seen disinvestment of health care resources in low-income communities of color, leading to a tremendous scarcity of providers and contributing to waiting periods for even basic services (such as prenatal care) and racial disparities in health outcomes. There remain gross disparities in maternal and infant mortality rates by race today."
In addition to this internship, Jealous, as a first-year, formed the Harlem Restoration Project Youth Corps, which supported the work of activist Marie Runyon. The group restored low-income housing, provided free childcare and became the largest group servicing residences of Harlem. Columbia students painted apartments, tore out water-damaged plaster and replaced sheetrock; Jealous spent 30–45 hours per week restoring housing.
The University, however, wanted the group to stop, citing safety concerns. The police department had forbidden public officials from entering the tenements without bulletproof vests: It estimated 60 percent of the units had at least one family member involved in the crack trade. Baseboards commonly hid hundreds of crack vials, and Jealous recalls landing a sledgehammer into a wall and watching as thousands of crack vials spilled out. Even so, Jealous did not accept the University's mandate to help Harlem residents only on campus or at some other University-sanctioned location.
Jealous made the group "an essential organization on campus, one that wove a tapestry between Columbia and the community around it," says Eric Garcetti '92, now Los Angeles City Council president. "He was always interested in ensuring that Columbia didn't think of itself as a separate community from the upper Manhattan world, but it was one part of it and with that had responsibility to its neighbors."
Jealous continued volunteer work for the group throughout his time on campus, and it continues to this day. Now called the Harlem Restoration Project, it takes youth from three apartment buildings near Columbia on trips downtown as well as in the Harlem-Morningside Heights area, using the trips as a means to build mentoring relationships, according to Clark Zhang '09, Harlem Restoration Project coordinator.
Jealous also ran a low-income neighborhood youth group called Allowances. A small kitty from St. Mary's Church provided allowances for children who otherwise did not receive them. In exchange, the students were expected to get good grades and participate in community services projects such as cleaning up nearby parks. Jealous also organized recreational activities for the group.
Jealous was active on campus as well. Due to a budgetary shortfall in 1992, the College was exploring plans to end full-need financial aid, need-blind admissions or both. According to The New York Times, the University faced a $50 million shortage in its $980 million budget for the following academic year, and while it had plans to increase the next year's financial aid allocation by 10 percent to $15 million, President Michael Sovern '53 said that the University could no longer afford to provide full-need financial aid for all.
Jealous and Garcetti, student council members at the time, were concerned that the elimination of full-need financial aid would result in "a bleaching of the undergraduate population," a phrase from an anonymous letter sent to them as student council members. Jealous led protests against this policy change. He even climbed through a second-story administration office window in an attempt to stop a meeting where a vote might be taken.
"It was a difficult moment for a young idealist who had come there to learn from a wise leader of the civil rights movement," Jealous said.
Yet, Jealous' efforts paid off. He credits John Kluge '37 — who went to Columbia on financial aid during the Depression and became so successful in business that he was anointed as the richest man in the world by Forbes Magazine in the 1980s — for saving the program. Kluge donated $60 million for minority scholarships in April 1993, the largest gift the University had received at the time. (In April 2007, Kluge pledged $400 million for financial aid, bringing his total giving to $500 million.)
"It was a very contentious time," Dyson says. "Ben didn't always just challenge the administration, he also challenged his classmates to be more socially active and aware of what was going on and of how important the stakes were in any given dispute. You got the sense he was the most dedicated person you probably ever knew committed to civil rights issues."
Wade Henderson expects Jealous to "rekindle the passion for social change that the NAACP embodied when it was founded 100 years ago. He is going to stimulate yet again a broad base of support among Americans and others around the world who are committed to that type of social change."
Another protest ensued after the University announced plans to tear down the Audubon Ballroom, where Malcolm X was assassinated. Columbia had purchased the rundown building from the city and had plans to replace it with a biomedical-research complex. The Black Student Organization challenged this because of the building's landmark status, the possible environmental impact and concerns that the center would not serve or employ the community. Protestors organized a demonstration during final exams in December 1992.
While the one-day Audubon Ballroom protest was smaller and more spontaneous, as described by the Times, than the 1985 protest over investments in South Africa, seven students were suspended, including Jealous. According to the Times, many viewed the suspension as "unusually severe for a demonstration that was for the most part uneventful," and the trial unfair — the students were tried by a retired judge chosen by the University Senate, not a panel of peers or faculty. The resolution of the protest, however, was a compromise that included the preservation of a portion of the façade of the Audubon Theater and the creation of the Malcolm X and Dr. Betty Shabazz Education & Research Center within, with the high-rise biotech center behind.
"When you're the first students suspended from Columbia University — the famous cauldron of student activism — in two decades, people take notice," Jealous says. "Even when they're sure all you really know how to do is organize campus protests and get kicked out, they offer you jobs. So, my career accelerated, because I accepted a job offer at the AFL-CIO to be a student organizer."
When Jealous returned to Columbia — he was suspended for one semester, but stayed away for two years — he became focused on winning the Rhodes Scholarship. "What was ringing in my ear was that statement of faith that Professor Long had made, that I would be a great candidate for the Rhodes Scholarship," Jealous says. "I committed myself to excelling academically for my last two years of college. I wanted to have the opportunity to compete for the Rhodes, and I wanted the opportunity to compete for admission to a top law school. I came back, and Carlton [Long, who had worked with a number of students who went on to win Rhodes Scholarships] wasn't fazed at all. He said, 'OK. Let's do it.' "
Jealous was awarded the scholarship and studied comparative social research at Oxford. The public policy program had just 10 students with no more than two from the same continent. "I sat in a room with 10 students and discussed solutions to domestic problems across national boundaries, across national cultures and even collective imaginations," Jealous says. "It was the most stimulating experience I've had in trying to figure out how to fix problems … It stretched my brain, and it was really an enlightening direction."
Jealous learned to focus not only on civil rights but also on human rights. He realized that it is not sufficient to say every child in a particular area should attend the same school, a civil right. In contrast, "Saying that every child should go to a good school would require realizing and enforcing a human right," Jealous says. "We need to focus not only on the negative rights such as the right from search and seizure and the right to be protected from discrimination, but also the positive rights: the right to a good education, the right to a good job, the right to good healthcare."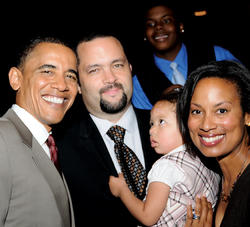 Jealous takes the reins of the NAACP at a time when the nation's consciousness about civil and human rights has been heightened by the election of President Barack Obama '83. When asked what advice he gives to others wanting to get more involved in nonprofits, Jealous says, "One of the greatest experiences of my life was helping to launch what became a successful campaign to outlaw the juvenile death penalty [while with Amnesty International]. My advice to people is to look at all the issues that irk you, all the things that offend you about life on this planet and decide what you want most to see changed, and then go after it with all of your heart."
Jealous credits his transition to non-profit management to a time when he believed all people thought he was qualified to do was be a spokesperson (during his suspension and extended time away from Columbia he was a spokesperson for the AFL-CIO). "It began to feel sort of oddly demeaning, that we all want the articulate, young black guy out in front for some grand progress," Jealous says. He realized that "the only way you would be able to help ensure victory [for your cause] is if you understood how to raise resources and motivate a much larger number of people to accomplish the goal."
When Jealous became executive director of the National Newspaper Publishers Association in 1999, he focused on becoming a good manager and fundraiser. In his three years at the helm, he tripled the staff and grew annual income and events participation by 400 percent and 300 percent, respectively.
College friend Maurice Coleman '91, s.v.p., market manager with Bank of America in New York City, says Jealous has the ability "to find those common threads that allow people to put their egos and interests aside to work for the common good of the cause, whatever the cause may be, regardless of gender or age or any of the so-called silos we have a tendency to either fall in or put ourselves in."
Wade Henderson believes these skills, along with Jealous' focus on human rights, will make him successful at the NAACP. "Combining his great love for the civil rights movement with a vision about what it takes to achieve a broad base of human rights in the 21st century makes Ben an especially well-chosen selection to head the NAACP," Henderson says. He expects Jealous to "rekindle the passion for social change that the NAACP embodied when it was founded 100 years ago. He is going to stimulate yet again a broad base of support among Americans and others around the world who are committed to that type of social change."
As per his future, Jealous sees himself right where he is. "My career has been a career in the black civil rights movement, and the American human rights movement. I have no higher ambition than the position that I'm holding right now."
Ben Jealous '94 Teleconference
Amy Perkel Madsen '89, a former CCT class correspondent, lives in Los Altos, Calif.